Hey guys!
So I know that a while ago I promised to show you how to remove glitter nail polish without the hassle and I'm finally getting around to it now. I'm actually glad I waited until now because this time I had on a VERY glittery polish that turned out to be very difficult to remove using regular methods (Across the Universe by Deborah Lippmann).
I started removing the polish regularly because I read that this polish isn't too difficult to remove but my only guess is that anyone who said that must not have had it on for as long as I did (almost a week) because it caused a HUGE hassle for me. I was using pure acetone and all it did was remove the jelly base and the colour of the hexagonal glitter which left behind a mess of silver hexagonal glitter. That's when I turned to the tried and true foil method.
In this post I'll show you step-by-step how to remove glitter polish without the mess.
To start, these are the supplies you'll need: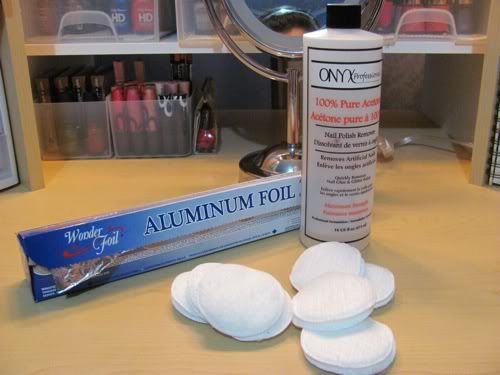 Pure acetone, cotton swabs, and aluminum foil
Keep reading for step-by-step instructions!
Ok, this is what I started out with: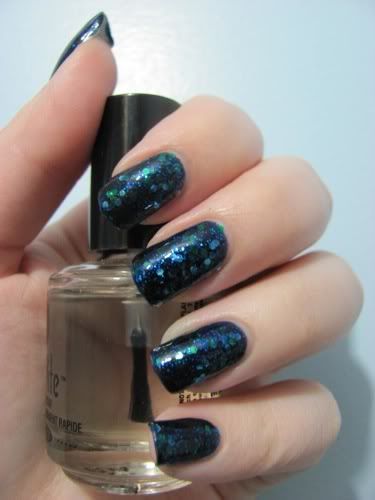 Deborah Lippmann - Across the Universe (read the review here)
Step 1:
Cut (or tear) a sheet of tinfoil into 10 pieces (each piece must be large enough to wrap around your finger).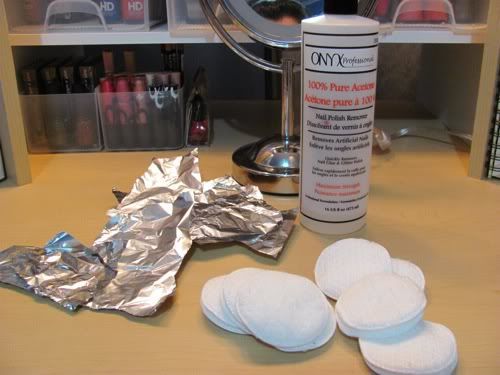 Step 2:
Place a fair amount of acetone on a cotton swab. Place the cotton swab on your nail and wrap a piece of tinfoil around the swab. Once all fingers are done, it should look like this: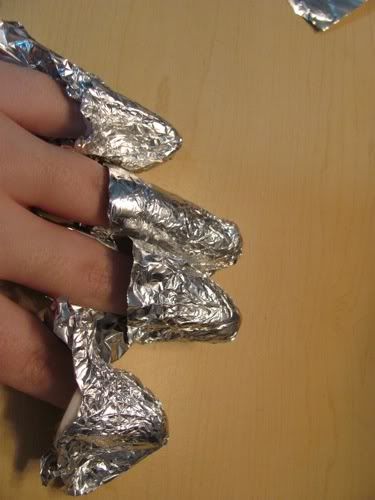 (Some of the tinfoil is starting to lift off my fingers here but you just need to make sure that you wrap it tightly around your fingers.)
Step 3:
Wait a few minutes before removing the foil/cotton swab. The amount of time you wait can vary depending on the polish you're trying to remove, how long you've had it on, how many coats you have on, etc. For reference, I waited about 5 minutes before removing mine.
And voila! Clean nails! All of the polish has transferred to the cotton swab!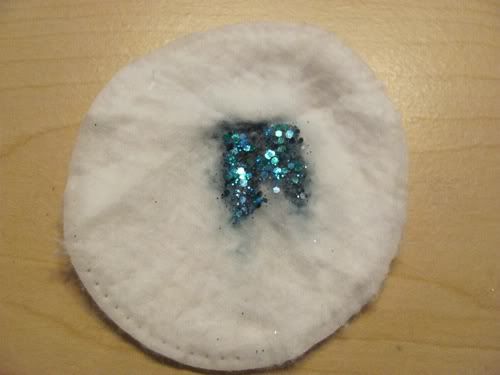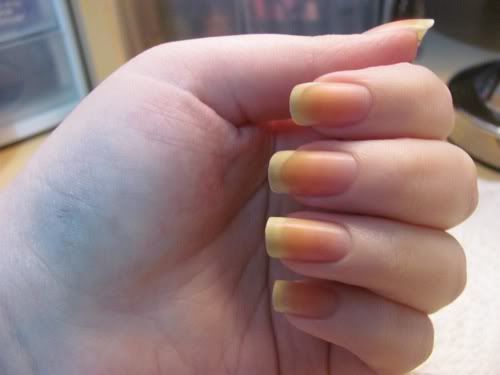 (Sorry that my nails look super yellow here but it's a combination of poor camera lighting and all the acetone I use on a regular basis. I always use a base coat to prevent yellowing as much as possible but unfortunately, it still occurs. I'll probably sit down to a whitening session soon, though.)
An important note about this method
: Using pure acetone and letting it sit on your nails/cuticles for this long is extremely drying so I highly recommend using a cuticle moisturizer after you remove your polish. I used LUSH's Lemony Flutter Cuticle Butter but I also like Burt's Bees Lemon Butter Cuticle Cream.
Hope this is helpful!