Welcome to Volume 12 of Haul Saturdays - a weekly post chronicling whatever beauty related purchases I made throughout that week.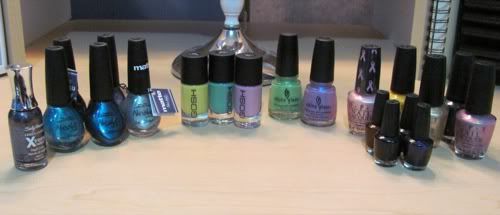 Chatter's Salon:
• OPI - Pink of Hearts 2010, The "It" Color, I Get a Kick Out of Gold!, Significant Other Color, Suzi Skis in the Pyrenees, and the Go Goth! Mini Set which includes Unripened, Sanguine, Nevermore, and Obscurity polishes
• China Glaze - Tantalize Me polish
eBay:
• China Glaze - Entourage polish
Shopper's Drug Mart:
• Nicole by OPI - Respect the World Matte, Party in the Penthouse, Too Rich For You, Positive Energy Matte, and Virtuous Violet Matte polishes
• GOSH - Yellow Doll, Silky Mint, and Sweet Rose polishes
• Sally Hansen Xtreme Wear - Purple Gala polish
As always, if you want to see swatches of anything above, let me know!