Hey everyone!
In this post I'm going to post some pictures of my makeup/nail polish collection and how I store it all.
I posted a full collection post on Specktra and I'll post a link to that instead of clogging up this post with all the pictures (there's over 50!).
I have finally found a storage solution that works for me and my space so I'm very happy with it.
I'll try and go over everything and where it came from, how much it was (although all prices will be approximate since some of these things I have had for a while), etc but if I miss anything or if you have any other questions, let me know.
Ok, let's get to it.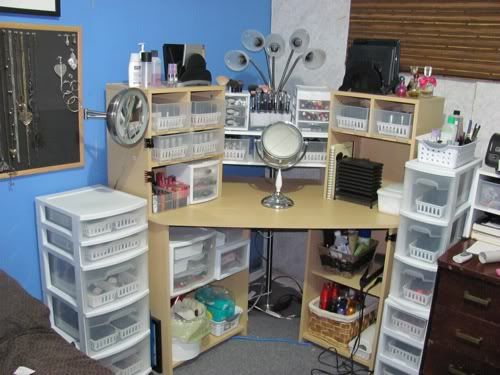 This is my whole setup.
The lamp in the back is from Wal-Mart ($40), my lighted mirror on the desk is also from Wal-Mart ($30) and the mirror attached to the side of the desk (which is a lighted 10x zoom mirror with an adjustable arm) is from Sears ($60).
Keep reading for more pictures and storage tips!
This is where I hold the majority of my makeup. It's from Wal-Mart and it was about $30.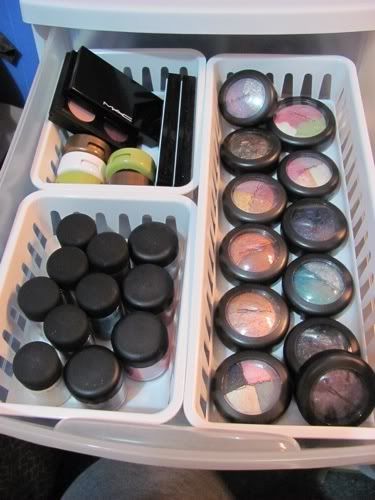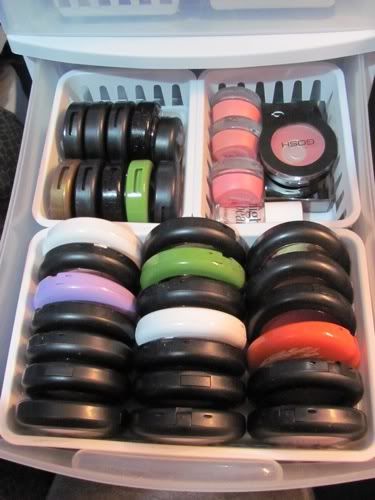 These are two of the drawers in the above unit and I'm showing you the inside to show the small bins inside that I use to divide my makeup and make it more neat/manageable.
These can be found at Wal-Mart in sets of either 3 (for the long ones) or 4 (for the short ones) and they're about $3 for a set. They can also be bought individually (like the wide one that holds my MSFs) at any Dollar Store.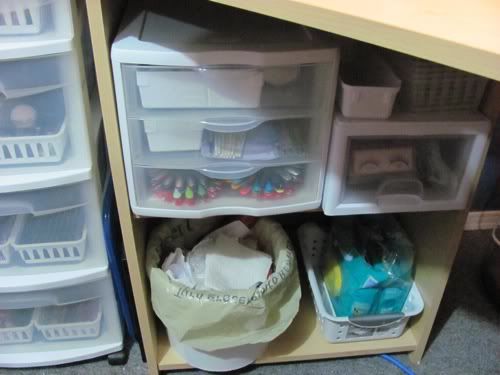 This is another drawer system I found at Wal-Mart and it was about $12.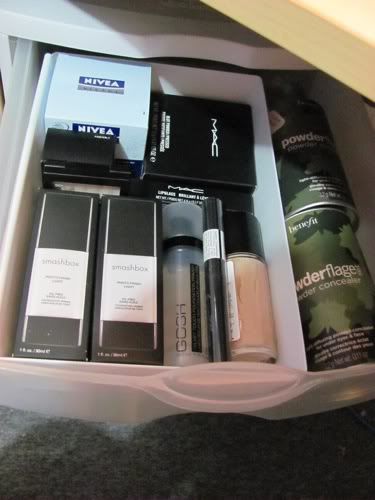 The wide bin in here that I hold back-ups in I got at the Dollar Store.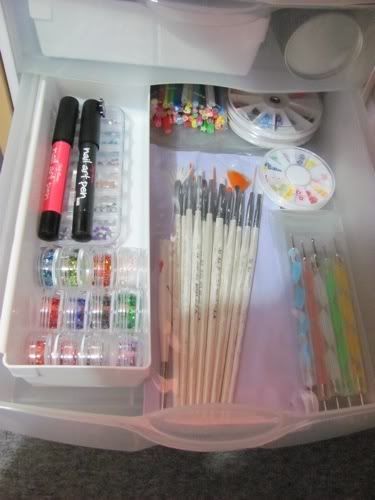 Same thing with this bin, found at the Dollar Store. Most of the nail art supplies were bought on eBay.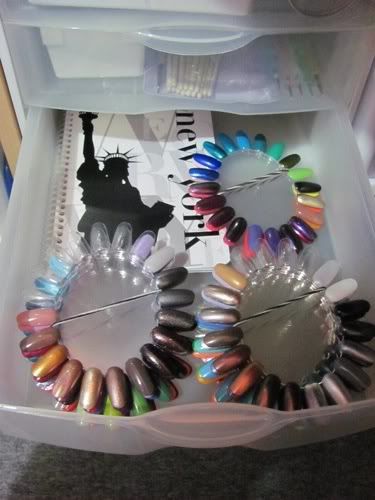 Nails wheels found on eBay.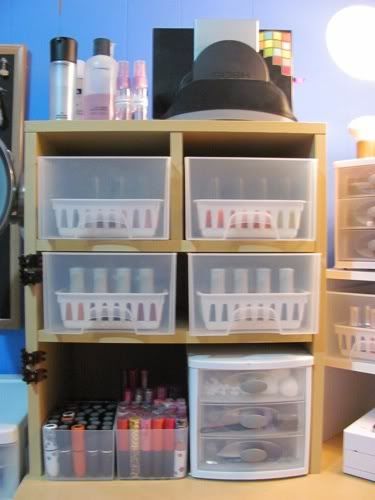 Palette holder on top is actually a file divider and can be found at any office supply store.
The small 3 drawer storage unit on the bottom was bought at Wal-Mart for about $8.
The 4 drawers are shoe containers that I took out of their plastic holder so that they would fit into my desk compartments. They usually look like this: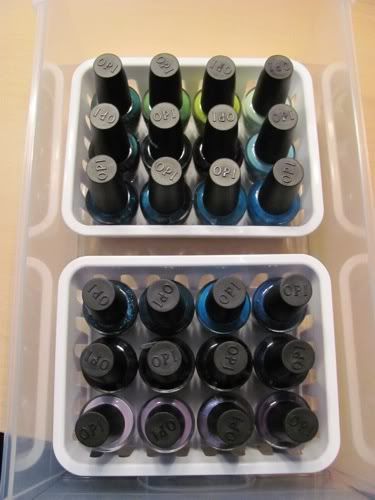 The inside of one of the drawers.
These containers actually come as part of a food storage container that I got at Wal-Mart. The inside of the container has these removable dividers that are the perfect size for MAC lipsticks/lipglosses. Plus, now I have a full empty container as well as great storage for my MAC lip products. This was $8 for the whole unit.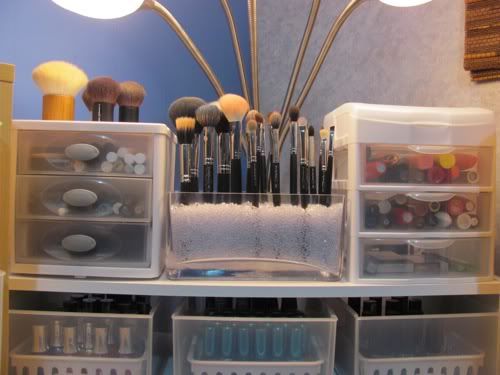 I already posted above where I got the 3 drawer units as well as the shoe drawers on the bottom.
The brush holder is from Michael's as are the beads on the inside.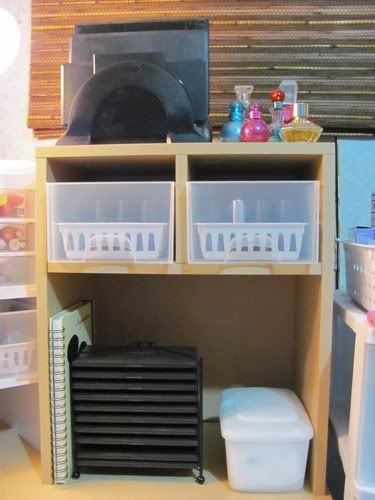 The palette holder on top where I hold my Coastal Scents palettes is another file divider and can be found at any office supply store.
My MAC palettes are being housed in a DVD holder that I got at Wal-Mart. It came in a set of 2 for $10.
The shoe drawers hold more nail polish and their price/where they can be bought has already been discussed.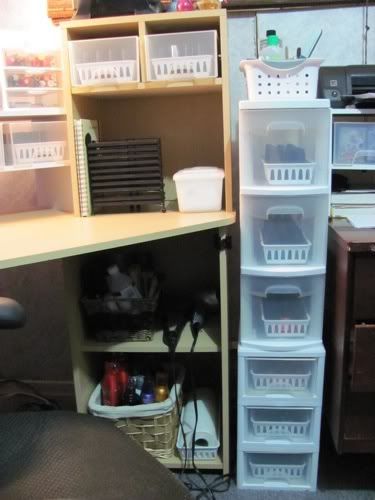 The first 3 drawers are part of one drawer unit which is again from Wal-Mart and was about $16. The bottom 3 drawers are each individual shoe drawers which have already been discussed. Ideally, I would have liked to have 2 of the 3 drawers units like the one on top but I haven't been able to find them anywhere since I got that first one.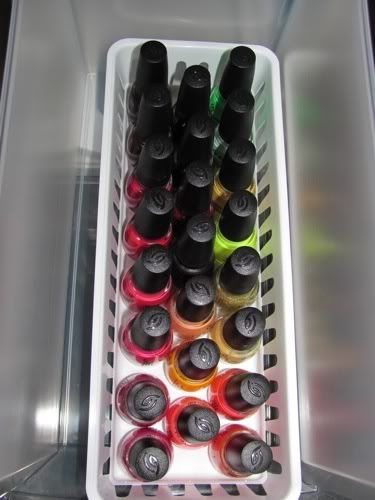 This is one of the drawers inside the unit. The bins inside were already discussed earlier.
This is inside one of the individual drawers. Again, the bins have already been discussed.
This is the basket that's on top of the entire unit and holds all my nail tools, treatments, base coats and top coats. It's once again from Wal-Mart and was about $3.
Phew, that took a really long time!
I hope this was helpful and I hope it gave some of you ideas for your own makeup/nail polish storage.
Here's
the link to the entire collection post that I posted on Specktra where you can see any pictures that I didn't post here (like I said before, there's more than 50 pictures altogether).
Have a good day!