The Physician's Formula Bambuki Brush is a very large, natural haired kabuki brush with a sturdy wooden handle.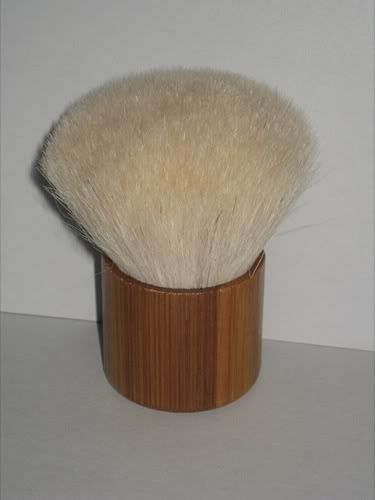 I have been using this for months now and I have really wanted to love it. Unfortunately, I just can't.
It's great that it was super inexpensive (it was on sale for $6 which is really the reason I decided to give it a shot in the first place) but it's not even worth the $6, let alone however much it costs when it's not on sale. My biggest problem with this brush is that the bristles are SO scratchy. It's ok to use if you're being super gentle but if you want to actually buff something out, this just plain hurts! I generally use it to blend my face powders together (blush, contour powder, highlight powder) and I'm definitely not very rough when I do this but it still scratches my face like nothing else.
Plus, it sheds like crazy.
What I do like about this brush is how large the head is which is great for what I use it for and it would also be good for applying product to the entire body (such as a shimmer powder, for example). As mentioned above, it was also really inexpensive so that's also a plus.
I really don't like to be this harsh on a product but when a product is this harsh on me (and my face), I don't feel like I have any other choice.
You can find this brush at any Wal-Mart or drugstore in your area.
(Photo courtesy of Musings Of A Muse)