Hey guys!
I'm sorry that I haven't been posting that much recently but like I said in my last post, yesterday was my birthday (it was great, if anyone is wondering!) and on top of that, I have a lot of school work that I'm working on right now. I'll be posting more once everything starts to slow down a little, I promise.
In the meantime, I have started my Halloween Nail Art Series and the first in my series is a Mummy design.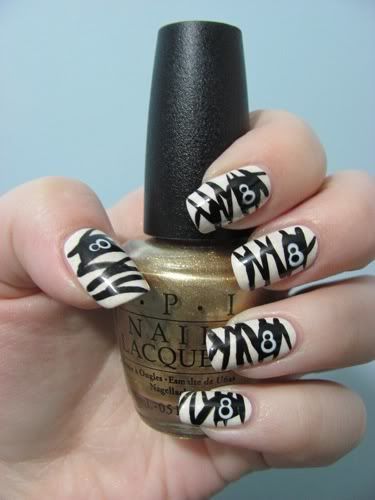 The design is mine except for the inclusion of the silly looking eyes. I was originally going to do red eyes to make it more spooky looking but after seeing a mummy video, I much preferred the look of the more silly eyes.
Products:
• China Glaze Strong Adhesion Base Coat
• A franken of China Glaze - White On White and OPI - I Get A Kick Out Of Gold! (mummy wraps)
• L.A. Colors Art Deco - Black
• China Glaze - White On White (white of eyes)
• China Glaze - Liquid Leather (black of eyes)
• Seche Vite Top Coat