Hey everyone!
Today I have a review for you of the MAC Prolongwear SPF10 Foundation.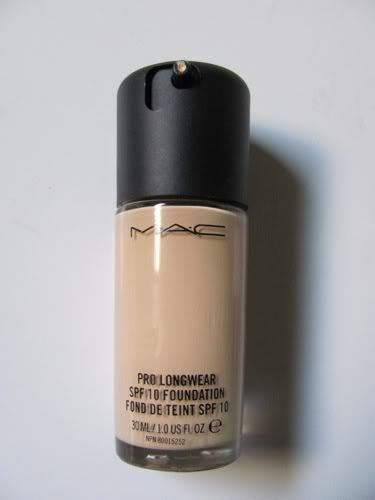 Here is what the MAC site has to say about the product:
"A long-wear foundation that gives up to 15 hours of wear in any environmental condition. Lightweight and creamy, applies smoothly to provide sheer to medium coverage. Even in hot and humid conditions, controls oil to keep skin fresh, natural and flawless. Provides everyday SPF protection."
I have been using this foundation for a couple of weeks now and I was holding off on doing my review because I wanted to make sure that I had used it for long enough to really provide a complete and honest review.
Well, it's been long enough now and I can finally say without a doubt that I absolutely LOVE this foundation.
It works great for my oily skin and it really does last a long time. Now, I can't say that it lasts for 15 hours because I haven't worn it for that long but I can definitely vouch for it lasting a solid 12 hours and it still looked near perfect after all that time.
This is also great because it really doesn't sink into my pores which is something I have a problem with with my usual Revlon Colorstay Foundation.
I have read a few other reviews that say that it's a little dry which makes it slightly difficult to blend but I have not noticed that problem
at all.
This might be because I'm used to working with not-that-easy-to-blend foundations (ie: my Revlon Colorstay) but I definitely found the Prolongwear much easier to blend. And in case anyone is wondering, I always use my trusty MAC 109 brush to apply my foundation.
Another plus to this foundation is that it comes in a pump bottle which I LOVE. If anyone read my review on Revlon Colorstay a while back, you'll remember that my main issue was that there was no a pump applicator so it's really refreshing to be able to dispense the right amount of product and not waste a drop.
Furhermore, this product also contains SPF which is always a benefit. However, it's only SPF 10 so it's not going to protect against much but it's still more protection that no SPF!
My one and only issue with the product is the price. Now, it's in the same price range as other MAC foundations but I have gotten so used to paying $15 for my foundation for so long that it kind of hurts to pay double that plus a little more for this one. However, I'm willing to shell out the $$ because this has definitely become my new HG foundation.
I didn't bother with the Prolongwear Concealer since I wasn't sure I was going to like the foundation but now I'm probably going to purchase one with my next MAC order and I'll have a review up for that as well.
I did pick up two of the Prolongwear Lipcremes but I haven't had a chance to test them out yet so once I do, I'll post a review on those also.
Overall, I would and will be repurchasing this product and I would definitely recommend it.
I hope this review was helpful!