Hey guys!
First of all I want to say a huge thank you to everyone who participated in my giveaway. It was a huge success and it has motivated me to do this a lot more often. In fact, I'll be posting a new giveaway in the next few days so keep a look out for it!
Anyway, without further adieu, the winner of my giveaway is ....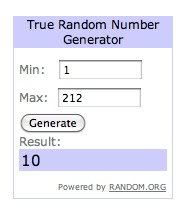 Alexa1202!
Congratulations! Please contact me within 48 hours letting me know your shipping information so that I can send you your prizes!
Again, thanks to everyone who participated and look out for my next giveaway!