Yeah, you read it right, Nicole by OPI is releasing a collection inspired by teen pop star Justin Beiber called The One Less Lonely Girl Collection.
I don't know what to say about this except that I just don't get it! Where's the connection between Bieber and nail polish? The only reason I can come up with for releasing this collection is that Nicole by OPI is trying to reach out to the younger audience of girls who shop at places like Wal-Mart and they'll be inclined to buy this collection because of the association with Beiber. I understand this reasoning but it still seems a bit ridiculous to me.
Katy Perry, I understand; Serena Williams, I understand; Justin Beiber, I do not understand.
Nonetheless, some of the colours being released do look pretty so if I'm going to be completely honest I might as well admit that I'll probably still buy some of the shades despite the strange inspiration behind the collection.
The first 6 shades of the collection (pictured below) will be released in December while a subsequent launch will release in January.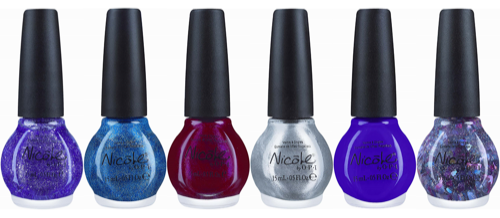 Left to right:
One Less Lonely Glitter
Prized Possession Purple
Give Me the First Dance
Me + Blue
OMB!
Step 2 the Beat of My Heart
What do you think about this collection? Does it seem strange to anyone else?
Source:
lacquerized