Hey guys!
I have been waiting a few days to reach 200 followers in order to finally post this so when I logged in today and saw that I had reached it, I was so excited!
My first giveaway went amazingly well so I decided to do another but when I was picking out the prizes, I got a little carried away. So, this giveaway will have 3 winners, all of whom will be receiving some pretty awesome prizes (at least I think so)!
The rules:
1.) Be a follower of my blog.
2.) This is an international giveaway.
3.) Leave a comment below with your GFC name and your email address.
4.) A blog post about my giveaway will give you
2 extra entries
(include a link to your blog in your comment).
6.) If your blog is used solely for giveaways, I will not give you the extra entries for your blog post about my giveaway since I don't really see this as fair to the other participants.
7.) Adding my blog to your blog roll will give you
1 extra entry
(include a link to your blog in your comment).
8.)
Following me on twitter
will give you
1 extra entry
(post your twitter username in your comment so I know who you are when you follow).
9.) So, altogether, you can have 5 entries to this giveaway! And just so you know, my last giveaway winner won because she had extra entries!
10.) Participants must be 18 years of age or older or have permission from a parent or guardian.
11.) Giveaway ends midnight of
December 31st
January 7th.
12.) I will use random.org to choose the winner.
The prizes:
Once again, I chose to include a mix of makeup and nail polish prizes since that's really what my blog is about. Plus, this time all of the prizes are holiday items.
1st Place Prize: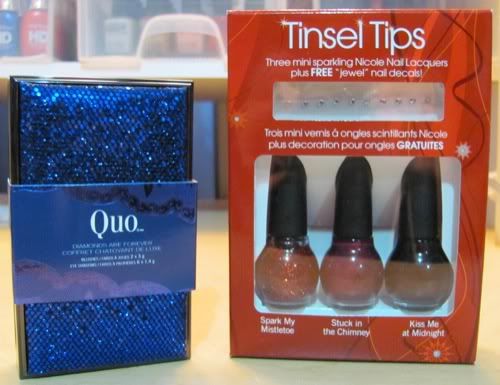 • Nicole by OPI - Tinsel Tips Holiday Set
(Includes 3 mini nail polishes from the new holiday collection in the colours Spark My Mistletoe, Stuck in the Chimney and Kiss Me at Midnight as well as a strip of nail rhinestones to add some sparkle to your nail design)
• Quo (which is a Canadian brand) - Diamonds are Forever Holiday Compact
(Includes 6 eyeshadows and 2 blushes, inside of compact is pictures below)
2nd Place Prize: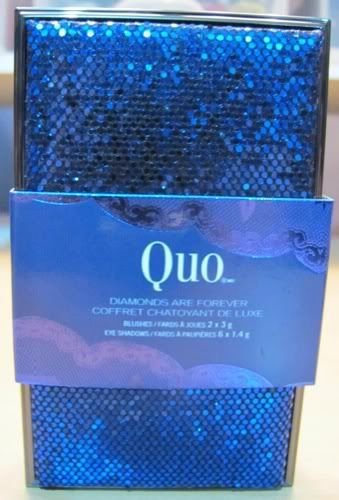 • Quo (which is a Canadian brand) - Diamonds are Forever Holiday Compact
(Includes 6 eyeshadows and 2 blushes)
And here is a photo of the inside of the compact:
3rd Place Prize:
• Fingerpaints - Peace Love & Joy Set
(Includes a top coat and nail polish in the colour Mistletoe Mischief)
• Set of 2 holiday nail files
(One has a candy cane design and the other has a gingerbread man design)
Good luck everyone! :D