Hey everyone!
Today I have another Christmas manicure for you. I'm trying to get as many more Christmas designs in as possible so I'm doing as many as I can! This design has been done a hundred times before but I have always liked it so I wanted to give it a try myself.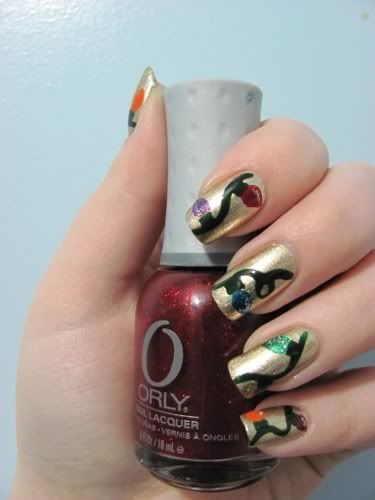 Products:
China Glaze Strong Adhesion Base Coat
China Glaze - Midnight Kiss (base)
L.A. Colors Art Deco - Forest Green (cord)
China Glaze - Grape Juice (purple bulbs)
China Glaze - Dorothy Who? (blue bulbs)
Orly - Star Spangled (red bulbs)
Nicole by OPI - Fresh Squeezed (orange bulbs)
Zoya - Ivanka (green bulbs)
Color Club - Sex Symbol (glitter highlight on bulbs)
Seche Vite Top Coat
Click
here
to see the next design in my Christmas Nail Art Series!