Hey guys!
Today I have for you the next nail design in my Christmas series: wreaths! I was truly out of original ideas for a Christmas design and I didn't want to do anything that's already been done before (that I know of, at least) so I racked my brain and finally came up with this design. I was a little skeptical about it because I wasn't sure if it would really end up looking like wreaths but I'm actually pretty pleased with how it turned out!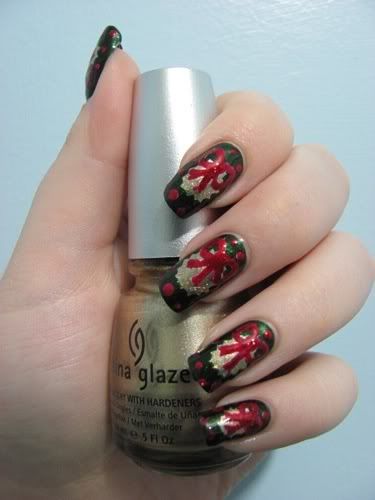 Products:
China Glaze Strong Adhesion Base Coat
China Glaze - Midnight Kiss (gold background)
China Glaze - Jolly Holly (wreath)
OPI - Alpine Snow (base colour for bows and other wreath decorations)
China Glaze - Ruby Pumps (bows and other wreath decorations)
Seche Vite Top Coat
Click
here
to see the next design in my Christmas Nail Art Series!