Hey everyone!
I hope you all had a great year in 2010 and I wish you all the best for 2011. I was going to do a simple firework design (as you can see on my thumb) for my New Year's Eve manicure but I thought it looked a little too plain so I ended up drawing the "2011" as well. Hope you like it!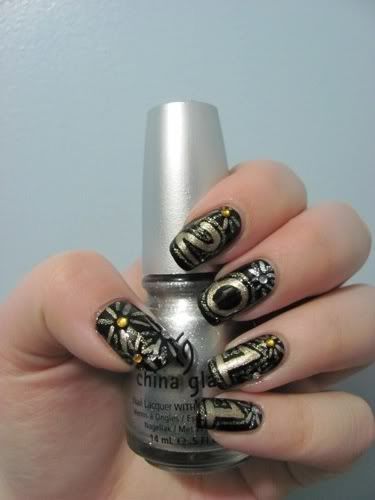 Products:
China Glaze Strong Adhesion Base Coat
OPI - Black Onyx (base)
OPI - I Get a Kick Out of Gold (numbers and the gold fireworks)
Color Club - Sultry (outline of numbers and the gold fireworks)
China Glaze - Cheers To You (silver fireworks)
Gold and silver rhinestones from eBay (center of fireworks)
Seche Vite Top Coat
Also, this week is going to be very hectic for me and thus I will be unable to get to the post office. Therefore, I have decided to extend the deadline of my
giveaway
by one week.
This means that you now have until 11:59pm on the evening of Friday, January 7th, 2011.