Hey everyone!
Today I have a review for you of the Hard Candy Walk the Line liquid eyeliners. These can be bought at Wal-Mart for about $6 a piece and there are 12 colours available. I have 5 colours for you today and I'll try to pick up the rest of them at another time.
The shades I have for you are:
Licorice - black with multi-colour glitter
Night Sky - silver with multi-colour glitter
Dream Girl - very shimmery gold foil-like colour with silver glitter
Lucky - matte true green
Fuchsia - a metallic purple pink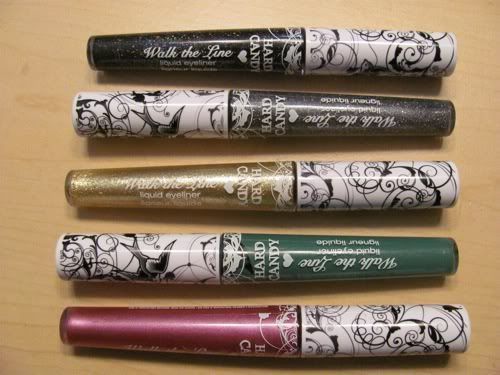 The packaging is cute which we have all come to expect from the Hard Candy brand. As well, the brushes are very thin so they're easy to control which means it's much easier to be precise. So for anyone who is a little turned off by liquid eyeliners because you're afraid you'll mess up, these brushes are a big help for you and you should find them easier to work with than some of the larger brushes.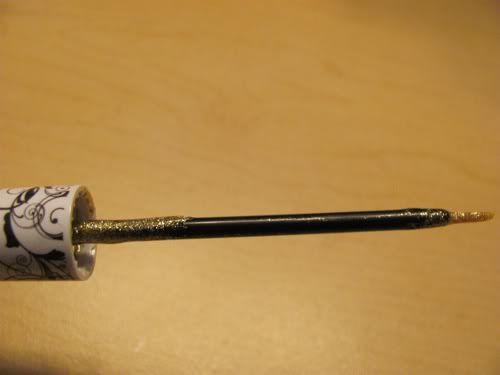 Furthermore, you're getting a ton of product with these! I grabbed two other drugstore liquid eyeliners out of my drawer for comparison and here's the scoop:
L'Oreal Linuer Intense - 0.05 fl oz.
Revlon Colorstay Liquid Eyeliner - 0.08 fl oz.
Hard Candy Walk the Liner Liquid Eyeliner - 0.112 fl oz
So you're getting more than double the L'Oreal one and almost double the Revlon one! And since these can all be bought at the drugstore, there prices are quite similar.
Now, as far as these 5 go colours, they're all hit or miss. The glitter ones take absolutely forever to dry which is a huge drawback because if you get it on the rest of your eye, you've basically ruined the rest of your eye makeup. However, if you're patient enough to wait for them to dry, they will last all day long.
Also, as you can see from my swatches, the glitter ones are very sheer and I would have preferred the glitter to be suspended in a more opaque base to really make it pop. However, when you use these on top of an opaque black eyeliner, they look stunning. In the second picture, I used all of them on top of MAC Feline Eye Kohl and you can really see the how beautiful the glitter ones are. Now, if only they would dry!
The non-glitters dried regularly which is great and these bad boys aren't going anywhere throughout the day. Seriously, I had the swatches on my hand for all of 3 minutes and I really had to give 'er to get them off. In fact, in my second picture you can still see some of the residue from Lucky because it was so difficult to get off!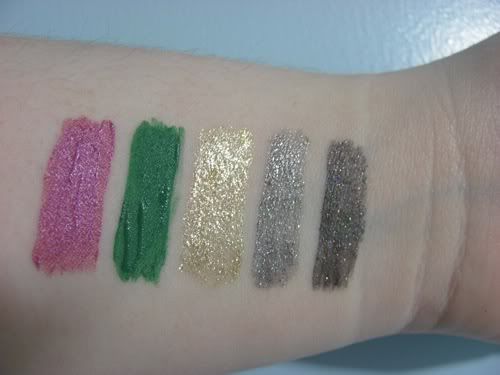 Fuchsia, Lucky, Dream Girl, Night Sky, Licorice
Fuchsia, Lucky, Dream Girl, Night Sky, Licorice (all over black)
Overall, these liners are ok, depending on which colours you get. The glitters are beautiful to look at but their drying time is a real pain in the ass. The non-glitters are super long-lasting and dry much faster. Unfortunately I don't have the regular non-glitter black colour but if it's anything like it's non-glitter friends that I do have, that one would be an excellent black liquid eyeliner, especially considering the amount of product you get.