Hey!
Today I'll be showing you swatches of one of four of the new Wet 'n' Wild holiday palettes and this one is called Night Elf. It features 6 shades: a shimmery beige, a shimmery taupe, a brown-green duochrome, a frosty silver, a sparkly red and a glittery black.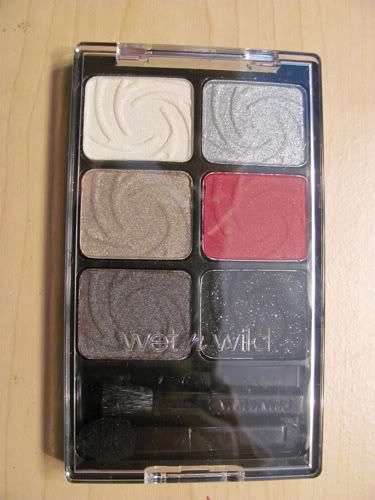 I have to say, I'm SUPER impressed with this palette! I can't believe that this was only $6.99 at the drugstore because the eyeshadow quality is amazing! All of the colours are really pigmented and as long as you wear a base underneath, they last long as well.
The palette also comes with an eyeliner pencil which wasn't as impressive. It's a little tough and it doesn't wear all that well. However, you can throw the eyeliner away if you want because even without it the palette is well worth what it costs. Also, I'm sorry but I completely forgot to swatch the eyeliner when swatching the shadows so I don't have a picture of that. I promise that when I swatch the rest of the palettes I'll make sure to include the liners as well.
The plastic packaging does feel a little cheap but that's something I can get over when the product is good.
Overall, I've gotta say that I really didn't expect that Wet 'n' Wild would ever step their game up like this and I'm very impressed with the results. The price is unbelievable for the quality of product you're getting so if you're able to get your hands on any of these holiday palettes, I 100% recommend it!
Kudos Wet 'n' Wild!