Hey guys!
I'm so excited to announce this giveaway that I have for you! So many of you let me know that the Wet 'n' Wild Holiday palettes which I reviewed/swatched are not available in your area. So, I headed to the drugstore hoping that I could find all 4 of them for a giveaway and I was lucky because I found them all!
I was so freaking impressed with these palettes and I'm really excited to be able to offer one of you the chance to own these for yourself.
So here's what the winner will get: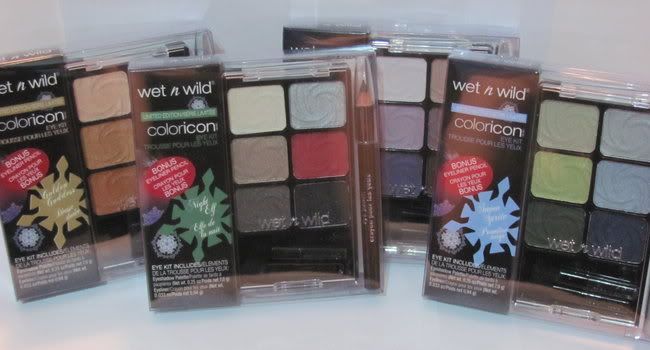 Just for your reference, I reviewed and swatched each of the palettes individually and I've posted links below so that you can see for yourselves how great these are!
Review/swatches of the palettes:
Night Elf
Snow Sprite
Golden Goddess
Sugar Plum Fairy
Now, onto the rules and all that good stuff.
Rules / Eligibility:
Winner must be a follower of my blog. This giveaway is open to all followers, including my international followers. Participants must be 18 years of age or older or have express permission from a parent or guardian to enter. The giveaway will end at 11:59PM NST (Newfoundland Standard Time) on the evening of March 1st. I will use random.org to generate the winner. Once I have notified the winner, they will have 48 hours to claim their prize. If the winner fails to respond to my email within 48 hours, I will choose another winner at random. Participants are allowed to enter up to three times (see below). Entering using all 3 ways will give participants a better chance to win but participants are not required to enter all 3 ways.
How to enter:
1.) Leave a comment on this post with your GFC name and your email address.
2.) Write a blog post about my giveaway that links back to my blog/giveaway (a sidebar post will also count).
3.) Follow @kaylashevonne on Twitter and tweet the following message: Follow @kaylashevonne and RT to win 4 Wet 'n' Wild Palettes! Check it out here: http://bit.ly/dY3Uez
Good luck!