So as promised, here is my current mani where I'm sporting Across the Universe by Deborah Lippmann. This colour was released in Fall 2010 along with Bad Romance which I'll also try to get swatches up of.
This is a glitter party of small blue glitter and blue/teal hexagonal glitter all suspended in a deep blue jelly base. I can't help but think of mermaids when I look at this polish (which is a lot because I haven't been able to stop staring at it since I put it on).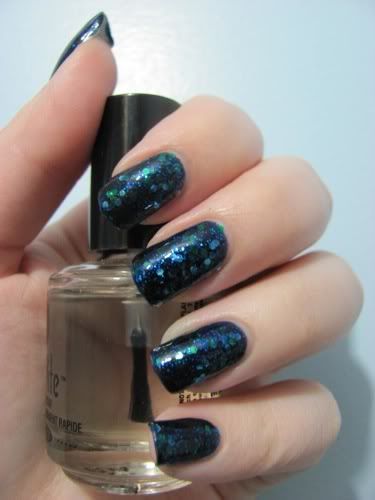 The swatch above is 3 coats (the last one of which was thicker than the others to ensure full opacity). Application was good but a few pointers might be helpful:
- While I usually prefer to apply coats wet-on-wet, with this type of polish I recommend waiting a few minutes in between coats. This is because the glitter moves around with every brush stroke and therefore if you apply wet-on-wet, most of the glitter will end up on the tip of the nail instead of an even coverage of glitter all over the nail.
- Try to do as few brush strokes as possible. This may lead to what looks like uneven coverage to begin with but trust me, after the third coat, everything will even out.
- Because the jelly base is so sheer, it's difficult to "wrap the nail" with polish. For anyone who doesn't know, wrapping the nail with polish just means that you cover the free edges with polish as well so as to make your mani last longer. Usually I wrap my nails with polish on the first coat and then I don't have to bother during the next two coats. However, wrapping the nail only once with this polish isn't going to be much help so I had to do it after every coat to ensure that the free edges of my nails were also fully covered.
This is an absolute must have polish in my opinion. It's stunning and I have nothing even close to this in my collection so it's a true unique colour. For my friends in Canada, check out
this site
which offers Deborah Lippmann polishes, reasonable shipping rates and exceptional customer service.