Hey guys!
Today I have a manicure for you that was inspired by a fellow Newfie nail blogger who I really like and respect. She got her design from
WAH Nails
and the colours she chose are less in your face than the neons I chose so some of you might prefer that look. Check out her blog
here
and be sure to check out the rest of her awesome designs!
(By the way, this design might look easy but trust me when I say that it was very difficult! It was tough trying to get the lines straight, even with my striper brush and since neons are relatively sheer, I had to go over my lines several times, making it even more difficult than it should have been.)
Anyways, onto my interpretation of the design: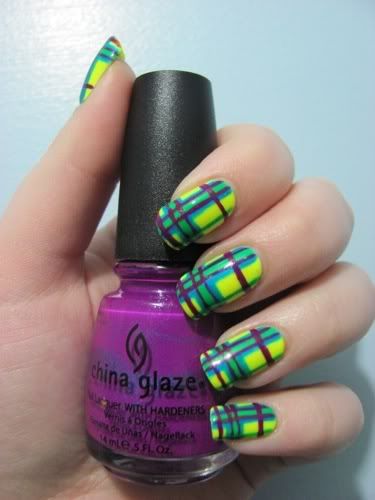 Products:
Seche Clear Base Coat
OPI - Alpine Snow (base)
China Glaze - Yellow Polka Dot Bikini (on top of Alpine Snow)
China Glaze - Towel Boy Toy (blue lines)
China Glaze - Kiwi Cool-Ada (green lines)
China Glaze - Flying Dragon (purple lines)
Seche Vite Top Coat