Ok, I know what you're all thinking, "Didn't I JUST see this mani?!"
Yes, yes you did! I just got SO many compliments on that design that I thought I would try it again but with different colours. Plus, I was pressed for time once again (so much school work, ugh) so I was happy to do another quick design.
Also, I apologize for the photo quality but my camera really struggled to get a colour accurate picture of this mani because the neon green basically looks radioactive. Seriously, it's SO bright!
At first I thought that I couldn't get a good photo because I was holding a neon colour but I even tried holding a black polish instead but it didn't help. I must have taken about 70 photos before finally giving up and settling on this one. Nonetheless, I hope you enjoy it!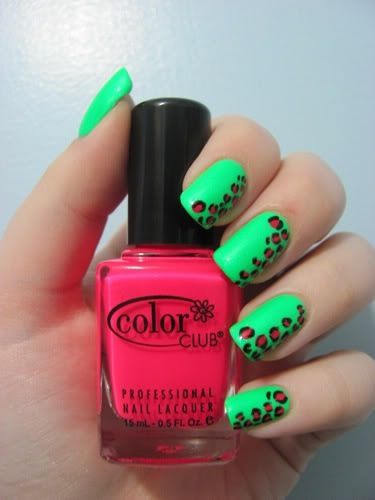 Products:
China Glaze Strong Adhesion Base Coat
OPI - Alpine Snow (white base)
China Glaze - In the Lime Light (over white base)
Color Club - Warhol (spots)
OPI - Black Onyx (outline of spots)
Seche Vite Top Coat
I definitely like my yellow and blue combo of this design a lot better than this combo. I actually think this looks like some kind of fungus (emphasis on the fun). :D