Hey guys!
I want to start off by apologizing for only posting nail art recently but I've been completely swamped with school work this whole week! Once things start to calm down I'll get back to more regular posting. :)
In the meantime though, today I have for you the last in my Valentine's series - a simply but cute heart design. I had a few other ideas in mind but I won't get to do any of them before Valentine's Day so I guess I'll just have to save them for next year!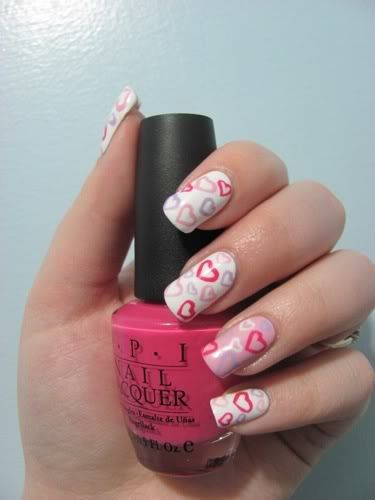 Products:
Seche Clear Base Coat
OPI - Alpine Snow (base on all fingers except ring fingers, white hearts on ring fingers)
China Glaze - Something Sweet (base on ring fingers, light pink hearts on others)
OPI - I'm Indi-a Mood for Love (dark pink hearts)
OPI - Rumple's Wiggin' (purple hearts)
Seche Vite Top Coat
So what does everyone have planned for Valentine's Day? My boyfriend is working in the morning and I'm working in the evening on Monday so we're actually exchanging gifts tonight. We're also planning on going out to supper at some point or another but right now is just too hectic for me with school. Plus, I'd rather go when the Valentine's crowd calms down since I'm not a fan of big crowds.
Anyway, I hope everyone has a safe and happy Valentine's Day!