Hey everyone!
One of my favourite things about Valentine's Day is that my boyfriend always makes me delicious chocolate dipped strawberries so I decided to do a nail design inspired by that!
One of the best things about this design is that it's a pretty versatile! You could remove the chocolate portion of it and it becomes a fun design for any day of the year and if you used brighter colours this would be a great summer mani.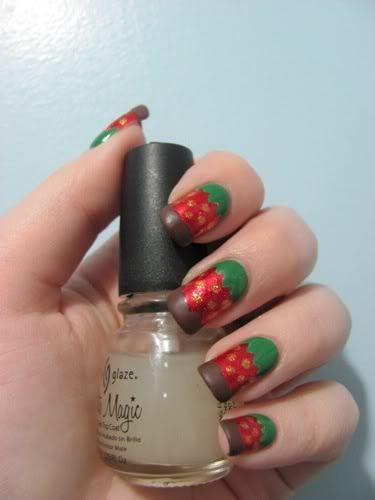 Products:
Seche Clear Base Coat
Nicole by OPI - OMB! (strawberry)
China Glaze - Starboard (leaves)
Revlon - Hot for Chocolate (chocolate)
China Glaze - Lighthouse (seeds)
Seche Vite Top Coat
China Glaze Matte Magic (on top of chocolate portion only)
(By the way, OMB! by Nicole by OPI is STUNNING. I seriously considered leaving it on by itself because I hated to cover some of it up! If you don't already own this colour, I really recommend considering it.)
Edit (on March 2, 2011): I have been informed that Melissa from
The Daily Nail
did a design similar to this one quite some time ago. I will note that I was unaware of this when I did my design but now that I know, I have provided
a link
to her post as well.