Hey guys!
Just a quick post today to give you the exciting news that I was the winner of the
Illamasqua & AllYouDesire Competition
! :D
As the winner, I am getting 4 Illamasqua Nail Varnishes in the colours: Grab, Scorn, Throb and Gamma which is a new colour being released with the Spring/Summer 2011 Toxic Nature Collection.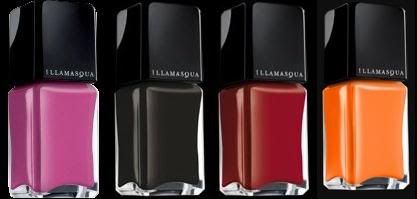 I'm super excited about winning as I really haven't ever won anything before! On top of that, I don't own any Illamasqua products and have wanted to try their nail varnishes for a while now but they're not available in my area. I have read some very good things about Illamasqua polish so I'm itching to try them and can't wait for that package to arrive at my door!
And of course, expect swatches when they arrive!
That's it for now, have a good Saturday everyone!