Hey guys!
How is everyone? I had an absolutely awesome Sunday!
You see, I had an exam Saturday that I was very concerned about so I spent all week studying my ass off. After my exam I was both mentally and physically exhausted so I didn't do much besides sleep.
So on Sunday, I woke up late and had a very lazy day. There was a Home Alone marathon on TV so the bf and I laid down all day, watched all three Home Alone films (I don't include Home Alone 4 in the movie category because it's just so awful), made toutons (mmm) and just basically lazed about. I don't have any exams or papers due this coming week so I was able to do this without feeling guilty about it. It was awesome!
When I finally decided to actually do something productive, I did my nails. However, I was still in a lazy mood so I only did a simply animal print design.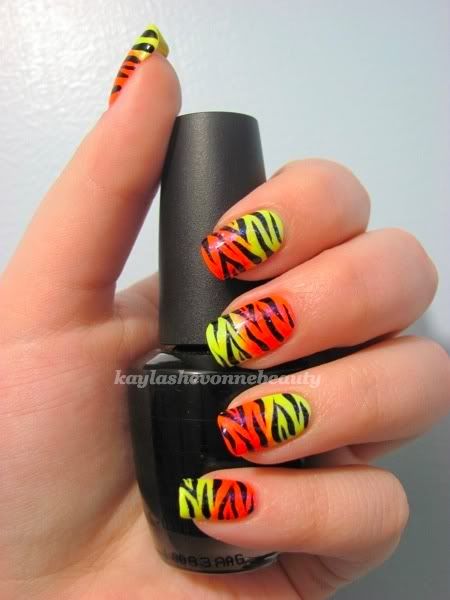 Products:
China Glaze Strong Adhesion Base Coat
China Glaze - Orange Knockout (neon orange)
China Glaze - Celtic Sun (neon yellow)
OPI - Black Onyx (zebra stripes)
Nicole by OPI - Top of My World (glitter top coat)
Seche Vite Top Coat
I hope all of you also had a good Sunday!