Hey guys!
Last week while I was at Wal-Mart I noticed a display of the new Sally Hansen Salon Effects Nail Polish Strips and although I'm not really a fan of nail decals, I have been reading some really great things about these throughout the nail blogger community so I decided to give them a shot. There were a bunch to choose from but I decided to go with this one called Laced Up as it's a design that I know I wouldn't be able to create using free hand nail art.
I'm going to wait until I remove these to do a full review of them but as of right now, I'm super impressed!
So, onto the mani: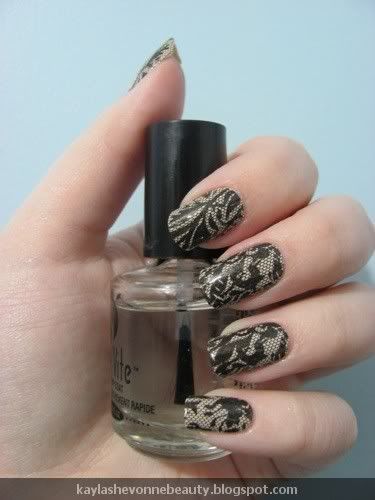 Products:
Salon Hansen Salon Effects - Laced Up
Seche Vite Top Coat
P.S. You may have noticed the watermark on my image. I'm not happy that I've had to start doing this as I really dislike the look of watermarks but I have been seeing many of my photos popping up on tumblr and other photo sharing sites without giving me any credit/a link back to my site. I don't appreciate this as I spend a lot of time creating and executing my designs and I would at least like to be credited for my work.
For now the watermarks will only be on photos of my nail art, not on my swatch photos and hopefully there will be no need to put them on swatch photos in the future.
P.P.S. My Wet 'n' Wild Giveaway is now closed! I will announce the winner within the next couple of days. Good luck everyone! :)
Anyways, have a good day everyone! And remember to look out for my full review of this product!