Hey guys!
Today I have a post that I have been meaning to do for quite some time now - a comparison post of 3 commonly used cuticle creams. I get asked a lot how I keep my cuticles in such good shape and I feel like I owe a lot of credit to one of these balms (you'll find out which one when you read the review and comparisons).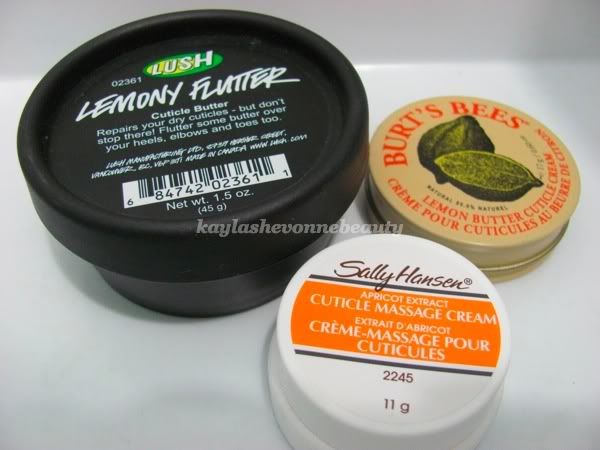 Keep reading to see more photos and read the review!
First up is the Sally Hansen Cuticle Massage Cream with Apricot Extract.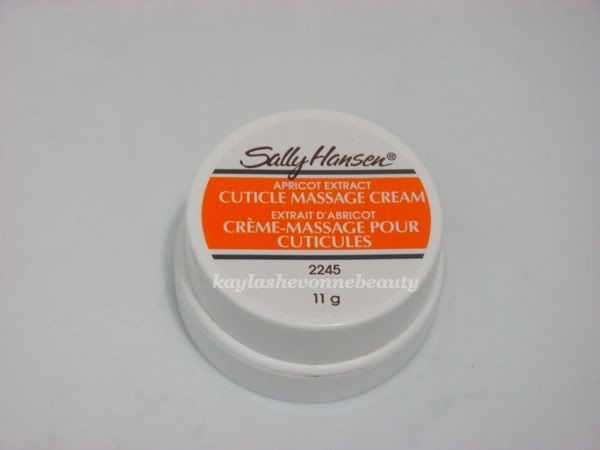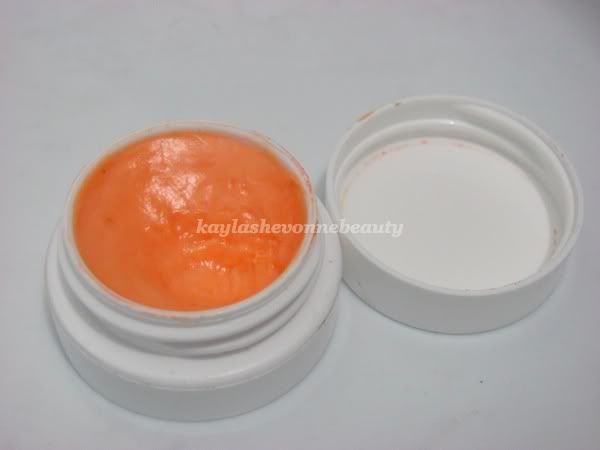 The texture of this one is really hard for something that's called a cream; it actually feels more like a hardened paste to me. It basically doesn't absorb into the skin at all which means that it's moisturizing capabilities are pretty lacklustre.
The only good thing about this one is the smell - it smells like apricots but it's not overwhelming. The price would be good if the product was better but since the product doesn't do what it's supposed to, it's really not worth the money.
Price:
Approximately $6 for
Availability:
Wal-Mart, any drugstore
_______________________________________________________________________________________
Next is LUSH's Lemony Flutter Cuticle Butter.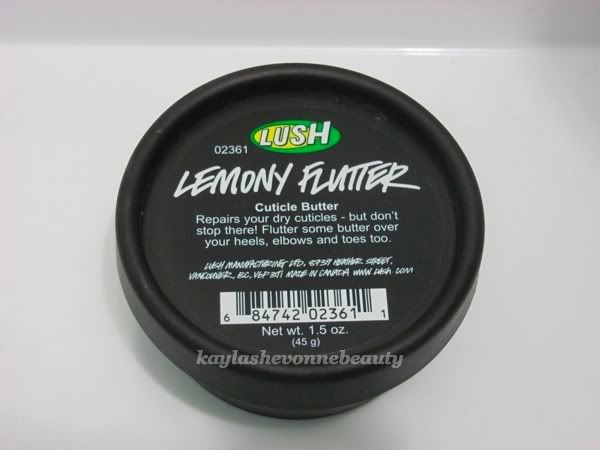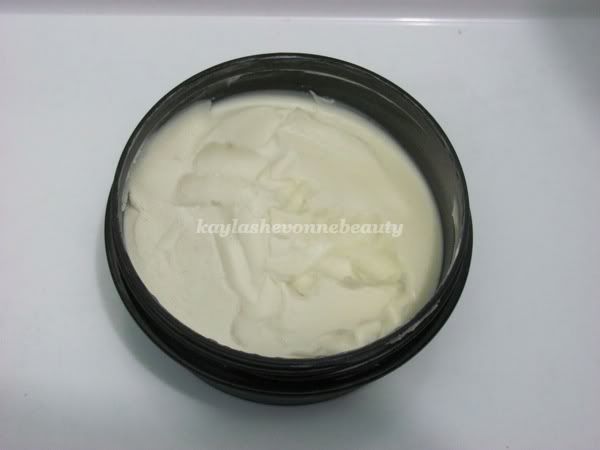 This one is a favourite of many from what I read and I can completely understand. The texture of this one is very soft and creamy, it melts into your skin and it's extremely moisturizing. The price might seem a bit steep at first but the amount you get is more than both of the other products mentioned here and this tub of Lemony Flutter will last you a long time.
However, there's a couple of things about this one that bother me personally. First of all, I find it rather greasy and it takes a while to absorb fully so I end up feeling like I have greasy fingers for much longer than I can stand. I tend not to apply cuticle cream before I go to bed but I think that this one is best used for night time so you don't have that greasy feeling while you're out. The second thing that bothers me is the smell - it's just too strong for me! I know some love the smell but I find that it's just too overwhelmingly lemony in that it smells more like a household cleanser than something I want to slather on my hands.
Additionally, I don't have a LUSH store in my area so it's more of a hassle for me to order it online and wait for it than to run to Wal-Mart and pick one up. I know this probably isn't an issue for many of you but it's just a minor bother that adds to the reasons why this is my second favourite.
Nonetheless, the moisturizing capabilities of this one are amazing and until I came across the next product I'll discuss, Lemony Flutter was my go-to cuticle cream.
Price:
$14.95 for 45g
Availability:
LUSH
_______________________________________________________________________________________
Finally we have Burt's Bees Lemon Butter Cuticle Cream.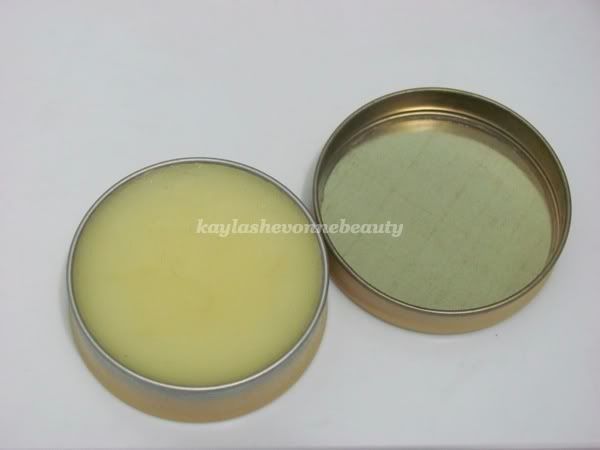 This texture of this one feels more like a balm than a cream but that doesn't mean that it's any less moisturizing because for me, this one is just as good as Lemony Flutter in that department. It might not feel very soft at first but if you just give it a chance, it really does wonderful things for your cuticles.
This one also absorbs quicker into the skin than Lemony Flutter. Furthermore, it's not greasy feeling which I love. The smell is much easier to tolerate than that of Lemony Flutter because although it's still lemony, it's not overpowering; in fact, I actually enjoy the smell of this one.
The only bothersome thing about this one (and it's only a minor bother) is that you really have to push the pad of your finger into the balm in order to get enough out but I've completely gotten used to that. Also, you don't get as much value with this one as with Lemony Flutter but this one also lasts a really long time so it's definitely still worth it.
Price:
Approximately $10 for 17g
Availability:
Wal-Mart, any drugstore
_______________________________________________________________________________________
Overall, I really like both Lush Lemony Flutter and Burt's Bees Lemon Cuticle Butter but I do prefer the Burt's Bees one. They're both very moisturizing and do what they're supposed to but I like the non-greasy feeling and the smell of the Burt's Bees one more. I don't recommend the Sally Hansen one at all.
I hope this was helpful!