Hey guys!
Last week I showed you my manicure with the new Sally Hansen Nail Polish Strips in the design Laced Up. I told you that I would leave them on for as long as possible and then write up a detailed review on them, so here it is.
I didn't end up being able to leave them on for 10 days as my nails were just getting too long and they were annoying me to no end. Plus, I'm used to doing my nails twice a week and even then I get bored with designs so you can imagine that I was getting antsy to remove these after having them on for 8 days.
Before we move on to the review, here's another look at Day 1 of this mani: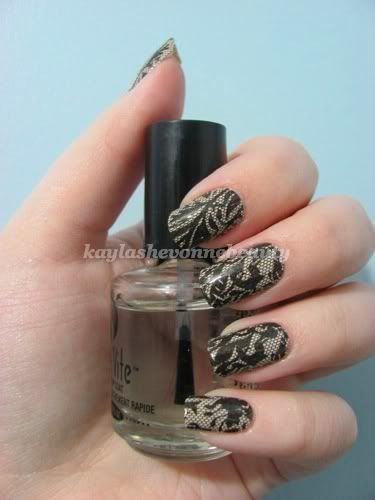 Warning:
I was very detailed in my review, so this post is very long but if you're interested in this product, I think it's worthwhile to read the whole post.
Keep reading for the review and photos of how the design held up over 8 days!
Packaging/Contents:
Inside the package there is a mini buffer, a cuticle stick, instructions (which are very easy to understand) and of course, the strips. There are 16 strips of varying sizes and there is also 2 different cuticle shapes to choose from (since some of us have rounder shaped cuticles while others have more square shaped cuticles).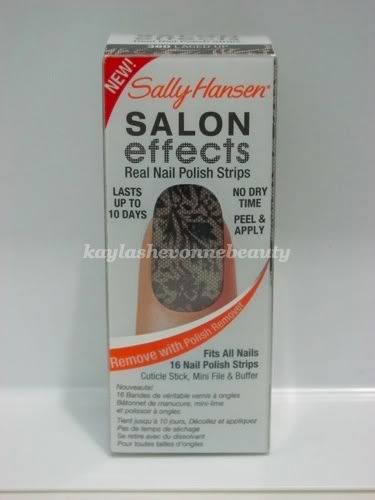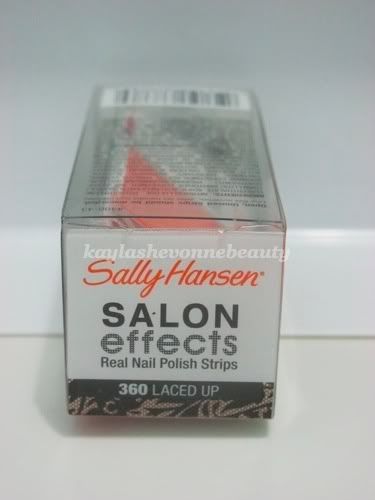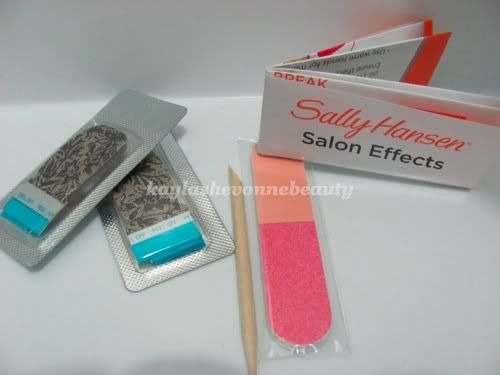 Application:
Your first step is to prep your nails: make sure that they are clean of dirt and polish by going over each nail with a q-tip dipped in a little nail polish remover. A good idea also is to smooth your nails using a nail buffer so that you have a smooth surface to work with which will help the strips last longer.
Next, after prepping your nails, find the right sizes and right cuticle shapes for your nails. To do this, just place the strips over each of your nails and choose the ones that cover your entire nail. If you're in between sizes, choose the bigger size because you can always trim the strip later.
Next you'll pick which nail you're going to start with and get the strip that you've selected for that nail. Remove the clear protective film that covers the front part of the design and then remove the film on the back side in order to expose the adhesive side of the strip.
Then carefully place the strip onto the nail (making sure that it is centered because once it's down, it's down until you remove it). Something of note: these strips are made using actual nail polish so they're not just a sticker that you slap on. Instead, they have a flexible texture so that you're able to stretch them gently to ensure the best fit. However, be very careful when it comes to stretching them because if you're too rough, you'll tear the design.
Firmly smooth the strip over the entire nail - I suggest smoothing it first in the center and then working your way outwards from there. The instructions also suggest using the flat side of the cuticle stick to push down the edges and I think this definitely helped in keeping mine on for a long time.
With the excess strip, pinch it slightly together and then file the rest off using the buffer that was included in the kit. This can take a minute or two but be patient and don't tear the excess off because you might also tear some of the design from your nail.
At this point you can trim any excess if the strip was too big for your nail. Use the sharp side of the cuticle stick for this and just run it along the part of the strip where you want to cut it. You may have to go over this a couple of times but don't be too rough because you might end up taking off more than you desire.
If you're pressed for time, you can skip these next two steps:
Once I finished all of my nails, I went back with the flat side of the cuticle stick and once again pushed down on the edges of all of the strips just to make sure they were secure to my nails.
I also added a coat of Seche Vite to all of my nails which helped make them last longer and also gave them a nice shine.
And that's it, you're done!
The whole process for me took about an hour but I did mess up one strip so I had to remove it and try again. However, it's still a process that takes just as long if not more than painting your nails with a solid colour and waiting for them to dry, which is why I would personally never purchase the solid colour strips or the glitter strips since I would rather just paint my nails with a solid colour or a glitter polish. I guess the upside is that these last longer than just polish but because I paint my nails so often anyways, it's not really an issue for me.
Wear:
I left these strips on for 8 days, although I truly believe that they would have lasted
at least
until the 10 day mark, probably longer. They were not lifting up anywhere on any of my nails and there were no chips at all. The only sign of wear (which you'll see in the photos below) is tip wear which still wasn't too bad, especially considering that I type quite a bit.
I should note that I'm actually rather dainty and high maintenance (yes, I'll admit it) so I don't do much manual labour that would cause harm to my nails. I just wanted to put that out there so that if any of you who happen to have your hands in water a lot, clean a lot and/or do anything else that could cause damage to your nails purchase these and they don't last as long for you, that there'll be some explanation.
One of the most important things for me about this type of product is that I don't want it to
look
like I'm wearing nail stickers and these really don't look like stickers. In fact, I did get many compliments on these and when I told people that they were decals, they were really surprised!
Anyways, onto the photos of how these held up over the 8 days that I had them on.
Day 5: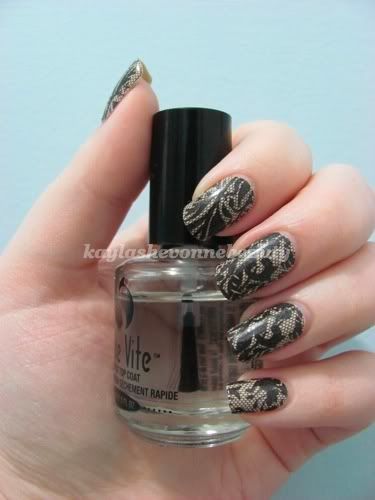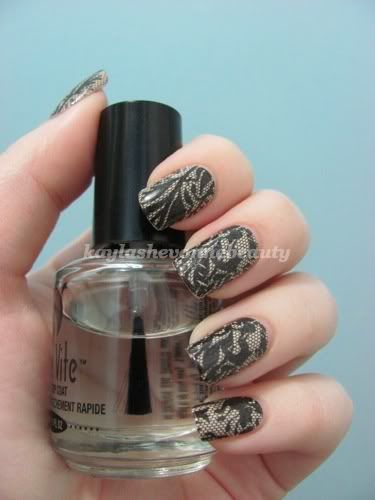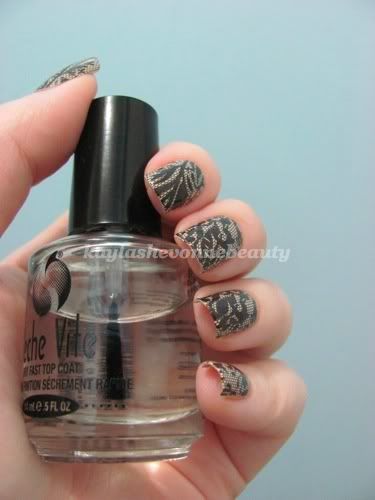 Day 8: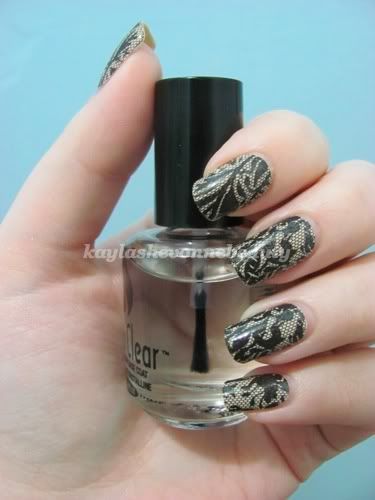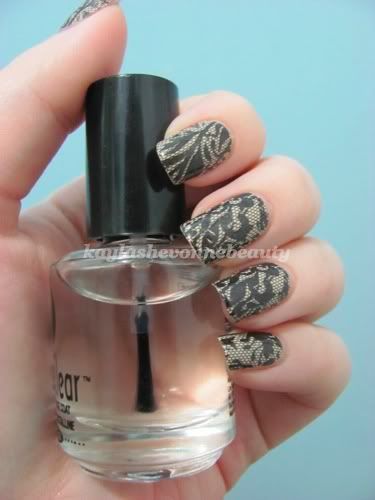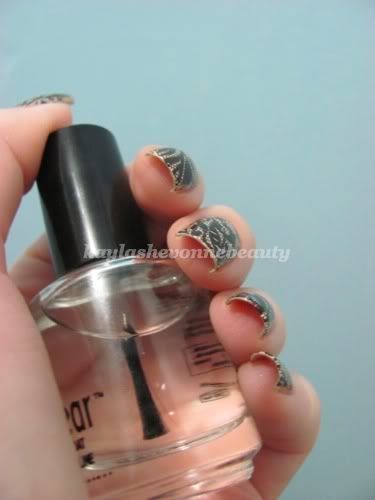 As you can see, there's barely any difference between Day 5 and Day 8 and they still looked rather good. They're not as shiny as Day 1 but I could have added another coat of Seche Vite to remedy that. It also looks like the colours in the design were fading just a tad but that's to be expected.
Removal:
These were a cinch to remove! I used the exact same removal routine that I always use: acetone on a square of felt. They did leave behind a bit of a sticky residue so I had to scrub my nails (gently, of course) with a nail brush in some warm water to make sure to get rid of all of that.
Overall:
I am extremely impressed with this product. I have zero complaints and I will definitely purchase them again. I would recommend them for anyone, especially those of you that don't have a lot of time to do your nails and would like something to last a little longer than a normal mani but that is still affordable. These cost $8.97 and for a mani that can last at least 8 days (and like I said, I really think it would have lasted longer), I think that's pretty reasonable.
Alright, I know this was long but I hope it was helpful to those of you considering this product!