Hey guys!
Some of you may remember when I made
this
post not long ago letting you know that I was chosen as the winner of the
Illamasqua & AllYouDesire Competition
. Well, I received my polishes today (they got here so quickly!) and as promised, here is my review and swatches.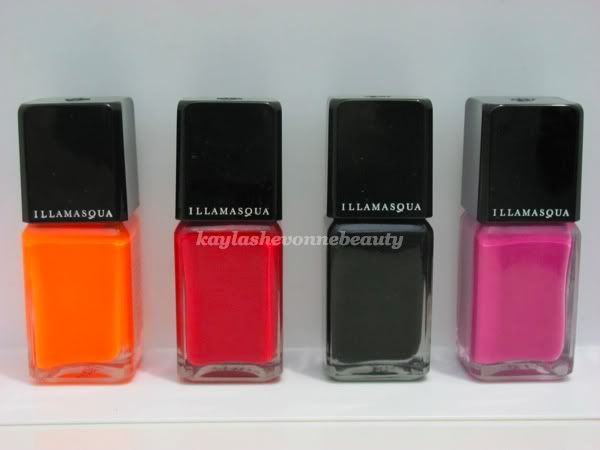 Keep reading to see swatches and read the review!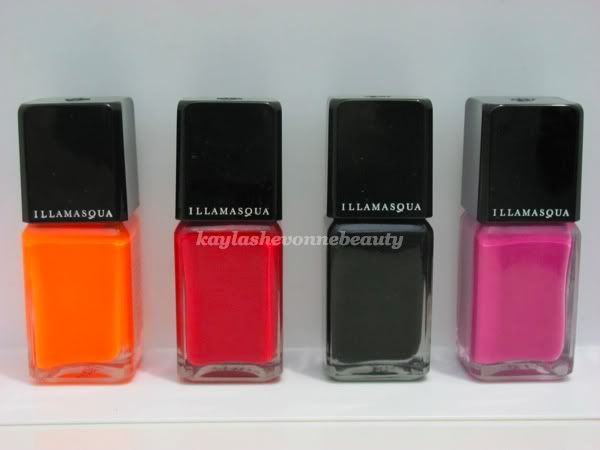 Gamma, Throb, Scorn, Grab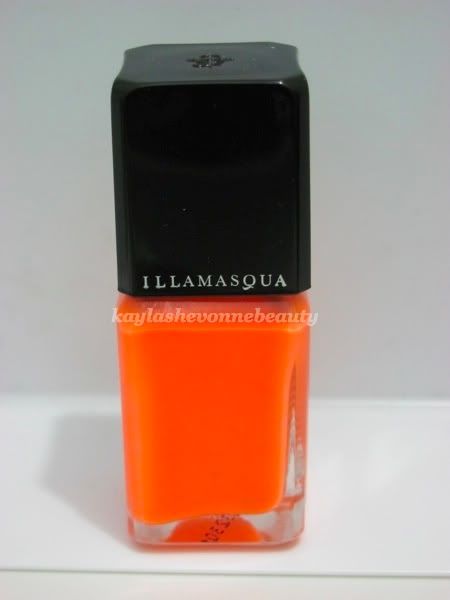 Gamma (vibrant neon orange creme)



Throb (bright red creme)



Scorn (jet black with satin finish)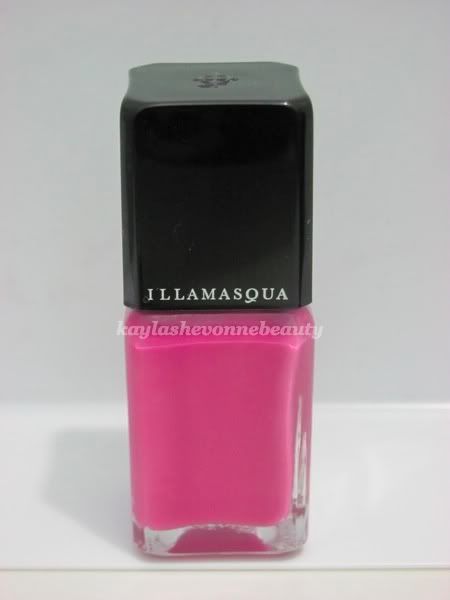 Grab (pink creme that leans slightly purple)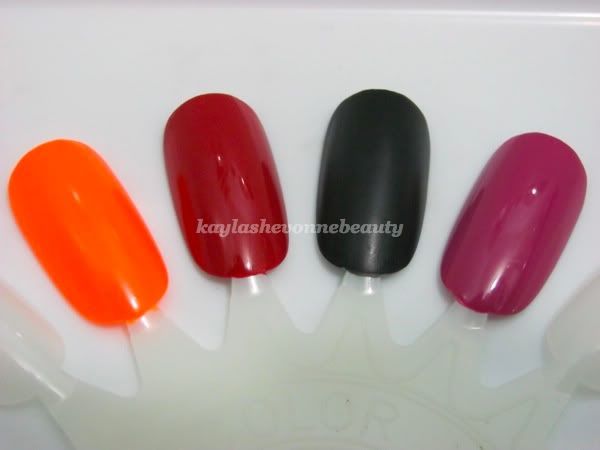 Gamma, Throb, Scorn, Grab



Grab, Scorn, Throb, Gamma
I can't contain how excited I am about these polishes! Seriously, they're amazing!
The formula is by far one of the very best I have ever tried. I mean, I had read good things about the formula of Illamasqua's polishes but I still didn't expect it to be
this
good. Each one of these polishes applied like an absolute dream!
Amazingly, Throb was completely opaque in 1 coat which is something I rarely see. The others were all opaque in 2 and and you all know, I basically always use 3 coats when applying polish but there was simply no need with these polishes.
Let's talk briefly about each of these colours individually:
Gamma was only just recently released with the Spring/Summer 2011 Toxic Nature Collection. It is a very fun colour that is going to be absolutely perfect for summer. It's VERY bright so it'll catch a lot of attention and I think it'll be a great pedi colour.
Throb was released with the Throb Collection and has become my absolute favourite red creme in my collection (and I have a good few red cremes in my collection). It's just the most perfect red; it doesn't lean too orange or too blue, it's just pure red awesomeness.
Scorn was released late last year on its own but was also re-released with the Throb Collection this year. It is absolutely gorgeous and it's something that I would wear as a full mani, which I don't do very often since I pretty much always do some kind of nail art. I really only wear single colours as full manis when I really love a colour. It's not completely matte so it doesn't look chalky, instead it has a sort of flat satin finish that just looks so pretty.
Grab is simply a beautiful colour with an amazing formula. There's really not much else to say, it's wonderful.
The one and only negative thing that I have to say about these polishes is that they have made me NEED more Illamasqua polishes (I'm seriously lemming Radium, Bacterium and Load). This wouldn't be such a terrible thing except that Illamasqua is not readily available in my area and so shipping is just too expensive for me. :(
Anyways, if this brand is readily available for you, I 100% recommend Illamasqua polishes. From what I can tell, you won't be disappointed!
Thanks again to
AllYouDesire
and
Illamasqua
for hosting this contest!