Hey guys!
Sorry I haven't been around much lately but I've been super busy with school. I have an exam tomorrow, a paper due tomorrow, and a paper due on Friday so I've been working my ass off this past week.
I did manage to take a break tonight to do my nails and even though I wasn't planning on doing a St. Patrick's Day series, I got kind of excited when I started to go through all of my green polishes so I think I am going to go ahead with a series.
Also, I removed my Sally Hansen strips today which meant that they were on for 8 days and I'm still working on my review for those so keep an eye out.
In the meantime, here's the first in my St. Patrick's Day designs: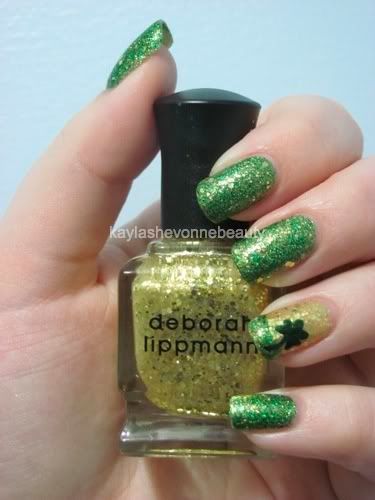 Products:
China Glaze Strong Adhesion Base Coat
Icing - Irish Gold (base for all nails except ring fingers)
Deborah Lippmann - Boom Boom Pow (over Irish Gold and base colour for ring fingers)
China Glaze - Jolly Holly (clover)
Seche Vite Top Coat