Hey guys!
Today I have a mani that was inspired by a fellow Newfoundlander's recent ice cream nail art. She does a lot of freehand nail art which I really respect and she's very good at it. Here's her design that inspired me:
(Photo posted with her permission)
And
here's
a link to her tumblr account so that you can check out her other awesome designs.
I loved the concept but I didn't want to just copy the design so to make it my own, I decided to make the ice cream into ice cream sundaes! I added stripes to make it look like the ice cream was dripping out of a glass and I also decided to add a stem to the cherries to add to the theme of ice cream sundaes. Unfortunately, the design would only work if I faced the glasses inwards (towards me) as opposed to outwards which is not how I usually like to execute my designs. However, I'm still very happy with it how it turned out!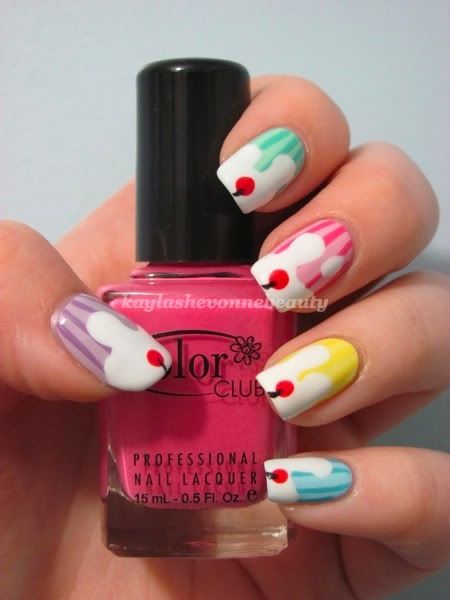 Products:
China Glaze Strong Adhesion Base Coat
China Glaze - Light as Air (base on thumbs)
OPI - Do You Lilac It? (stripes on thumbs)
China Glaze - Re-Fresh Mint (base on index fingers)
Nicole by OPI - My Lifesaver (stripes on index fingers)
China Glaze - Something Sweet (base on middle fingers)
Color Club - Unnamed medium pink (stripes on middle fingers)
China Glaze - Lemon Fizz (base on ring fingers)
Orly - Spark (stripes on ring fingers)
Color Club - Take Me To You Chateau (base on pinky fingers)
Nicole by OPI - "Baby" Blue (stripes on pinky fingers)
OPI - Alpine Snow (dripping ice cream)
Orly - Rock-On Red (cherries)
OPI - Black Onyx (cherry stems)
Seche Vite Top Coat