Hey guys!
I went to Sally's today to look for a good set of hair extensions and I came home with a little more than that. At first I figured that I would pass on this collection and get it at a later date because I really did want hair extensions first and foremost but then I was reminded that Sally's nail polish sale of buy 2 get 1 free is going to be over in a few days so I gave in and got the collection along with my hair extensions. I guess it's better to have gotten them now and only pay for 4 of the 6 than to wait and pay full price for all 6!
Anyways, enough rambling, onto the review/swatches.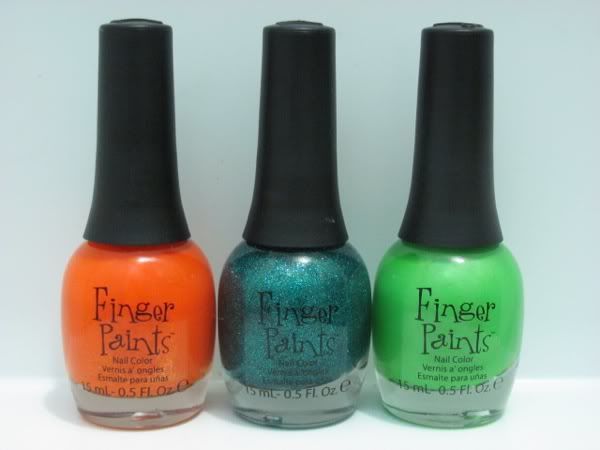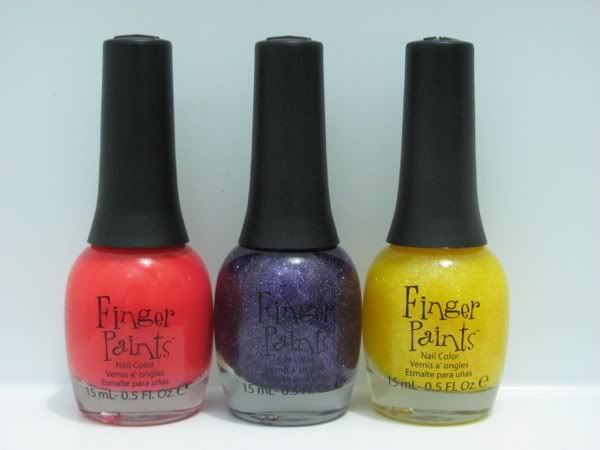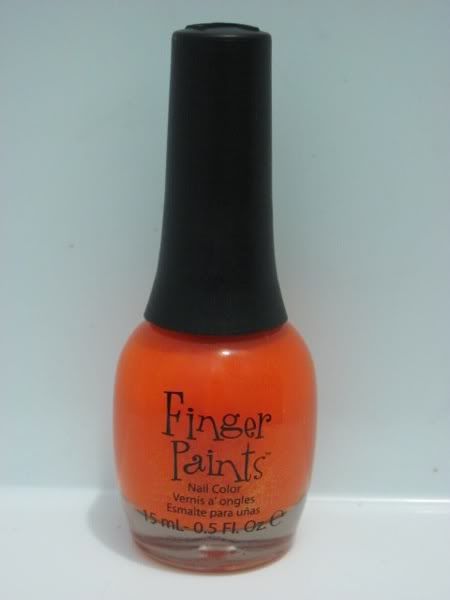 Outta Sight Orange (medium orange with pink and orange micro-glitter)
This was one of the better formulas of the bunch and was opaque in 2 coats. I'm not blown away by this colour because it's not overly unique but I do still like it.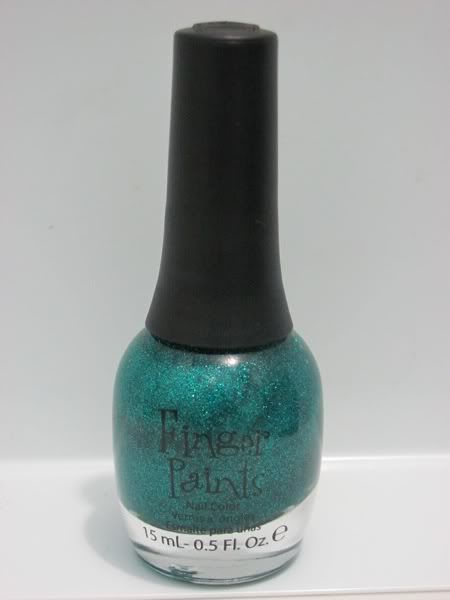 All You Need is Color (teal, green and blue micro-glitter in a clear base)
This shade is similar in colour to China Glaze Atlantis except without the silver holographic glitter (which is really what makes Atlantis so special in my opinion). What you see in my swatch is 3 coats but I definitely do not recommend doing that many coats on the nail as the formula is just too thick and gloopy so it would end up looking really ridiculous on the nail. Thus, if you're really into this colour, I think this would be best used layered using 1 coat over another shade.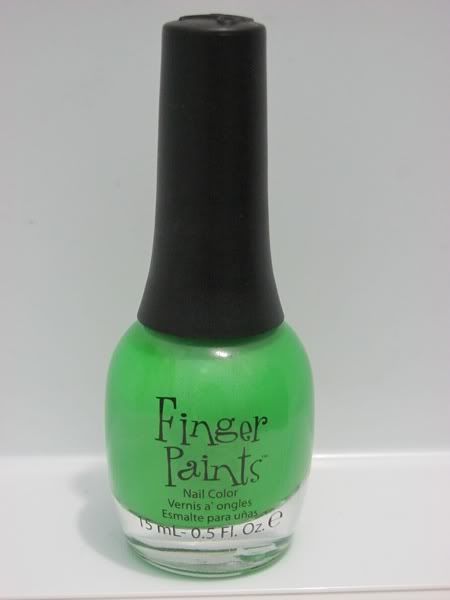 Groovy Green (bright frosty green)
This polish has a weird finish on it that's kind of hard to describe. The best I can come up with is that it looks kind of leathery (which I don't necessarily think is a good thing). This also shows brush strokes and the formula was far too thick so I guess this one is going to need some thinner.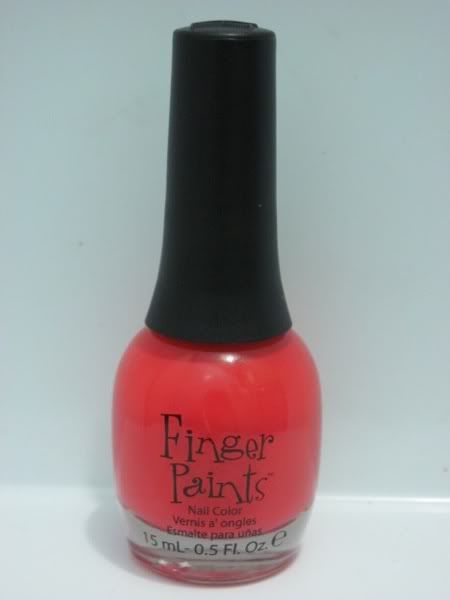 Give Pink a Chance (red-based pink creme)
This is the lease unique shade of the bunch but actually ended up having the best formula so that gets it some extra points. This was also the most opaque of the bunch - it was almost a one-coater but needed just a little extra for complete opacity.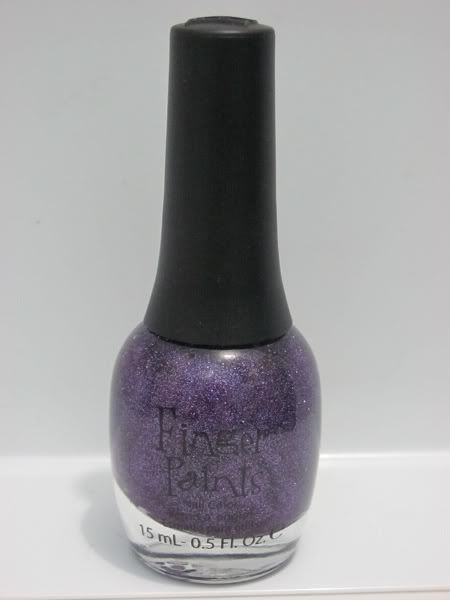 Peaceful Purple (deep purple and silver glitter in a clear base)
This shade was much the same in the formula department as All You Need is Color but maybe just a tad better. It was more opaque than All You Need is Color however and this one only needed 2 coats. I would still recommend layering only 1 coat of this over another polish though because this is just too thick to work on its own.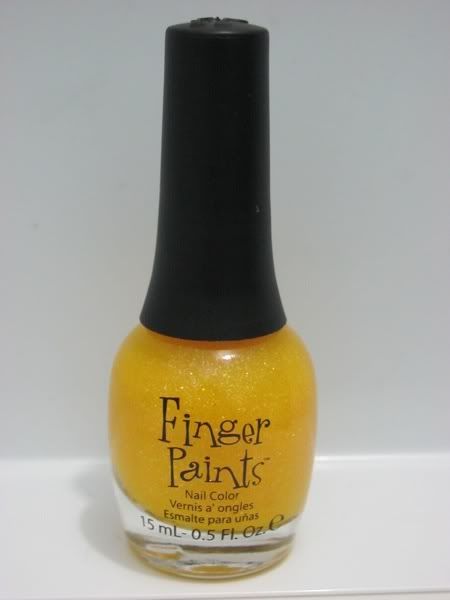 Psychedelic Sunshine (yellow and holographic micro-glitter in a bright yellow base)
This is the colour I was most excited about for this collection and although I really do love the colour, the formula was just awful. It was the thickest of the bunch and actually borders on the line of unworkable. I haven't tried thinning it yet but I'll definitely have to before I use it in the future. The swatch you see is 2 coats but it's still kind of sheer so like the other glitters in this collection, I would suggest layering this over another colour to save yourself the hassle.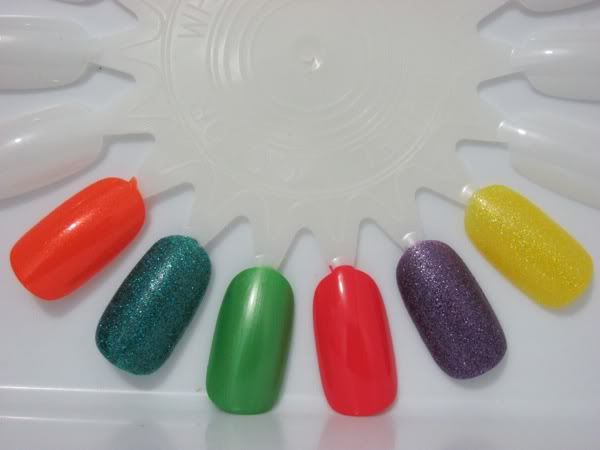 Outta Sight Orange, All You Need is Color, Groovy Green, Give Pink a Chance, Peaceful Purple, Psychedelic Sunshine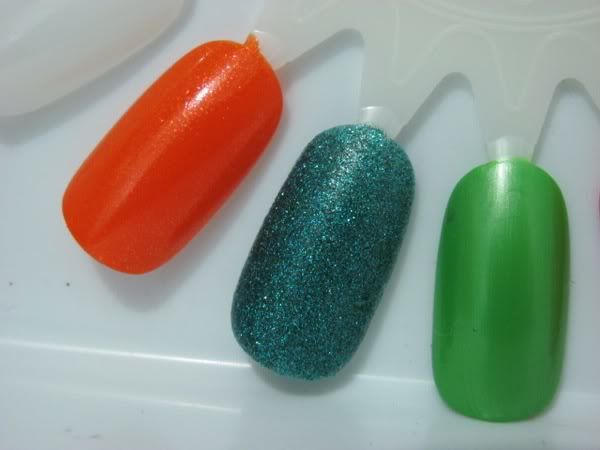 Outta Sight Orange, All You Need is Color, Groovy Green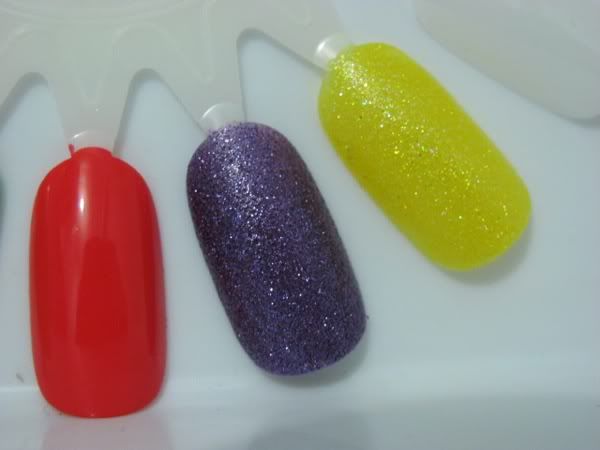 Give Pink a Chance, Peaceful Purple, Psychedelic Sunshine
Overall, I'm disappointed with this collection. I like most of the colours but the formula was a huge let down for the majority of the shades, in particular the glitter shades which had the consistency of thick glue. The one truly unique shade (Psychedelic Sunshine) was the biggest let down for me and I'm just hoping that thinner will save this polish from total rejection.
What do you guys think? Will you give any of these a try?