Hey guys!
Today I have a polish to show you from the Australia-based company Glitter Gal. I had read a few things about their holographic polishes throughout the nail blogging community and I was fortunate enough to be sent this polish for review.
Glitter Gal offers 15 holographic shades as well as a large range of other salon colours. The polish I received is a black scattered holographic and it's simply called Black.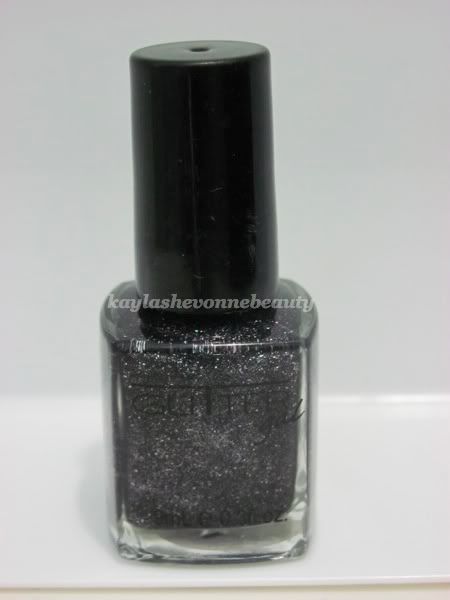 Keep reading for more information, swatches and the review!
Here is some information about the Glitter Gal brand:
Both Anna and Kerry have been friends for many years and partnered together to create Glitter Gal.
With Kerry's experience as a makeup artist and Anna's background in creating/suppling "private label" products to other Australian companies, they have designed "Glitter Gal" a great makeup and nail polish range. The products are great quality, eyecatching packaging and very affordable.
And here is some information about the holographic nail polish line:
We use "true" holographic particles in our formulation. This one ingredient is 30 times more expensive than any other nail polish ingredient. Thus making our holographic nail polish the highest quality possible. You will notice the smoothness to the finish of polish, and reflective effects are amazing.
They are also the "Big 3 Free".
Many other companies have tried to create holographics, but use the more affordable ingredients, which don't give the polishes the same effect, we didnt want to compromise on quality and wanted to deliver to our customers a true holographic formulation.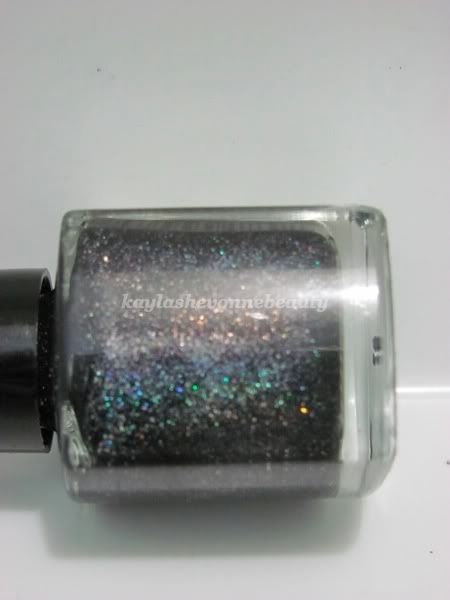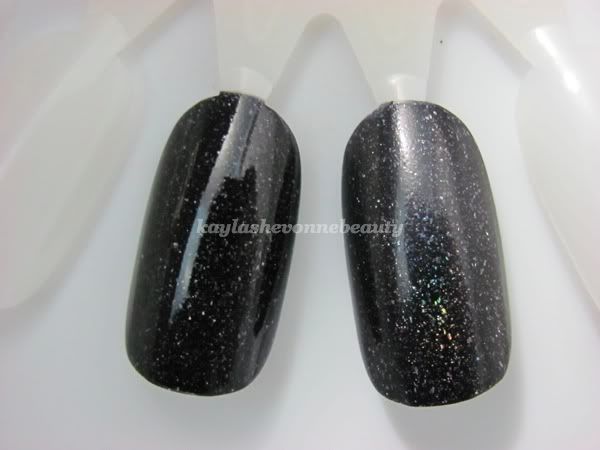 The swatch on the right is without top coat and the swatch on the left has one coat of Seche Vite. It's very clear that the addition of the top coat dulls the holographic effect which is why I would recommend skipping that step.
As you can see (judging by the swatch without the top coat) this polish is the definition of holographic! Look at all those holographic particles! Besides the obvious awesomeness, the formula of this polish was
really
great. It applied very smoothly and was completely opaque in 2 coats. Also, some of the other shades that they offer
really
intrigue me (such as Dark Purple, Green, and Blue) and you'll see why if you check out
the site
.
At first I thought that there was no label on this polish, which is something I was going to count as a negative towards my review. However, upon further inspection, I realized that there is in fact a Glitter Gal label on the front of the polish, the shade of the polish is just too dark so it's difficult to see the black lettering.
I really have nothing negative to say about this polish! I do wish the bottles were bigger but Kerry explained the reasoning behind the smaller than normal bottles and I completely understand.
Each of these polishes retails for $11.95AUD which works out to about $12.23CDN. This does seem expensive at first glance but other holographic polishes (OPI Designer Series, Nfu-Oh) are about the same price.
When it comes to shipping, Kerry gave me some information about shipping rates from Australia. First off, it is important to know that Glitter Gal makes no profit on shipping; you pay what they pay. Also, there is no flat rate for postage as it depends on weight, destination and preferred shipping method. Thus, for a quote, you can contact Glitter Gal for an exact price and they can also advise you regarding the safest shipping method for your country.
Overall, I'm happy with this polish and I hope to be able to show you more from this brand in the future.
If you're interested in checking out what the brand has to offer, check out their shop
here
.
*The product(s) featured in this post were provided by the manufacturer or their PR Company for consideration. For more information, please visit my Disclosure page.