Hey guys!
I finished my final paper of the semester last night so I can now get back to blogging regularly!
Usually I take the summer off to work but this year, because I want to graduate as soon as possible, I've decided to do a summer semester of courses. I'm not really looking forward to it but I know I'll thank myself when I finish my degree in December of this year instead of May of 2012. Nonetheless, I have almost a full month until I start my next semester so I'm excited to be able to post a lot during that time!
Anyways, onto the point of this post: the review and swatches of the Milani Rockstar Heavy Glitter Collection. I know most of you have already seen swatches of this collection as it was available in the US way back in December. However, it only recently showed up here in Newfoundland so that's why I'm way behind everyone else on swatching it. I actually contemplated not swatching it at all since it's old news now but it was just too beautiful of a collection to not swatch. So, here it is, the Milani Rockstar Heavy Glitter Collection.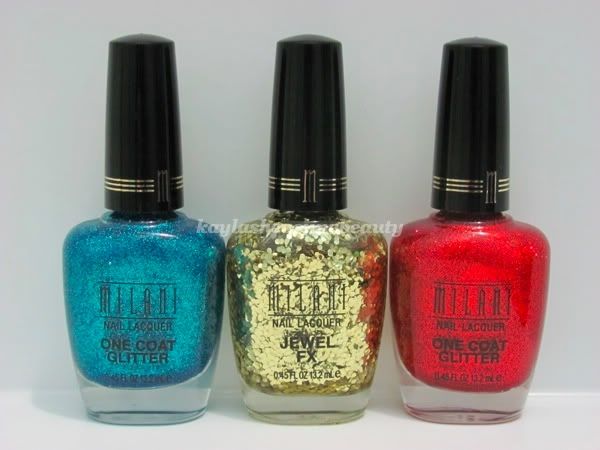 Keep reading to see swatches and read the review!

Purple Gleam, Gold Glitz, Silver Dazzle, Gems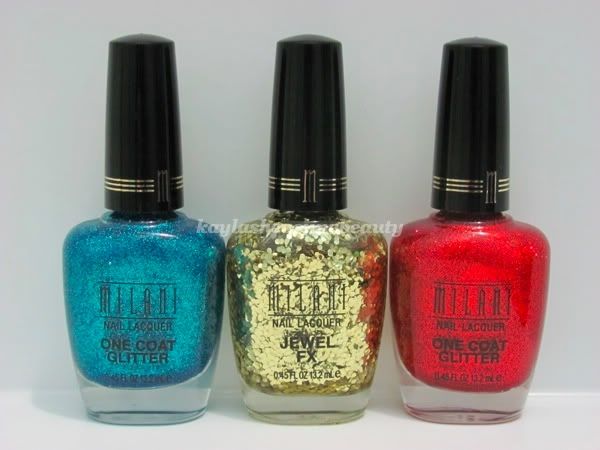 Blue Flash, Gold, Red Sparkle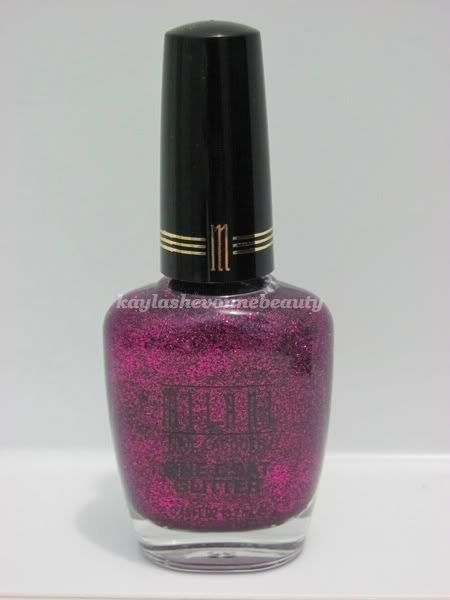 Purple Gleam (multi-toned purple glitter with a touch of black)
I love this colour SO much! The addition of the black glitter gives this polish so much more depth than if it were just a multi-tonal purple glitter. Unfortunately, like the others, this one doesn't live up to the name of a one coat glitter as my swatches are all 2 coats for the glitters. However, it may be possible to use only one coat if you use a rather thick coat. For me, I would rather use 2 medium coats and have it be even across the nail. The formula was really good, it wasn't really thick like you see from some glitters - it was just right.



Gold Glitz (multi-toned gold glitter with a touch of copper)
Another beautiful colour with plenty of depth thanks to the multi-toned glitter particles. This one was the most opaque of the bunch for me and although my swatch is 2 coats, you might actually be able to get away with one coat for this one. The formula was the same - not too thick - just right.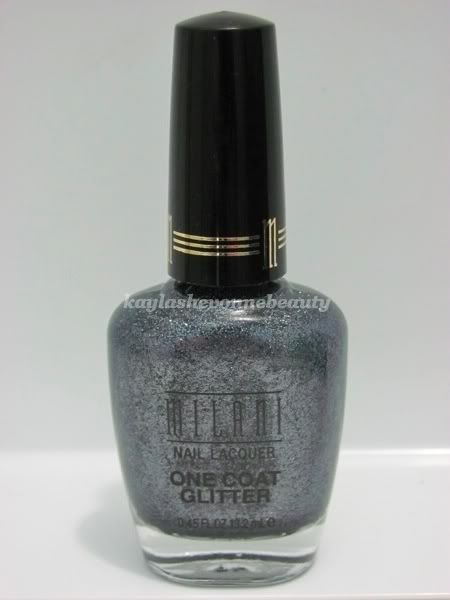 Silver Dazzle (grey and silver glitter with a touch of black)
The dominant colour in this polish is definitely more gray than it is silver but I guess the name comes from the touch of "silver dazzle" glitter throughout the shade. Once again, my swatch is 2 coats and the formula was the same as for the other glitters in the collection.



Gems (clear base with multi-coloured and multi-sized glitter)
This one is the supposed Deborah Lippmann Happy Birthday dupe and I have to say that just by looking at it, this seems awfully close to a dupe. I still haven't compared them next to each other (I promise I'll get to that for you guys) but this looks VERY similar.
I have read that some of these do not have the pink glitter in them which is the main reason this hasn't been called a dupe for Happy Birthday but mine definitely has the pink glitter (as you can see in the photo above and in the swatch photo) so I guess this was a re-formulation that included the pink.
Anyway, my swatch below is 3 coats of this but that is only because I swatched it alone instead of layering it over another polish which I think is what the Jewel FX polishes are meant for anyways. This wasn't too difficult to work with but you might have to push the glitter around a little with your brush to get it to go where you want it. And, if you're planning on applying more than 1 coat, be sure to wait for the first to dry because otherwise the glitter will move around with your brush strokes.



Blue Flash (multi-toned blue glitter)
Yet another winner in this collection. The dominant colour of this shade is a medium blue but the touch of the lighter and darker blues throughout give it a lot of depth, much like the other glitters in this collection. Again, my swatch is 2 coats and the formula was the same as with the other glitters.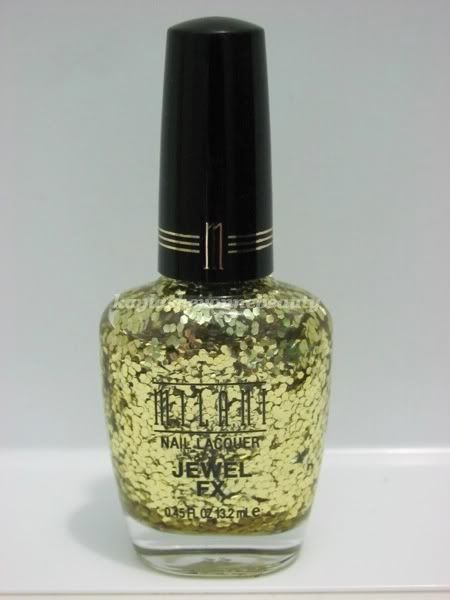 Gold (clear base with large gold hexagonal glitter)
Could they not come up with a better name for this one? The name is just too simple for this polish! This one was the hardest to work with out of the bunch because I tried my hardest to get it to cover the entire nail when it's probably meant to be used more as a layering polish. Nonetheless, I did manage to get it to cover the entire nail after 4 coats and a lot fidgeting with the glitter. If you have the patience, this does look really cool on its own. I think this is very similar to China Glaze Treasure Chest but I haven't compared them next to each other.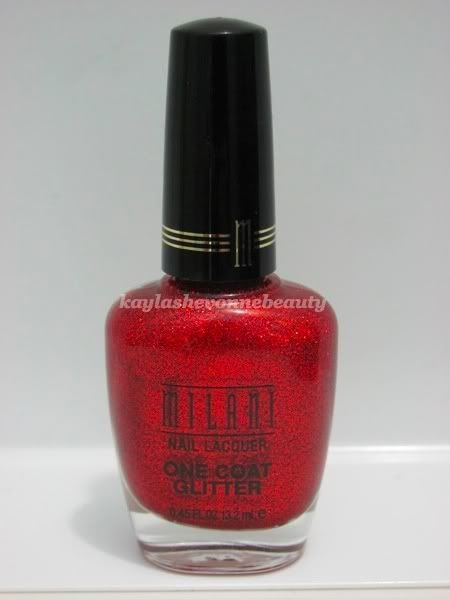 Red Sparkle (multi-toned red glitter)
Oh I'm SO glad I finally came across this one! You see, I have had 5 of the 7 polishes from this collection for about a month or so but I was unable to track down this one and Gems until now. I wasn't overly concerned about not having Gems because I already own the supposed dupe Happy Birthday. However, after seeing photos of this one, I wanted it so bad! I finally was able to get my hands on it yesterday and I'm very happy I did. Again, this one has a lot of depth with the mix of the bright and dark red glitter. And again, my swatch is 2 coats and the formula was the same as for the other glitters.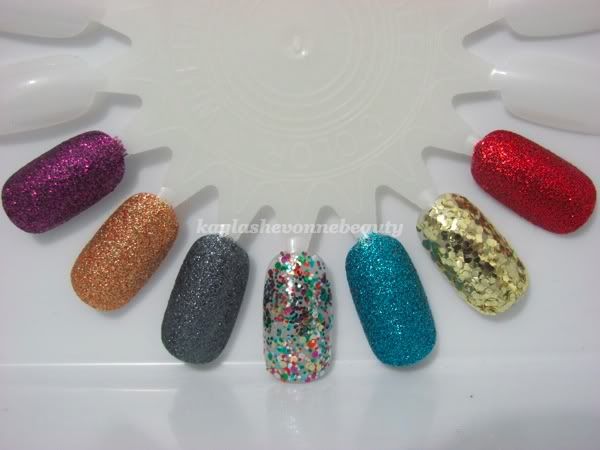 Purple Gleam, Gold Glitz, Silver Dazzle, Gems, Blue Flash, Gold, Red Sparkle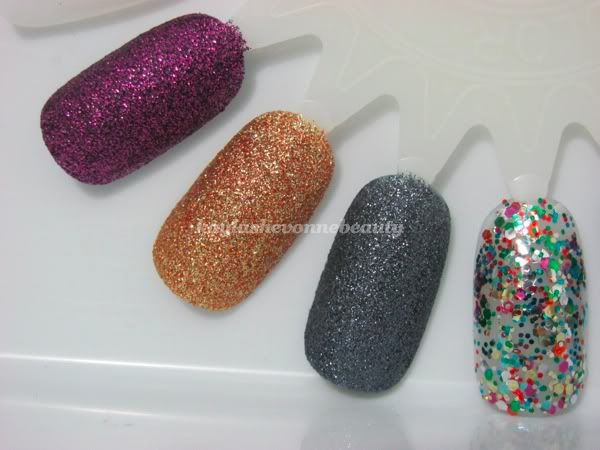 Purple Gleam, Gold Glitz, Silver Dazzle, Gems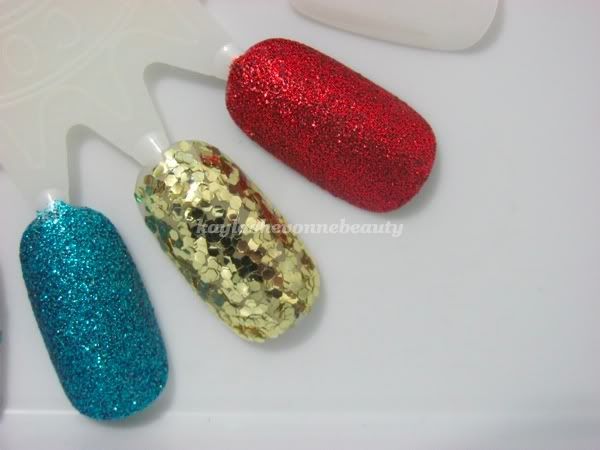 Blue Flash, Gold, Red Sparkle
Overall, I'm very pleased with this collection. The glitters are not just your simple, been there before glitters, they're all multi-tonal and absolutely gorgeous. They don't really live up to their name of being one coat glitters but I know I'm definitely willing to get past that because the colours make up for it as far as I'm concerned.
I didn't apply a top coat to any of my swatches which means they did feel bumpy to the touch so you'll have to add a coat or 2 of top coat to smooth them over. Also, I have already used one of these (Purple Gleam) on my own nails and like any other glitter, removal is a pain. I used
the foil method
to remove the glitter which definitely made it easier but I was still left with a small amount of glitter on my nail beds. However, I think that these polishes are totally worth the hassle.
What do you guys think? Did you pick up any of these colours already? Which ones are your favourite?