Hey guys!
So now that I'm allowed to shop in professional beauty supply stores, I've started to purchase some nail polish brands that up until now I haven't had the chance to try, and one of those brands is CND (Creative Nail Design). I've read some pretty cool things about their Effects line of polishes so I purchased a few of those last week.
I did swatch them alone for you but decided not to post the photos because some of them are really sheer and it's hard to even see them. However, the magic happens when you layer these with other shades of polish so that's really what matters. Below I've layered them over a black creme (OPI Black Onyx) although I also want to give them a try over different, brighter colours as well as some different finishes (glitter, shimmer, foil, etc). I'll definitely do more experimenting later.
But for now, the shades I have to show you are:

Crimson Sparkle, Jade Sparkle, Raspberry Sparkle, Sapphire Sparkle, Amethyst Sparkle
Keep reading to see swatches!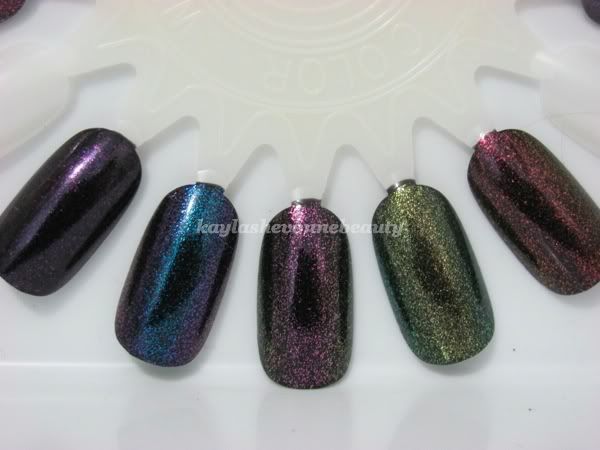 Amethyst Sparkle, Sapphire Sparkle, Raspberry Sparkle, Jade Sparkle, Crimson Sparkle



Amethyst Sparkle, Sapphire Sparkle, Raspberry Sparkle,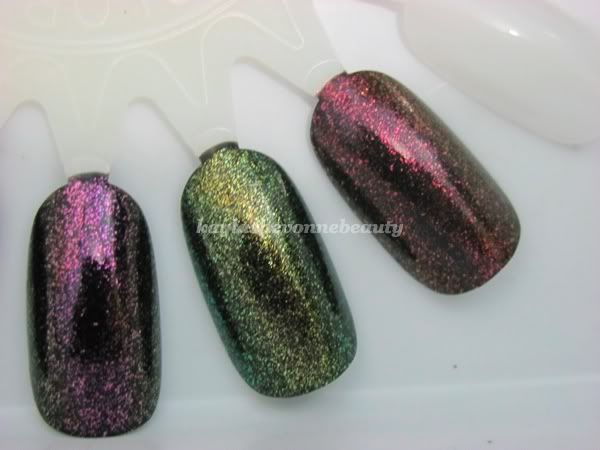 Raspberry Sparkle, Jade Sparkle, Crimson Sparkle
For those of you have that been reading my blog for a while, Sapphire Sparkle over black might look familiar to you. That's because it's basically an exact dupe for Sally Hansen HD in LCD over black! You can see swatches of that (as well as 11 of the other HD polishes over black)
here
.
I think these Effects polishes are great and they really do change the look of the polish underneath them. Even if that change is subtle (such as with Amethyst Sparkle), it's still definitely noticeable.
I've only seen these locally at professional beauty suppliers but you can also get CND polishes from e-tailers such as
www.head2toebeauty.com
Right now it seems that there are only 3 of the Effects polishes in stock (none of which I have swatched here) and I'm unsure if they're going to be restocked. The prices are quite reasonable however considering that it's actually cheaper than what I pay for these polishes from a beauty supply store. Now if only shipping to Newfoundland from these e-tailers were cheaper I would be buying from them all the time!
What do you guys think? Do you like the CND Effects line of polishes? Is there any layering combinations that you would like to see me swatch?