Hey guys!
I hope everyone's weekend went well! I've been getting ready for my new semester which starts tomorrow. And even though I'm in my 5th (and final) year of University, I still get nervous at the beginning of a new semester!
Anyway, today I got very frustrated with nail art. I had planned to do a Mother's Day inspired floral design with roses but after an hour or more practicing on my nail wheel, I realized that I can't draw freehand roses that meet my own standards. Despite that, I moved on to another of my floral ideas - hibiscus flowers. I decided to add the gradient element to make this a little more interesting and I used Rebecca's
tutorial
for the gradient. I'm still not comfortable with gradients but her tutorial definitely helped.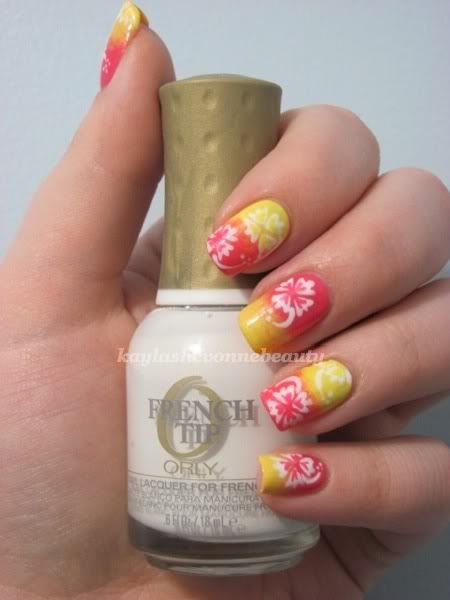 Products:
China Glaze Strong Adhesion Base Coat
OPI - Flower-to-Flower (pink base)
Orly - Spark (yellow base)
Orly - White Tips (hibiscus flowers)
Seche Vite Top Coat
Since I planned on posting this earlier, I was going to wish all you Mom's out there a Happy Mother's Day but I guess now I'll have to wish you all a Happy Belated Mother's Day! Hope you all had a great day!