Hey guys!
So I couldn't post this last night when I wanted to because of my image issue but now that that is resolved, here it is now - my polish haul from this week. This was a big haul week for me because 2 packages came in the mail and my brother got back from a trip to Texas yesterday and he had a number of presents for me! The majority of the polishes I've gotten this week have been on my
wishlist
for a while so I'm really excited about them!
Here's what I've accumulated: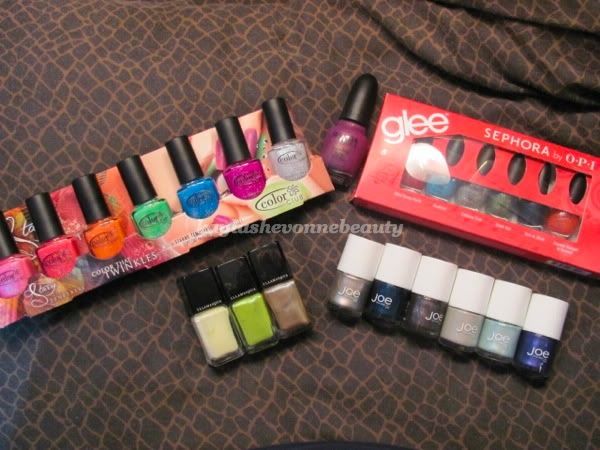 Sephora by OPI GLEE Mini Set (and a full size of one of the shades)
Illamasqua polishes in Load, Radium, and Bacterium
Color Club Starry Temptress Collection
Milani 3D Holographic Collection and Milani Jewel FX in Silver (not pictured - I have to pick them up from
Rebecca
because we placed the order together)
Joe Fresh polishes in Oyster, Peacock, Gunmetal, Cloud, Mist, and Grape
Expect swatches of everything you see here!
What would you like to see first?