Hey guys!
You all know by now that I use
Burt's Bees Lemon Butter Cuticle Cream
to keep my cuticles healthy and moisturized, but up until now, I didn't have a favourite hand moisturizer. In fact, I wasn't really using a hand moisturizer at all (gasp!).
However, I don't know why but lately when I've been in class (maybe the air at my school is drier or something), my hands have started to feel very chalky. I really don't like that feeling so I recently went on a hunt for a good hand moisturizer, and the first one I tried was the OPI Avojuice Skin Quenchers. And not to spoil the surprise, but I won't have to continue on this hunt anymore because I found the treasure!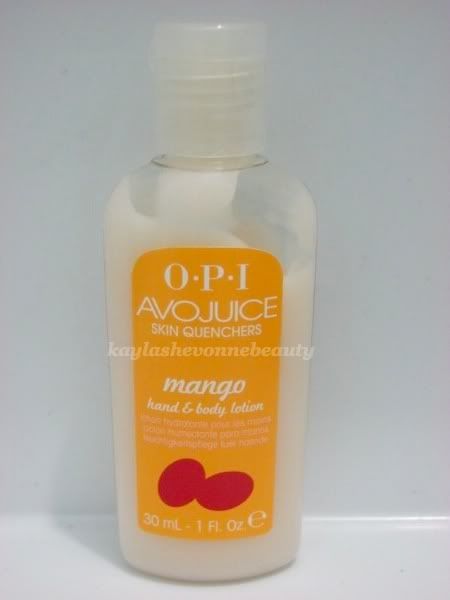 Keep reading for the full review!
Because I was expecting to have to try a number of products before finding the right one, I only bought a couple of sample sizes (in 2 different scents) of this so that if I didn't like it, it wouldn't have been a huge waste of money. However, I'll definitely be going back to my beauty supply store sometime next week to get the full size of this. I've already used up my sample bottle of the Cran & Berry Juicie scent and now I've moved on to the Mango Juicie scent (which is my favourite scent of the 2 I've tried).
According to the OPI website,
"Avojuice Skin Quenchers lotions are filled with real, good-for-you natural extracts and an entire menu of soothing, nourishing ingredients designed to give skin a drink of moisture! In nine juicy flavors your skin will drink up!"
This lotion is all around excellent. It moisturizes my hands really well (no more chalky feeling!), it absorbs super quickly, and it doesn't have that greasy feeling that some lotions have. My hands have seriously never felt softer, so much so that even my boyfriend noticed a difference in the way my hands feel!
OPI's Avojuice Skin Quenchers are available at professional salons and the samples sizes that I've tried were only $1.75 for me (with my pro discount) so I can assume that they likely retail for about double that. The good thing about getting the sample sizes is that it gives you a chance to try the product without wasting a lot of money if you don't like it, and the smaller size is also great to keep with you when you're on the go (I keep mine in my pencil case).
I honestly have nothing negative to say about this lotion. Even without the professional discount, the larger bottles of this are still only $12-15, which is rather reasonable, especially considering the quality of the product. I definitely recommend this to anyone who is in the market for a good hand moisturizer!
What do you guys think? Have you tried OPI's Avojuice Skin Quenchers? What's your favourite scent?