Hey guys!
Sorry for being a little MIA lately but as you know from my last post, I was busy with midterm exams this week. However, today was my last midterm so posting should return to (sort of) normal now until it's time for finals.
Also, please forgive me for taking so long to respond to comments/emails. I've never done an intersession semester before (for anyone who doesn't know, intersession is a compacted semester where courses are completed in 6 weeks instead of the regular 14 weeks) and it's turning out to be a lot harder than I anticipated. I'm in class every day and then when I come home I have to study/do work for the following day so I really feel like I have no free time at all. :( I promise that I will get to your comments/emails though so don't feel like I'm forgetting about/ignoring you! I read everything you guys post/send me, I just sometimes don't have the time to respond right away.
Anyways, enough whining about school, onto polish-related things!
I know I'm a little late with this collection but I was only able to finally complete my collection last week. I've had 3 of the shades for a while now because I found them on clearance a few months ago but I wasn't able to find the other 3. Finally,
Rebecca
decided that she definitely wanted to complete her 3D Holographic collection as well and we placed an order together from Milani for the shades we were missing.
Anyone who's been reading my blog for a while knows what a sucker I am for a good holographic polish (who isn't?!) so I'm sure you can understand how excited I was to finally complete this collection.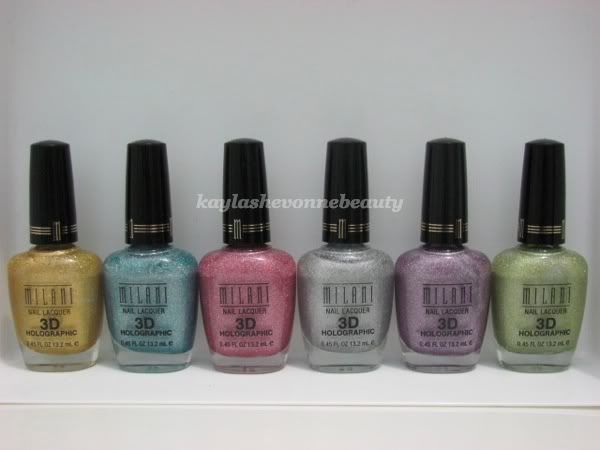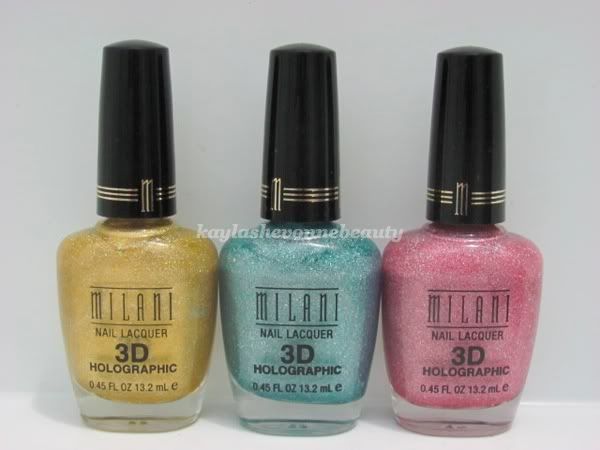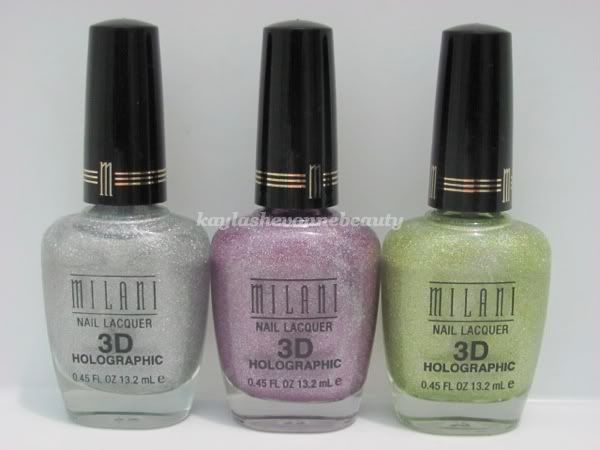 Keep reading for the swatches and review!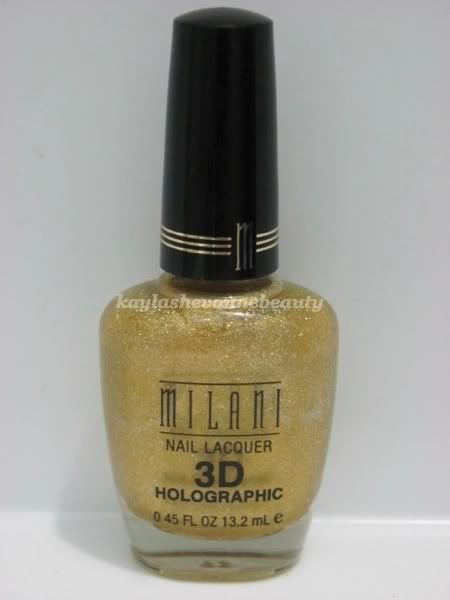 3D (warm gold holo)
As much as I want to love this just because it's holographic, I have to admit that it's not a shade that I would be able to pull of on its own because it's just too warm for my pale skin. However, I think this would look really awesome on those with darker skin/tans. The formula was really good and it was the most opaque of the bunch, only requiring 2 coats for opacity.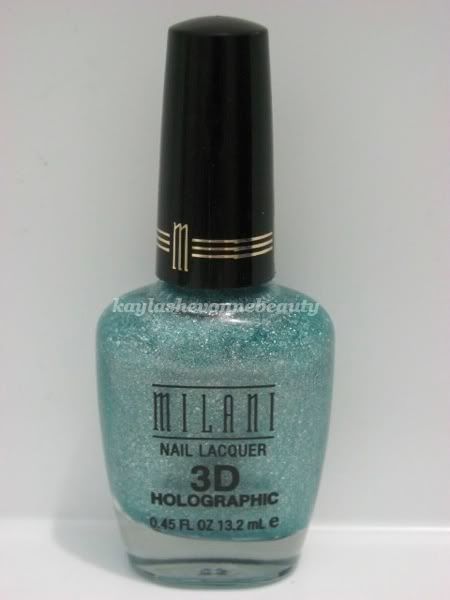 Cyberspace (light sky blue holo)
Aaah, this one is much better suited for me. Pretty colour, great formula, opaque in 3 coats.



Digital (medium rosy pink holo)
This isn't my favourite shade of pink but the holo makes it much more up my alley. Again, great formula, opaque in 3 coats.



HD (silver holo)
This one was probably the sheerest of the bunch and it took 4 coats to get full opacity. However, the formula, the the others, was excellent. I do prefer OPI DS Coronation to this one (sorry, I don't have a swatch of it) just because the OPI one is more opaque although they are, for all intents and purposes, the same colour.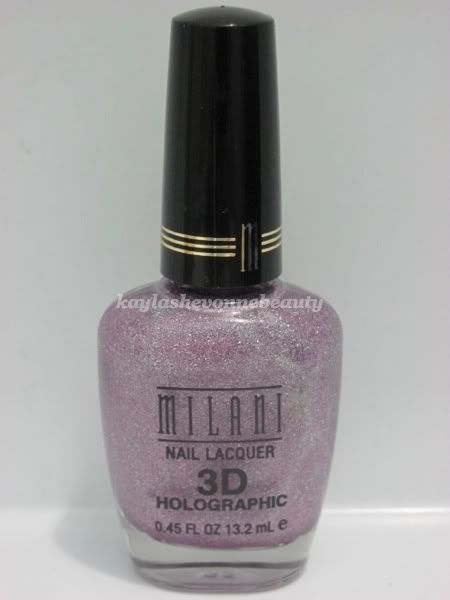 Hi-Res (medium grape purple holo)
This is such a beautiful colour! It's also one of the few from this collection that show a clearly linear holographic effect. My swatch is 3 coats and it applied really well.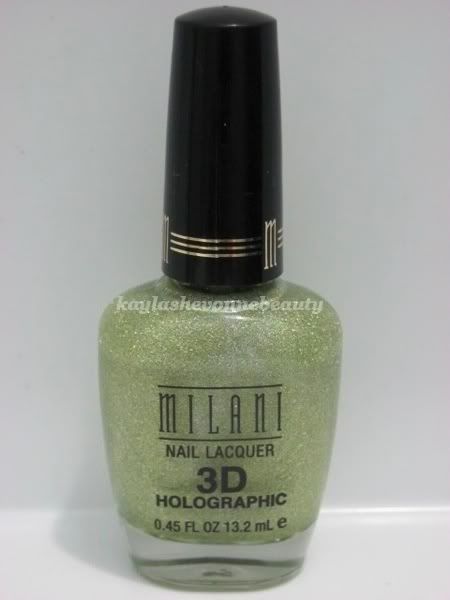 Hi-Tech (bright lemon-lime holo)
And last but definitely not least, the star of the collection! This is not only my favourite colour of the collection, it also has the most linear/noticeable holographic effect. As well, the formula was excellent like the others and it was opaque in 3 coats. Love it!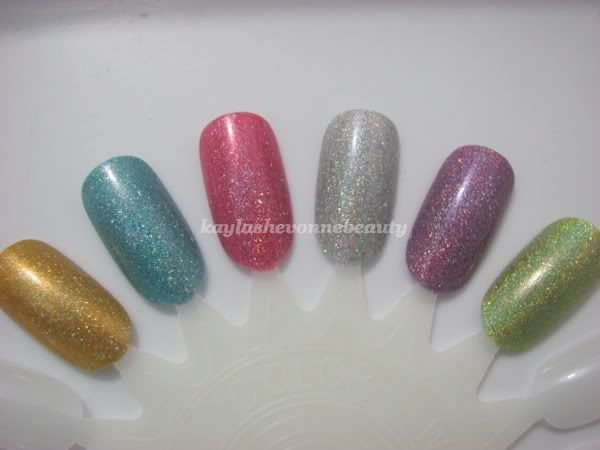 3D, Cyberspace, Digital, HD, Hi-Res, Hi-Tech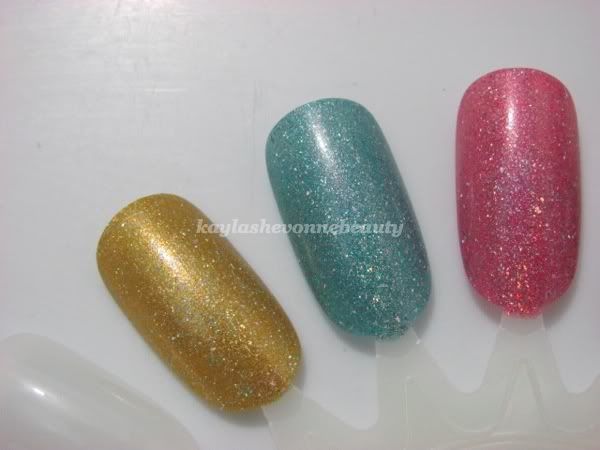 3D, Cyberspace, Digital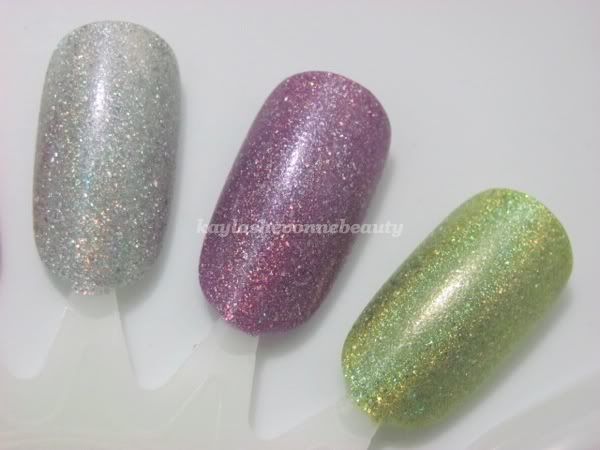 HD, Hi-Res, Hi-Tech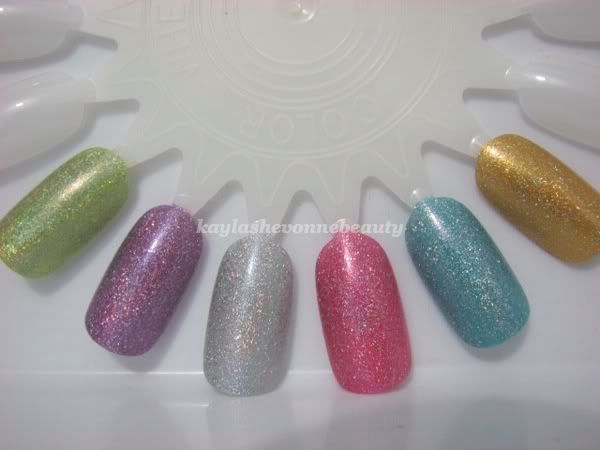 Hi-Tech, Hi-Res, HD, Digital, Cyberspace, 3D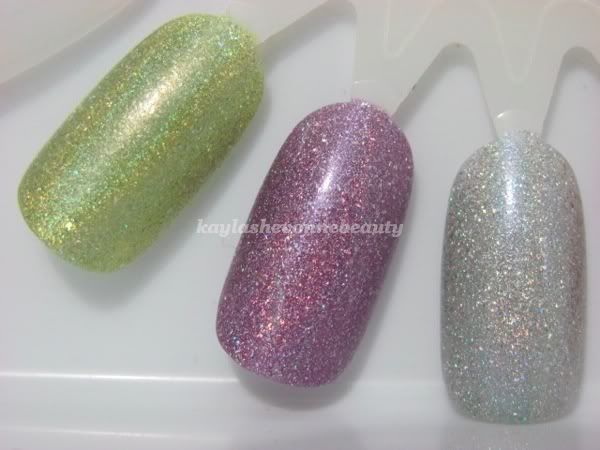 Hi-Tech, Hi-Res, HD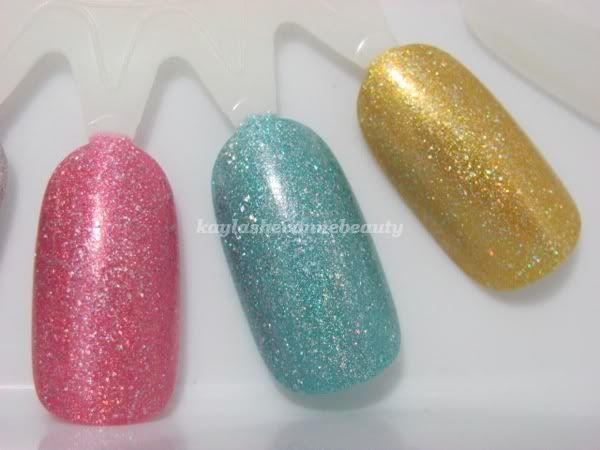 Digital, Cyberspace, 3D
Overall, I'm really happy I decided to complete this collection because 2 out of the 3 shades I didn't originally have turned out to be my favourites from the collection (Hi-Res and Hi-Tech). Also, I didn't mention this in the individual reviews of each shade because I wanted you to see the swatches first but I'm sure you noticed that the holographic particles in these polishes are a little different than your standard holo - they're bigger chunks of holo and I think that looks really pretty (the chunks are best seen in the last swatch photo of Cyberspace). Oh, and in case you thought that the chunks would make the polish feel bumpy, no worries, it's completely smooth to the touch.
Most of the shades show a scattered holographic effect while a couple show a much more linear effect, which I prefer. My favourite of the bunch is (not surprisingly) Hi-Tech.
These are still available on the
Milani
website and retail for $4.99 each.
What do you guys think? Did you pick up any of these already? Which are your favourites?