Hey guys!
Today I thought I would be showing you part 2 of my top 10 polishes post but I got distracted from that when I learned that my local beauty supply store got the Glam Slam! duos and the Pirates of the Caribbean Collection in yesterday. So today I'm going to be showing you one of the Glam Slam! duos - Spark de Triomphe and White Shatter.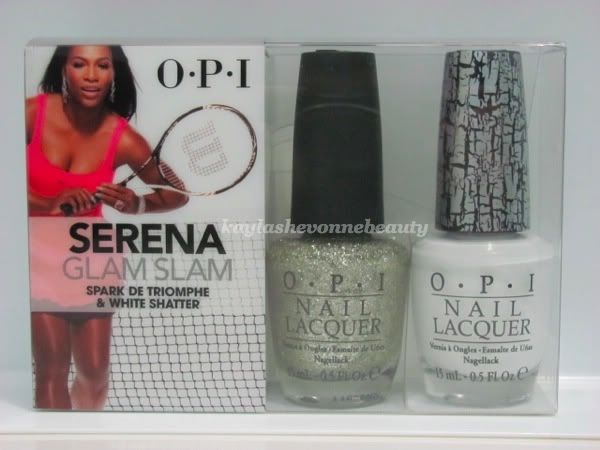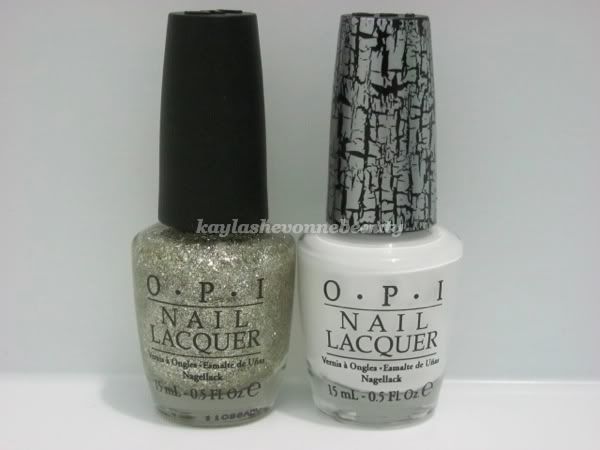 Keep reading for the swatches and review!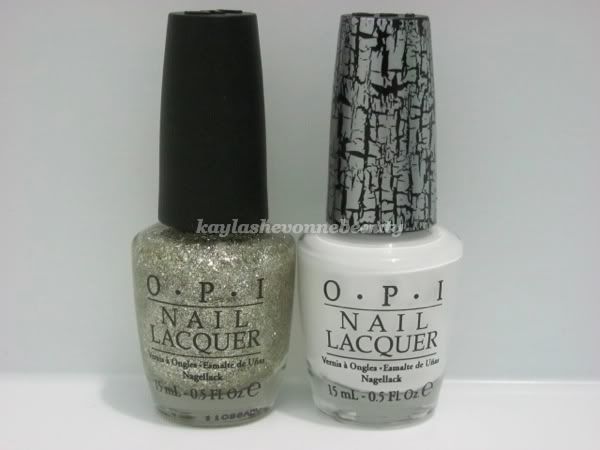 Glam Slam! France Duo - Spark de Triomphe and White Shatter



(Spark de Triomphe)
Spark de Triomphe is a light gold and silver glitter party. There's micro-glitter, hexagonal glitter as well as foil particles all suspended in a clear base. It's a rather interesting shade and it's right up my alley. As I said many times before, I always love OPI's glitter formula and this one is no exception. The swatch of this alone is 3 coats while I only used 2 coats under the shatter top coat.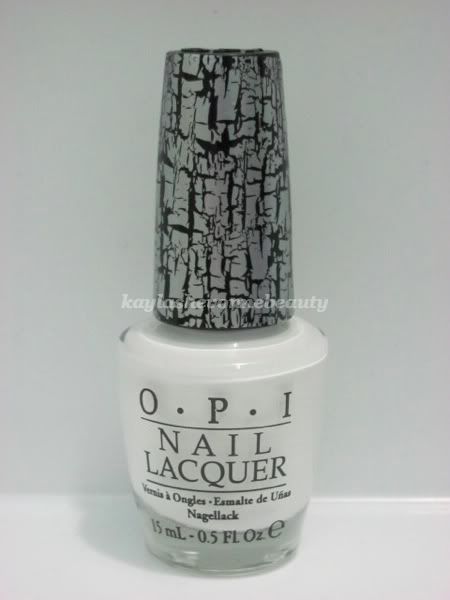 (White Shatter)
White Shatter is similar is every respect to its precursor - Black Shatter (except of course that it's white). The formula and consistency feel the same to me and the same instructions for using this type of polish (see below) should be applied.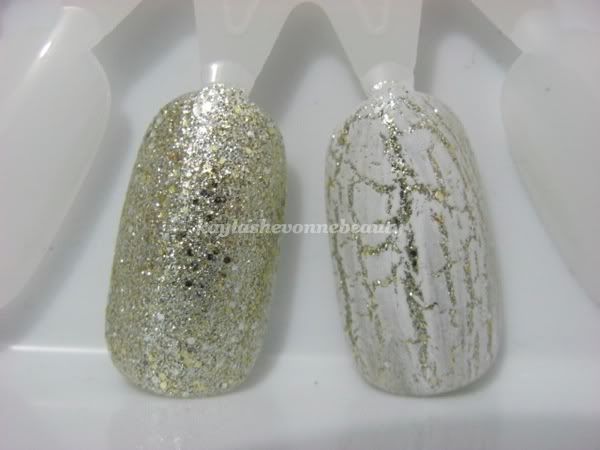 Spark de Triomphe, White Shatter over Spark de Triomphe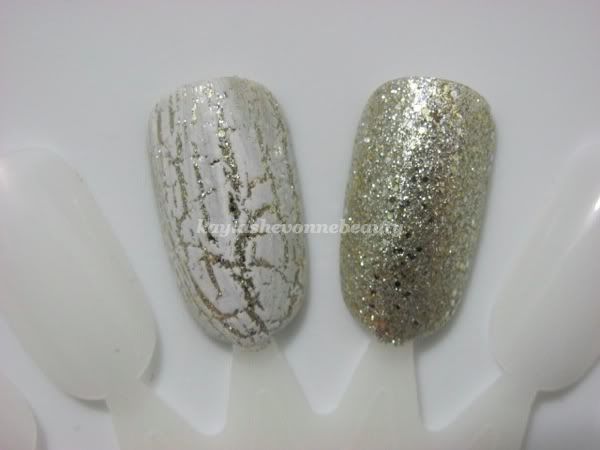 White Shatter over Spark de Triomphe, Spark de Triomphe
Overall, I'm absolutely loving Spark de Triomphe but I'm not the biggest fan of it once White Shatter is added as I think it's a mistake to cover up such a beautiful and unique shade. Aside from that, I just don't think the colours go very well with one another. This is not to say that I don't like White Shatter because I actually really do, I would just much prefer it over a darker, more contrasting shade (for example, I layered the
LCN white crackle polish over a deep green
and I really liked that combination).
Shatter Polish Tips:
- Make sure your polish is dry before applying it. If it's not dry, Silver Shatter won't crackle as much and you'll be left with only a little of your base colour peeking through.
- Apply it quickly with as few amount of brush strokes as possible. SIlver Shatter is very fast acting so you don't want to play around with it, just brush it on quickly and let it do it's thing.
- The shattered pieces may flake off so for a longer lasting mani, add a top coat. But, if you like the matte finish look, skip the top coat.
- A thin coat of the shatter polish will shatter more and thus provide smaller shattered pieces on the nail.
I also picked up the other Glam Slam! France duo which includes the shade Rally Pretty Pink and the Red Shatter Top Coat. I'll have swatches of those shade up for you very soon. The OPI Glam Slam! France duos are available now in professional salons. I got a professional discount for mine so the duo cost me $13.15 but I believe it's closer to $20 for non-professionals.
What do you guys think? Will you be picking up this duo? What do you think of White Shatter over Spark de Triomphe? Any other suggestions for colours to pair with White Shatter?