Hey guys!
I don't have much time to post anything tonight so I'm just going to fill you in on the newest shades that are being released with the OPI and Serena Williams Glam Slam! Series.
Although I really love the look of these new shades, I'm not letting myself get excited about them because the first Glam Slam! duo was never released here in Newfoundland which makes me pessimistic about the availability of these other sets. However, if they do release here, you can expect to see swatches from me.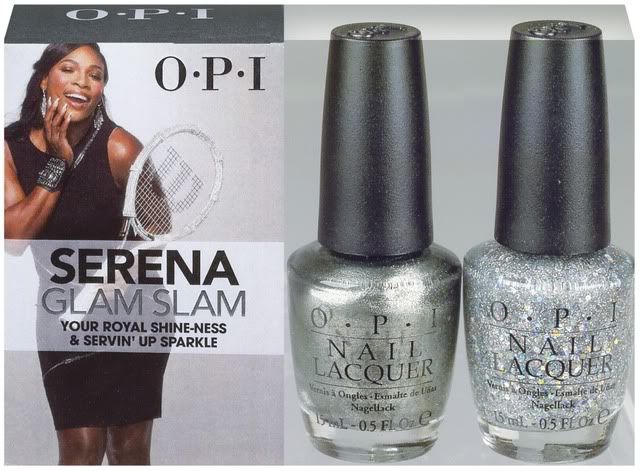 Keep reading for more info about these new shades!
Get "Unbeatable" Sparkle!

OPI Unveils Three New Shades from Serena Williams' Glam Slam! Series

OPI joins tennis superstar Serena Williams in announcing the latest three lacquers in the Glam Slam! collection. To celebrate the world's oldest, most prestigious tennis tournament, Glam Slam! England features two duo-packs filled with sparkle.

The first Lacquer set includes Your Royal Shine-ness, a metallic silver shade, paired with Servin' Up Sparkle, a shimmer-packed silver glitter. The second Lacquer set also features Servin' Up Sparkle, along with Grape...Set...Match, a metallic purple.

"England's premier tennis tournament warrants colors with extra glitz and glamour," said Suzi Weiss-Fischmann, OPI Executive VP & Artistic Director. "The next big trend in nails is making lacquer look 3-dimensional by adding different micas and glitters, turning fingertips into jewelry. With two bold metallics and a sparkling glitter, these colors are fit for royalty."

"For stand-out nails, I love experimenting with different glitter shades," explains Serena Williams. "The new Glam Slam! England lacquers can be worn alone for a bright pop of color, or layered with Servin' Up Sparkle to create a textured effect."

Serena Williams has received the World Number One in singles ranking by the Women's Tennis Association on five separate occasions, along with being listed as sixth on the all-time greatest champions list. Additionally, she has won two Olympic gold medals in women's doubles and has earned 27 Grand Slam titles to date. Serena is the most recent player to have held all four Grand Slam singles titles simultaneously and only the fifth woman in history to do so.

New shades in the Glam Slam! collection will be introduced to coincide with each of the four major tournaments, beginning with the Australian Open in January 2011, followed by launches in May 2011 for the French Open, June 2011 for Wimbledon and August 2011 for the US Open. As with all OPI Nail Lacquers, the Glam Slam! collection contains no DBP, Toluene, or Formaldehyde, and each includes OPI's exclusive ProWideTM Brush for the ultimate in application.
Glam Slam! England will be available beginning June 2011 at Professional Salons and Spas $20.95 CAN suggested retail for each duo-pack.

For more information, please call 800-341-9999 or visit www.opi.com. Follow OPI on Twitter @OPI_PRODUCTS and become a Facebook fan!