Hey guys!
I have some exciting news - my one year blogiversary was this past Sunday, June 26th! I would have liked to have this post up for that day but the Canada Post strike foiled those plans because I was waiting on the prizes to arrive, so this post is a little delayed.
I just wanted to say a big thank you to all of you for supporting me over this past year. At first I thought this was just going to be a small hobby, but it's grown into much more than that and it's really become a big part of my life and I'm so happy to be able to share it with all of you.
To celebrate, a great company (
Made You Blush
) has supplied me with some really awesome prizes that I think you guys are going to be excited about. It's of course not going to be even close to as big as my 500 follower giveaway, but I'm super excited about this one. I've talked a little more about Made You Blush after the jump so be sure to take a look.
The winner of this giveaway will receive 2 brand new bottles of Deborah Lippmann nail polish from the Spring 2011 Collection - Naked & Glitter in the Air.
I've reviewed and swatched Glitter in the Air myself so you can check out that post
here
but I don't personally own Naked so I'm super jealous of whoever wins this prize!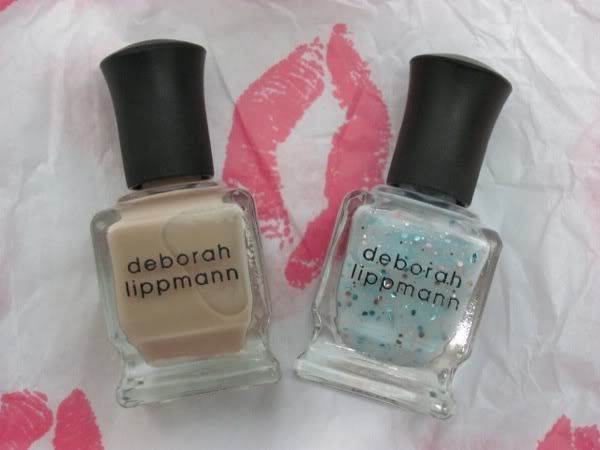 Keep reading for the rules and information on how to enter!
Please read the rules carefully! I will disqualify entries that do not abide by the rules of this giveaway!
Rules / Eligibility:
Winner must be a follower of my blog. This giveaway is open to all followers, including my international followers. Participants must be 18 years of age or older or have express permission from a parent or guardian to enter. The giveaway will end at 11:59PM NST (Newfoundland Standard Time) on the evening of Thursday, July 28th. I will use random.org to generate the winner. Once I have notified the winner, they will have 48 hours to claim their prize. If the winner fails to respond to my email within 48 hours, I will choose another winner at random. Participants are allowed to enter up to 4 ways (see below). Entering using all 4 ways will give participants a better chance to win but participants are not required to enter using all 4 ways.
Disclosure: The prizes in this post have been provided by an outside company. I am not receiving any compensation for this post and everything I have/will say about the company is my own opinion and is not influenced by them providing these prizes. For more information, please see my
Disclosure Policy
.
Made You Blush
is a company that I have talked about before, and they are the only website in Canada that I know of that supplies Deborah Lippmann nail polishes. I've actually built a bit of a rapport with the owner of the business and she even emails me personally to let me know when new Lippmann polishes are in stock!
The customer service from this company is among the best I have ever dealt with and I strongly suggest that if you're planning to buy any Lippmann polishes, that this be the place you look. However, they also sell much more than Lippmann polishes so I suggest you take a browse through their website to see what else interests you (and there's bound to be something)!
Thanks again to all of you who continue to support my blog! Good luck!