Hey guys!
Today I have a makeup related post for you, which have been severely lacking on my blog recently. A little while ago I ran out of my Benefit BADgal Lash Mascara, which I've been in serious love with ever since I tried a sample of it that came with the
Her Name Was Glowla
set.
In the review I said that I wasn't very impressed with it but after I ran out of my L'Oreal Voluminous Mascara, I figured that I may as well use up the rest of the sample of BADgal Lash, and I was quickly eating my own words after I tried it again.
I went out soon after and bought a full size version and used that all up as well. After I emptied that tube, I didn't really have the money to spend another $28 on a mascara so I decided it was time to try something new from the drugstore, and I picked up this one by Maybelline for my experiment.
According to the package:
"Exclusive lash catcher brush catches, coats and de-clumps every single lash for our most refined volume from root-to-tip. Instant clump-free volume."
Does it live up to its claims? Keep reading to find out!

(Maybelline One by One Volum' Express Mascara)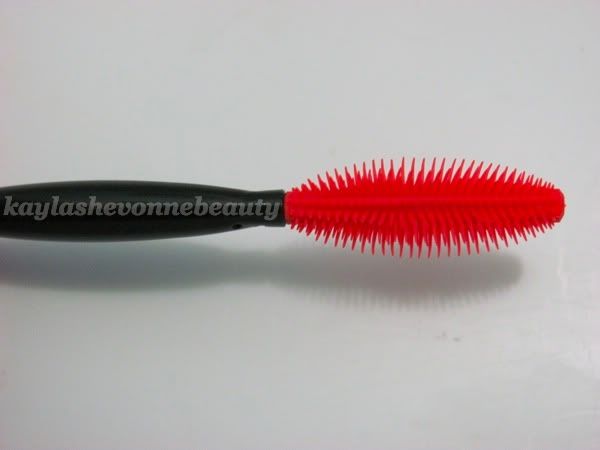 (Maybelline One by One Volum' Express Mascara)



(Bare lashes)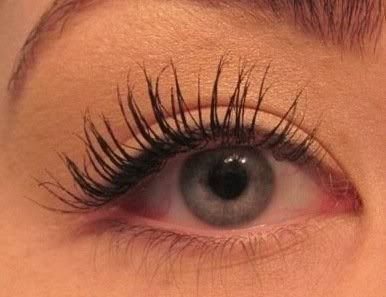 (Maybelline One by One Volum' Express Mascara on only the top lashes)



(Maybelline One by One Volum' Express Mascara on both top and bottom lashes)
I found this to be much more of a lengthening mascara than a volumizing one. As you can see from my photos, it does a decent job of separating and lengthening but it's definitely lacking in the volume department, which is where it claims to excel. The formula really didn't clump at all, even though I spent a lot of time playing around with the product and trying to get it to work as well as it said it would, so the no-clumping claim is one that the product lives up to.
The wand is very bendy which is something that you either love or hate when it comes to a mascara. I'm in the hate it group - I prefer my mascara brushes to be on the stiffer side so that I have the most control possible.
Because the brush is on the smaller side, this does well for the coating the bottom lashes with product, which can sometimes be a pain, so I do like this mascara for that purpose.
The tube does a good job of removing excess product from the brush as you're pulling it out so that's a definite plus.
Overall, I think this mascara does a good job of lengthening and separating the lashes but it doesn't really add as much fullness as the product description would suggest. I've continued to use this product for the above purposes but I've been adding a coat of another mascara (CoverGirl LashBlast) to add fullness. When these are paired together, I get the results that I would have liked to have seen with this one alone.
Maybelline One by One Volum' Express Mascara can be bought at drugstores and retails for approximately $7-8, depending on where you live.
P.S. I didn't watermark the photos of my eyes because frankly, if someone wants to take those, they can go ahead. :P