Hey guys!
I had my last final for the intersession semester today! Yay!
Now I'm only doing 1 course over the summer semester so I'll be able to be around more than I have been lately.
I have been seeing this tag post on a bunch of blogs over the last couple of days and since I think tag posts are super fun, I wanted to take part in this one too.
Instructions: Dump out the contents of your purse, answer the questions, and tag 5 other bloggers to find out what's in their purse.
I've showed you guys my current bag before as it was the inspiration for one of my nail art designs -
Safari Skittles
- but as a refresher, here it is again: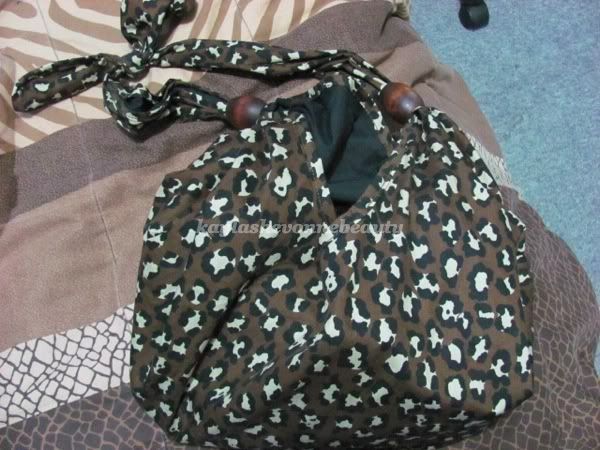 I switch purses a lot depending on my mood, my outfit, and the season, but I've been using this one for a while now - mostly because it's big enough to fit my school books in.
So what's inside? Keep reading to find out!
Where did you get your purse, and how long have you had it?
I got my purse at Old Navy in April and it was only $10. I got it because I wanted something big enough to hold my school books, it was on sale, and of course because it's animal print.
What are 3 must-haves in your purse? (Not including keys and wallet)
Brush, phone, lip balm
What is something you should have in your purse right now, but don't?
Gum! I
always
have gum in my purse but I stupidly forgot to pick some up the last time I was out.
What is the thing you have the most of in your purse right now?
Pens/pencils
This is most of what's in my purse (aside from my school notebooks which wouldn't fit in the photo so they have their own photo below).
Most everything is pretty self-explanatory but nonetheless, here's a list of what you see above:
- The little green thing in the corner is a mini manicure kit which includes a mini file, mini clippers, etc - you never know when you'll need these things!
- iPhone 4
- Some mentos
- Keys
- Hair brush
- My $6 wallet that I adore
- Sunglasses
- Zebra print pencil case (photo below of contents)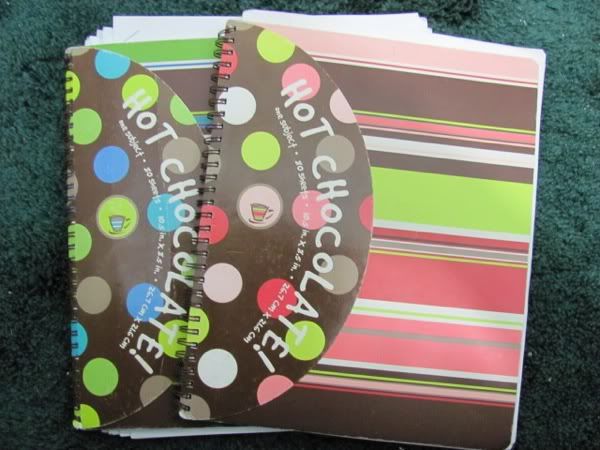 These are the 2 school notebooks I had in my purse today but I can take those out now! You'll recognize the one on the bottom from my last
mani
which was inspired by the cover of that notebook.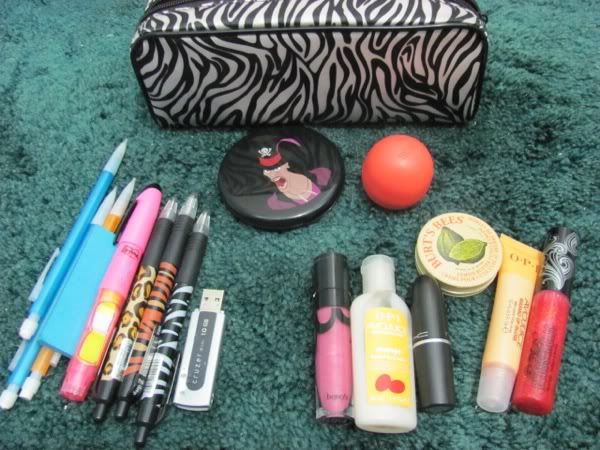 Usually I would have a makeup bag instead of a pencil case but since I was using this purse for school, I didn't want to have both a pencil case and a makeup bag, so I basically crammed everything into 1 case.
Again, it's not hard to see what's there but I'll give you a list anyways:
- Pencils
- Post-it notes
- Highlighter
- Pens
- USB drive
- MAC Dr. Facilier I'm So Vain compact mirror
- EOS lip balm
- Benefit lipgloss in Who Are You Wearing?
-
OPI Avojuice Skin Quenchers
- MAC lipstick in Sweetie
-
Burt's Bees Lemon Butter Cuticle Cream
- OPI Avojuice lip gloss
-
Hard Candy Glossaholic lipgloss in Fireball
Ok, that's it for my what's in my purse. I'm going to break the rules now and instead of tagging only 5 bloggers, I'm going to tag anyone who wants to take part in this.
P.S. Can you tell that I like animal print? :)