Hey guys!
So after swatching, reviewing and comparing all four shades from the Orly Happy Go Lucky Collection, I have some final words/recommendations.
This post will also serve as an easy access page where you can find links to all of the swatches, reviews and comparisons from this collection that I've done.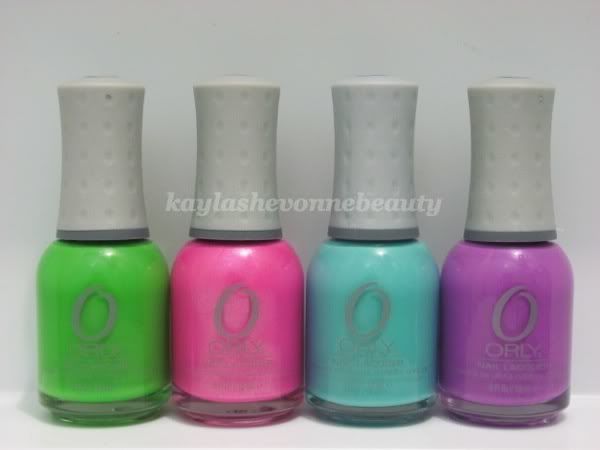 Review & Swatches - Orly Happy Go Lucky Collection
Swatch Comparison - Orly Frisky
Swatch Comparison - Orly Frolic
Swatch Comparison - Orly Fresh
Swatch Comparison - Orly Flirty
In the end, Frolic surprisingly ended up being the most unique of all four shades and I had nothing else close to it in my collection. Flirty comes second in the unique race and although I had a couple of shades that were similar in one respect or another (i.e. base colour/finish), nothing was quite like Flirty. These 2 shades would be the ones I would recommend first from this collection.
Unless you're a complete polish addict like myself and need every variation of every shade, I would skip Frisky if you already own China Glaze For Audrey.
Additionally, I would skip Fresh altogether, even if you don't own a grassy green shade, because I didn't find the formula to be very good and there are some better alternatives available.
Overall, Orly's Happy Go Lucky Collection is a short and sweet one with a few shades that are deceptively unique.
The Orly Happy Go Lucky Collection Lacquers are available now for approximately $6-7, depending on where you live. ORLY Nail Lacquers and Treatment products are available at orlybeauty.com, Sally Beauty, Ulta and other purveyors of beauty throughout the U.S. and in over 100 countries worldwide.
I've decided to start making these full collection comparisons/final recommendations a regular thing on my blog so hopefully it's something you guys like. :)