Hey guys!
Continuing with my jewelry storage series, today I'm going to show you how I store my earrings.
I've always had a problem with earring storage because even though it's one of the easier pieces of jewelry to find storage for, I've never managed to find anything in my area that I liked enough to actually display my earrings on. So after I found my
bracelet storage
on eBay for a pretty good price, I decided to check there to see if I could find anything that would satisfy my picky taste for earring storage as well.
This is what I found: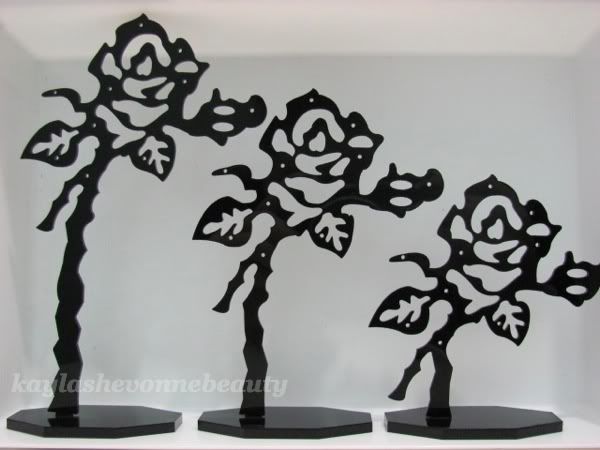 It's a 3 piece system in the shape of roses and each piece has tiny holes in it for your earrings. However, you don't only have to use the designated holes - the cut-out pattern of the roses allows you to just hang earrings pretty much all over each piece. And because I like the look of organized clutter, I hung my earrings all over mine.
Like I said in my bracelets post, these solutions are only used for fashion jewelry and my more expensive earrings are kept in a small jewelry box. I don't have very many pairs of fashion earrings so right now I'm only using 1 of the 3 pieces that came with the set (the biggest one).
So what does it look like once it's filled with earrings?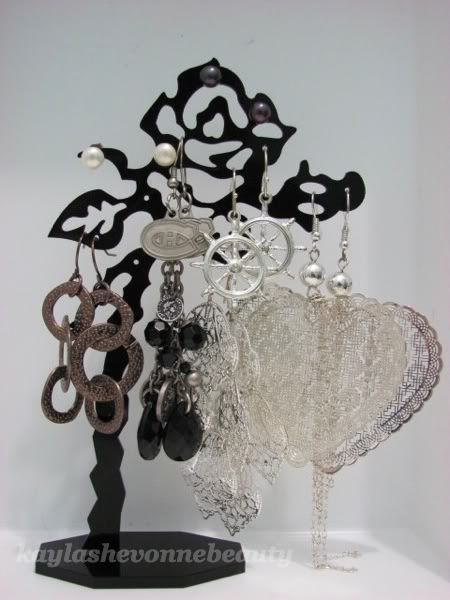 Cute, isn't it? For the set of 3 earring displays, I paid a total of $6.44, including shipping.
Here's
a link to the seller who I got this storage from and like the seller I got my bracelet stand from, this one also sells a lot of jewelry storage solutions. They also sell this same type of earring storage but in different shapes such as palm trees, roosters, feet, and other more abstract shapes.
So that's it for how I store my earrings. I'm really happy with it and I think it looks really nice and cohesive next to my bracelet stand.
I'm still going to be doing storage posts for my necklaces and rings at some point so keep on the lookout for those.
How do you all store your earrings?
P.S. Today is my boyfriend David's 24th birthday so everyone wish him a Happy Birthday! :)