Hey!
I thought that tonight I would show you guys my current project as well as give you a sneak peak into my nail polish collection (and I promise you there is a full collection post coming asap).
This is my "Untrieds" drawer where I hold all of my recent nail polish purchases until I swatch them for you and on my own
nail wheels
. Usually I swatch polishes for you within the first couple of days of getting them but for my own wheels, I typically have a swatching marathon once every couple of weeks, but this varies depending on how many I've acquired, really.
However, I've neglected my own wheels lately and it's left me with quite a large drawer of untrieds, or unswatched if you prefer.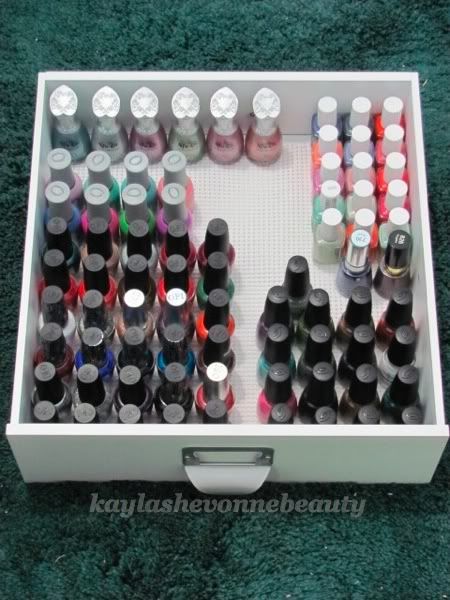 Keep reading for more photos and a full list of the polishes you see above.
So what do you see here?
At the back of the drawer are my newly acquired Nfu-Oh Holographic polishes (I mentioned these in
this
haul post and #61 and #65 arrived today).
In front of those we have the
Orly Happy Go Lucky Collection
as well as 4 colours from last year's Orly Sweet Collection which Sally's recently started carrying as open stock.
Continuing down the left side we have a slew of OPI polishes including the
Katy Perry Collection
, the
Texas Collection
, the
Blue-Hued Shatters
, the
OPI Serena Williams Glam Slam! England duos
, OPI
Red
and
White
Shatter from the Glam Slam France duos, and a few OPI DS Series polishes including
Original
, Classic and Reflection.
Moving over the right side of the drawer, we have a number of China Glaze polishes in the front including the
Crackle Metals Collection
, the original
Crackle Collection
and 5 shades from the Tronica Collection (as mentioned in
this
haul post).
Behind the China Glaze polishes we have 2 Revlon colours -
Royal
and
Perplex
.
And last but not least, at the back of the drawer on the right hand side, we have a number of Essie polishes including the
Resort 2011 Collection
, the
Braziliant Collection
as well as a few open stock colours that I've accumulated.
So that's it for my untrieds drawer! I think a swatching marathon is
way
overdue.
Did you guys keep an "untrieds" drawer? Has it gotten as out of hand as mine has?