Hey guys!
Thank you to everyone who voted in my poll regarding which nail design you would like to see a tutorial for next. With 39% of the votes, my
Rainbow Splatter
manicure, which I did in celebration of LGBT Pride Month was the winner.
I'll be putting up a new poll after I post this tutorial so be sure to vote in that one as well. I also have another poll up right now asking for your feedback concerning what you would like to see more of on my blog, and even though there's still a little time left to vote, it's clear that you guys want more tutorials. So, I'm going to make a point to make
at least
one nail art tutorial a week and the designs I do will be entirely based on your votes.
Anyways, onto today's tutorial.
To refresh, here's what I'll be showing you how to do: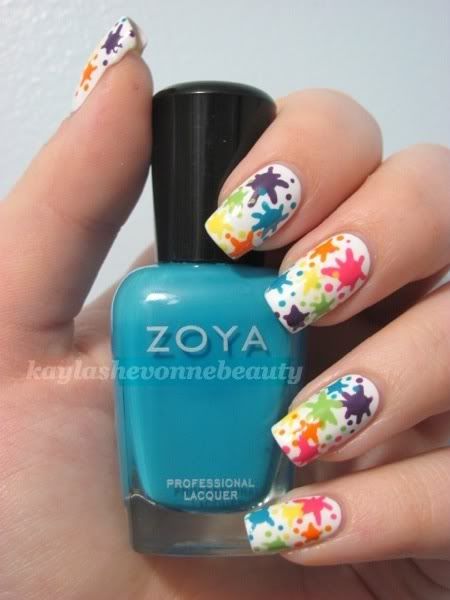 Keep reading for the tutorial!
What you'll need:
The exact brands/names of the polishes I've used are in brackets but you can use whatever brands/shades you have in your stash.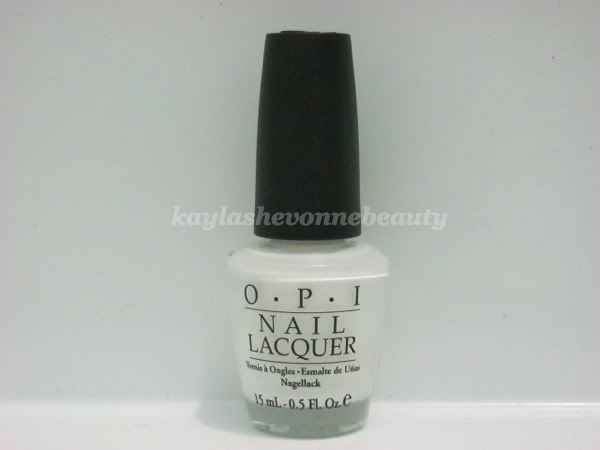 White polish (OPI Alpine Snow).
Cream polishes in pink (Zoya Jolene), orange (
China Glaze Papaya Punch
), yellow (Orly Spark), green (Orly Green Apple), blue (Zoya Robyn), and purple (OPI Funky Dunkey).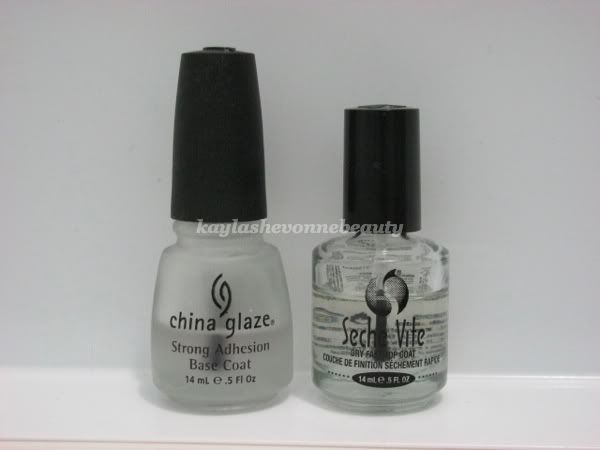 Your favourite base (China Glaze Strong Adhesion Base Coat) and top coat (Seche Vite Top Coat).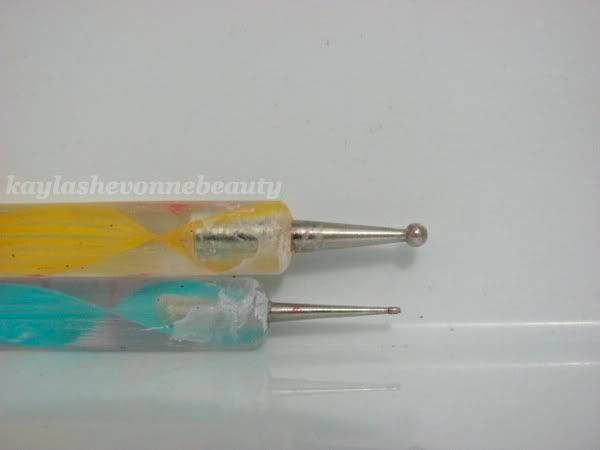 2 dotting tools (one large and one small). You could also use a toothpick instead of the smaller dotting tool and if you don't have a larger one, it's not entirely necessary, it just makes it a little easier to execute the design. And I know mine are a little beat up looking but that's what happens when you let these sit in acetone for long periods of time (oops).
Step 1:
Apply your base coat. (I didn't think it was necessary to take a photo of this step.)
Step 2:
Apply two coats of your white polish (or until it's opaque). This will serve as your base colour.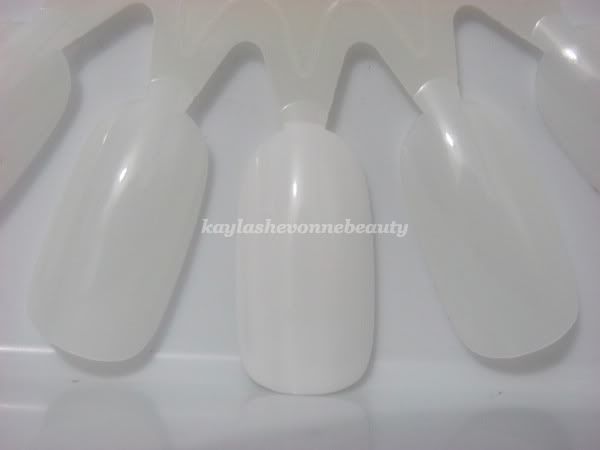 Step 3:
You can use your colours in any order you choose but since this is a rainbow design, I did my splatters in the colour order of a rainbow. Thus, I'll be starting with my pink polish.
Using your larger dotting tool (or, if you don't have one, simply use the polish brush), place a large circular blob near the base of your nail. Make sure the blob is rather thick (you can even add a second blob to it to make sure it's thick enough).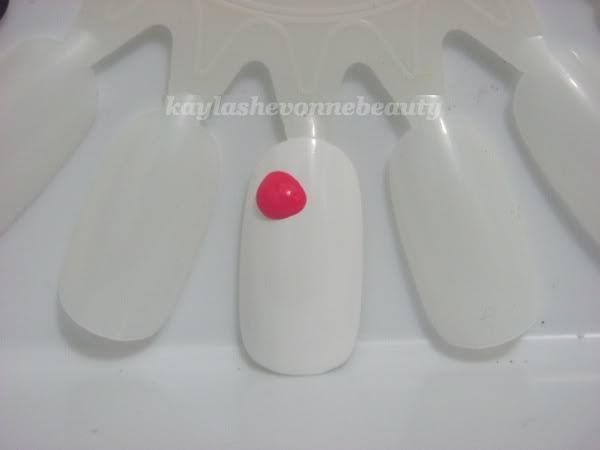 Step 4:
Next, using your small dotting tool (or toothpick), start to pull the polish out from the blob to create the splatters. Still using the small dotting tool, add dots of the pink surrounding the splatter. There is no perfect guideline to go by when making your splatters so just pull the polish out from the blob until you're satisfied with your splatter.
It's best to work with one colour at a time so when you do the pink splatter on your first nail, move on to your other nails and do the pink splatters on those as well.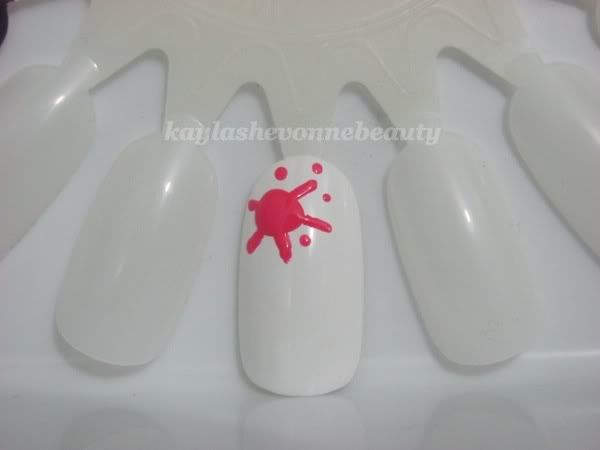 Step 5:
Continue making your splatters with the rest of the colours (orange, yellow, green, blue, and purple). If you have shorter nails, make your splatters smaller than I'm doing here so that you'll be able to fit most, if not all of the colours of the rainbow on each nail. And remember, it's ok for the splatters to overlap some. However, you don't want too many of the colours to overlap because it can start to look muddy.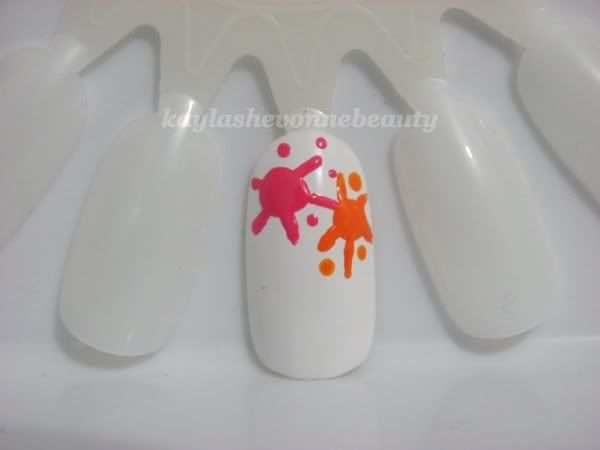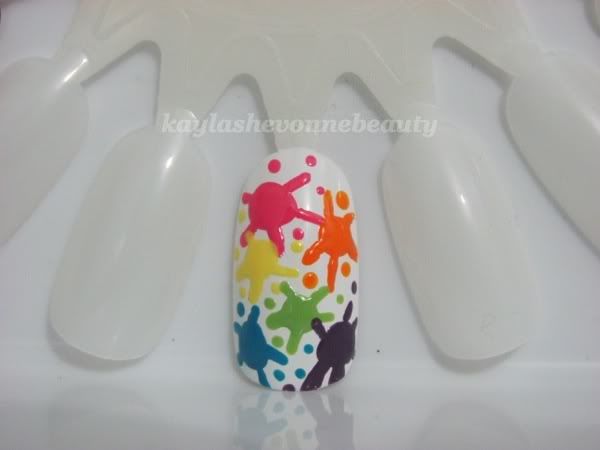 Step 6:
After allowing your design to dry completely, add a layer of your favorite top coat. This will make your new mani last longer, it will smooth out any bumps and ridges that have been created during the process, and will also give your nails a nice shine.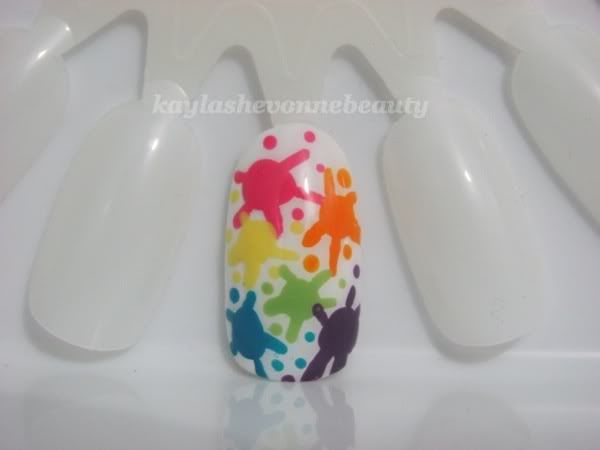 As always, I hope this tutorial was helpful and I hope some of you will try this design out for yourselves. And I'd really like to see pictures of this if you try it. :)