Hey guys!
Another silver holo post for you today!
Over the next couple of weeks I'll be doing a series of reviews/swatches on all 6 of the Nfu-Oh Holographic polishes. Because I've heard a lot of different things about the formula, application and wear of these polishes, I've decided to not just swatch them on nail wheels like I normally would, but to actually put them through wear tests.
Additionally, these polishes are just too special and coveted that I had to do full nail swatches for each of them.
This means that you won't be seeing any new nail art from me while I'm doing this series but I'll try to itch the nail art bug for you by uploading a few tutorials of my past designs.
At the end of the series I'll do an overall review/recommendations post for all 6 of the shades so that you'll have an easy access post for all of them.
I'll go in the proper numerical order of the shades so today I'll be starting with Nfu-Oh #61 which is a bright silver linear holographic polish.
Keep reading for swatches and the full review!
(Believe me, you're going to want to keep reading.)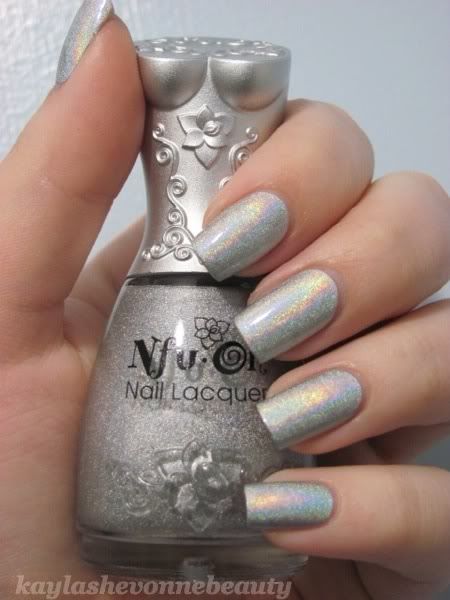 (Artificial Light)



(Flash)



(Flash)



(Sunlight)



(Sunlight)



(Sunlight)
I've got a total case of lobster hands in this photo but it was too pretty and showed the rainbow effect of the holo too well so I just had to include it.
Unfortunately, I don't own the Nfu-Oh Aqua Base which is supposed to help with the application of this polish and the only retailer of Nfu-Oh products (
www.fabuloustreet.com
) has been out of stock of this product for a while now. Thus, everything that I have to say about the formula of these polishes might sing a different tune if I had the Aqua Base to accompany them, so please keep that in mind when you're reading my review.
The formula/application of #61 was absolutely awful. I knew beforehand that the formula of the Nfu-Oh holos is notoriously disappointing so I was extra careful and cautious in my application, but I can't say that it helped much. The first layer applies ok (not great, but ok) but when you go to add the second coat, the brush picks up patches of the first coat and clumps them together with the new layer of polish, leaving bald spots in some areas and little clumps of polish in others.
Regarding the wear of this polish, I got a much better wear time out of #61 than what I expected to get after what I have heard/read about in other reviews. I've heard some people say they don't even get a full 24 hours out of their manis with these polishes, but I got a full 4 days with only tip wear and no chips at the time of removal. In fact, a few of the photos above (the sunlight ones) are from day 3 of this mani and it still looks fresh and new. I'm honestly only removing it tonight because I want to move on to the next colour, but I think I could get another day out of #61 without any chips.
How did I manage to get a better wear time out of #61? Well, since I had heard about the short wear time, I prepared myself and used products that I thought would help to extend the life of my mani.
First, I layed down a layer of OPI Chip Skip (review to come after more testing) and then I used CND Stickey (review to come) as my base coat. I don't want to say that these products made my mani last longer without chipping because I can't be certain, but it certainly didn't hurt my mani to use them.
Now, onto the good aspects of this polish.
It's GORGEOUS! Seriously, I've caught myself just staring at my nails so many times over the last 4 days. It's so beautifully prismatic, especially in the sunlight. Even in the shade you get a more subtle but still noticeable linear holo that catches your eye.
Also, the Nfu-Oh bottle design is stunning. It looks great in photos and it has become my new favourite bottle to hold to take nail photos (my prior fave to hold were Zoya bottles).
Overall, despite the formula/application, I would definitely recommend this polish. It's so beautiful and special and I love having these bottles in my collection. Furthermore, the Nfu-Oh Aqua Base is supposed to help with the application of these polishes so the problems I had might be easy to solve with the right product.
Nfu-Oh polishes are sold by
this
online retailer and they will run you $12.50 US or $13.82 CAD. Unfortunately, #61 is currently out of stock but #'s 62-66 are still available and you'll be seeing swatches/reviews of those from me in the near future.
What do you guys think about Nfu-Oh #61?