Hey guys!
Yesterday started off as a bit of a buzz kill day for me because I'm expecting so many packages that I'm super excited about and when I checked the mail, there was nothing. Sad times.
So in an effort to cheer myself up, I decided to go out and try to find the China Glaze Crackle Metals Collection (which I found - review and swatches to come soon) and as a bonus I also found the Orly Happy Go Lucky Collection at Sally's. I seriously wasn't expecting to get this collection in so soon, especially considering how we never did get the Pin-Up Collection here (which is super sad because I really want the glitters from that collection).
Nonetheless, I picked up these 4 shades from Orly because I thought that they actually looked nicer in person than how they did in the
press release
I received.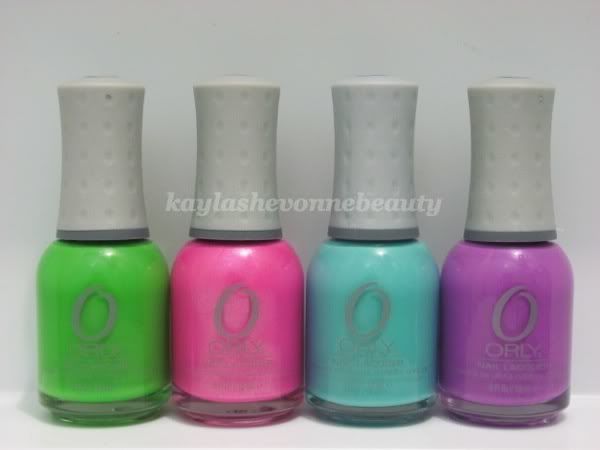 Keep reading for the review and swatches!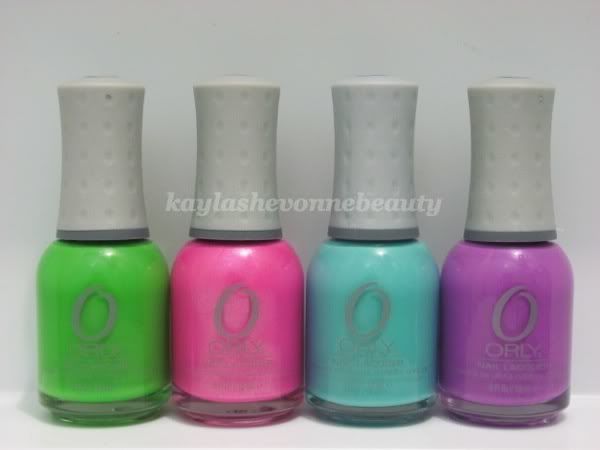 Orly Happy Go Lucky Collection: Fresh, Flirty, Frisky, Frolic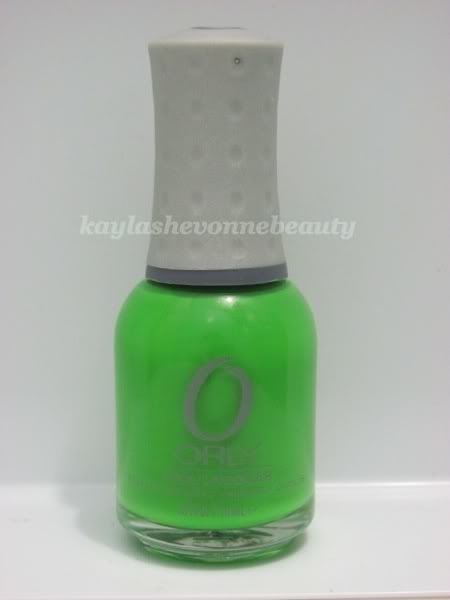 Orly Fresh (bright grass green cream)
This shade was the hardest to work with out of the bunch - it started off a bit watery and needed 3 coats for full opacity. Luckily, the formula was self-leveling so that made it a little easier to work with. Since this was the first shade I tried, it really set the tone for me and I didn't expect much from the other creams in the collection. Fortunately, the others creams were more pleasing to use.



Orly Flirty (bright candy pink with white shimmer)
This is the only shimmer in this collection and it's a definite winner for me. Although it's not the most unique shade I've ever seen, it's very pretty and the formula is excellent. In fact, if you're careful enough, this can be a one-coater. I used 2 in my swatches just to even everything out but it was really close to opacity with the first coat.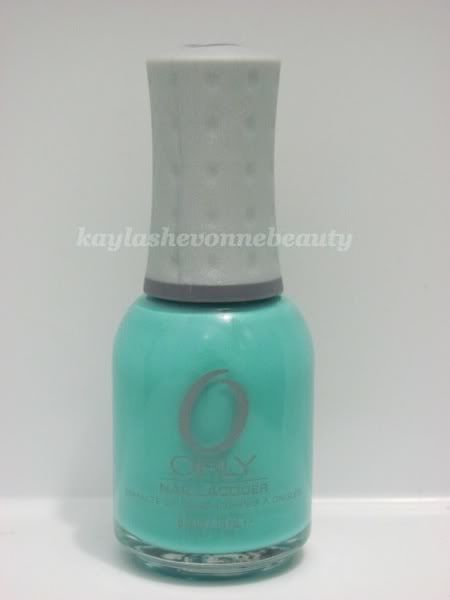 Orly Frisky (light teal cream)
This is a very blue-leaning shade of teal and there is only the slightest amount of green that allows this colour to even fit into the category of teal. The formula was good, much better than that of Fresh, and it was opaque in 2 coats.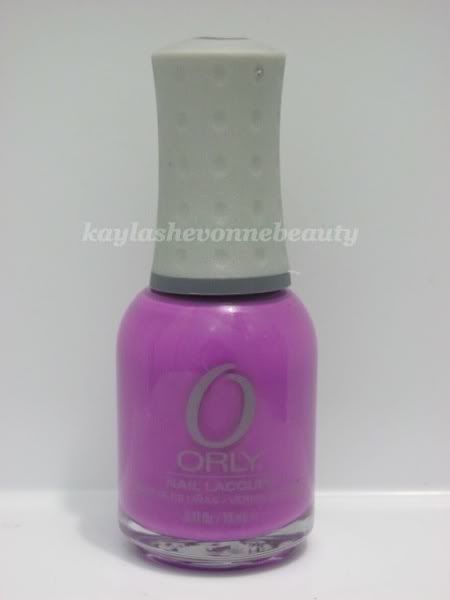 Orly Frolic (medium purple cream)
This shade reminds me of a lighter version Purple Pleather from the Orly Plastix Collection of last year - it even dries a bit plastic-y, similar to the finish of the colours from the Plastix Collection. I haven't done a side-by-side yet but I'll try to get a comparison up for you guys. The formula of this one was good and it was opaque in 2 coats.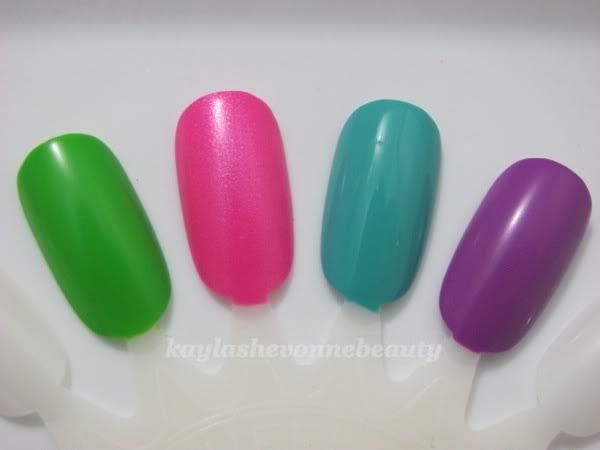 Orly Fresh, Orly Flirty, Orly Frisky, Orly Frolic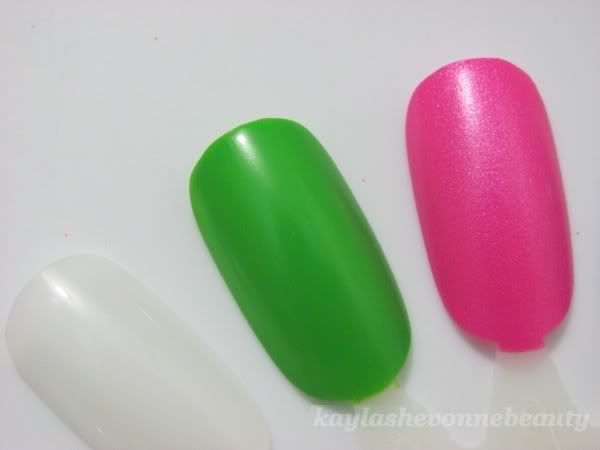 Orly Fresh, Orly Flirty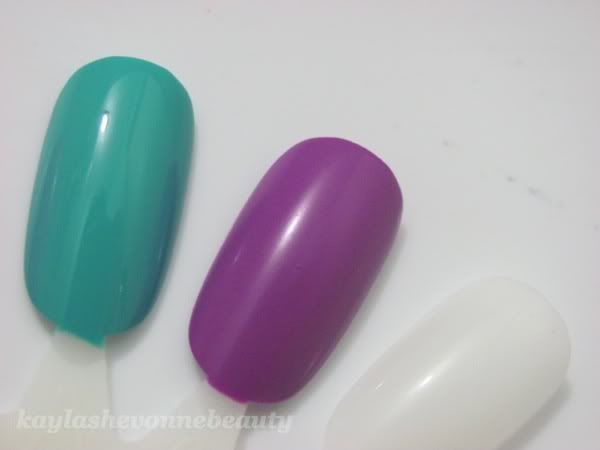 Orly Frisky, Orly Frolic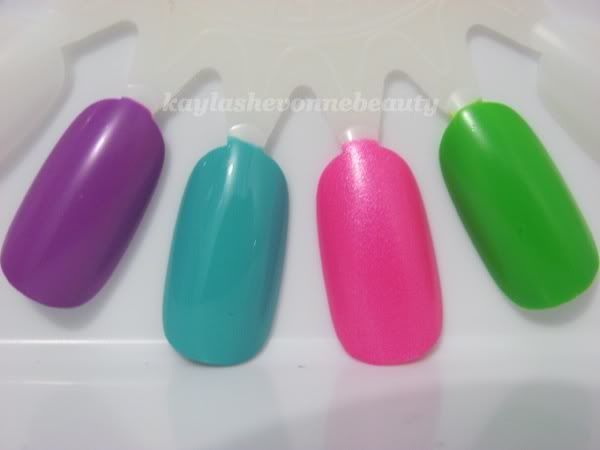 Orly Frolic, Orly Frisky, Orly Flirty, Orly Fresh



Orly Frolic, Orly Frisky



Orly Flirty, Orly Fresh
Overall, I don't think it's a very unique collection of colours but I think Orly achieved what they were going for - a fun, funky collection of shades for back to school.
The Orly Happy Go Lucky Collection is available now at Sally Beauty Supply Store nationwide. Each lacquer retails for roughly $6-7, depending on where you live.
I'm going to be doing some comparisons of these shades for you guys so let me know in the comments of any comparisons you would like to see and I'll do my best to satisfy your requests.
What do you guys think? Will you be picking up any of these? Or will you wait to see how dupe-able the shades are?