Hey guys!
After my comparison of
OPI DS Coronation and Milani HD
, I started to think about my other DS polishes and wondered if there are any other shades from the
Milani 3D Holographic Collection
that are suitable alternatives to any of my other DS polishes.
The first similarities I noticed were between OPI DS Original and Milani Hi-Res so I'll be showing you that comparison today. I've also got one more OPI DS/Milani 3D comparison lined up to keep on the lookout for that.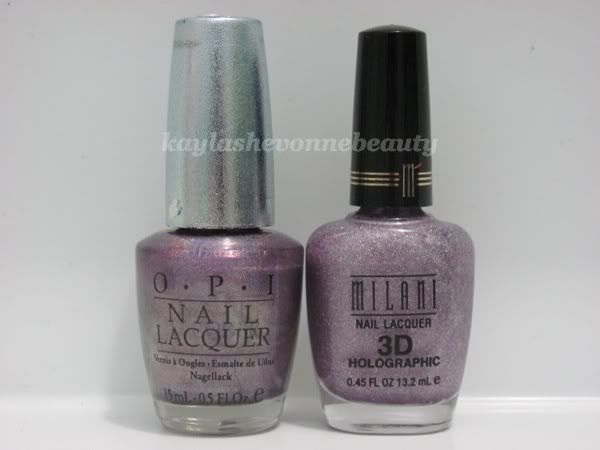 Keep reading for the comparison!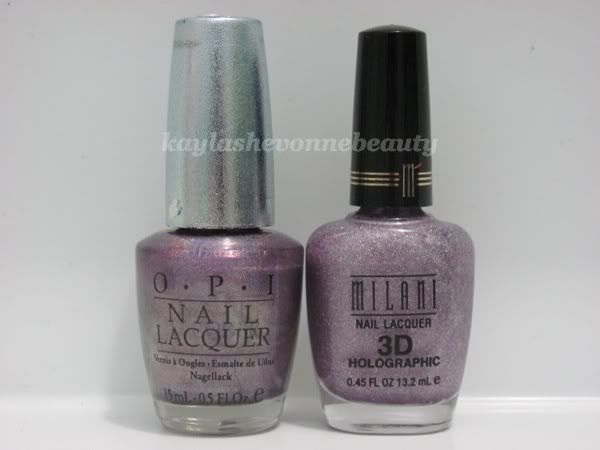 OPI Designer Series Original, Milani Hi-Res



OPI DS Original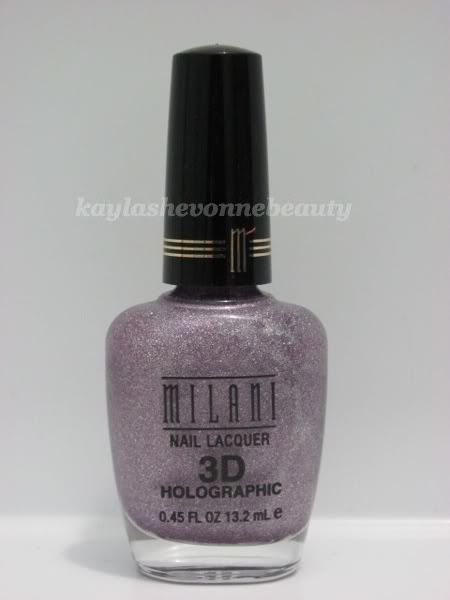 Milani Hi-Res



OPI DS Original, Milani Hi-Res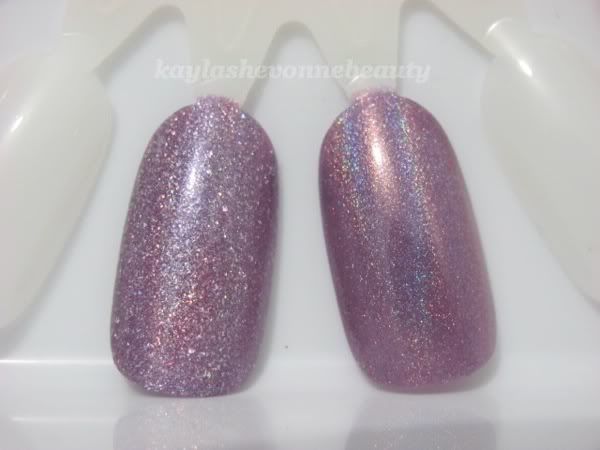 Milani Hi-Res, OPI DS Original
So while these are not dupes, they're definitely similar.
First of all, the base colours are almost identical - a light shimmering lilac. The differences lie in the holographic effect/particles.
The Milani 3D Holographic polishes all have bigger, chunkier pieces of silver holographic glitter pieces that the OPI DS polishes do not have, which makes the Milani polishes look a little more bling-y.
The holographic effect is very evident in both shades and although Hi-Res is one of the most holographic of the entire 3D Collection, DS Original still wins in the intensity of the holo effect. Hi-Res is more of a scattered effect with just a touch of linear holo while DS Original is very clearly linear.
One of the major differences between these two polishes is the pricing. OPI Designer Series polishes are more expensive than regular OPI polishes and will run you anywhere between $10-15. However, because DS Original has been discontinued, it'll run you even more than that from places like eBay. For example, my bottle of DS Original cost me $23 (including shipping) on eBay and it's currently the polish in my collection that I've spent the most money on.
On the other hand, the Milani 3D Holographic Collection polishes are $3.99 on the Milani website.
In the end, a choice between these will really come down to personal preference and budget. Hi-Res is a good alternative to OPI DS Original, especially considering the price difference and some people will prefer Hi-Res because it's got that extra bling-y quality. For me, DS Original has a special place in my collection and my heart so that one wins out for me.
My friend Rebecca also did a comparison of these two shades so you can check out her
post
for another look.
Do you have either of these? Both? Which do you prefer? Is Hi-Res similar enough to DS Original for you to cross that lemming off your list and opt for the more cost efficient option?