Hey guys!
So after the long process of reviewing and testing the Nfu-Oh Holographic Series of polishes, I have some final words/recommendations.
This post will also serve as an easy access page where you can find links to all of the swatches, reviews and wear tests for these polishes.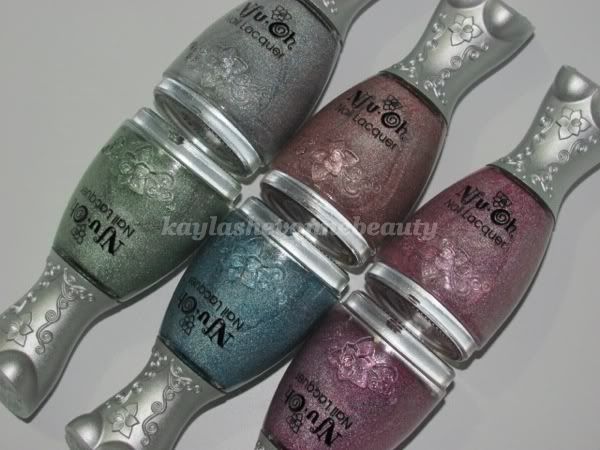 Review & Swatches - #61
Review & Swatches - #62
Review & Swatches - #63
Review & Swatches - #64
Nail Art Featuring #65
Review & Swatches - #65
Nail Art Featuring #66
Review & Swatches - #66
In terms of wear, I got an average of 4-5 days with these polishes and I never once had a single chip. However, tip wear did seem to occur more quickly than with other polishes/finishes.
As far as application goes, these were on the more difficult side to work with. But after trying out a few base coats, I found that the best combination was with OPI Chip Skip and CND Stickey Base Coat. This combination seemed to make my manicures last longer and it also helped with the troublesome application.
Keep in mind though that there is a specialized bast coat offered by Nfu-Oh to be used in conjunction with the Holographic Series - the
Aqua Base
. When I ordered my Nfu-Oh Holos the Aqua Base wasn't in stock so I was unable to test it to see if it was helpful with the application. But from what I hear, this base coat is definitely helpful so if you're planning to get any of these polishes, I would suggest picking up a bottle of the Aqua Base as well.
I absolutely love all 6 of these colours but if I had to pick favourites, I would pick #66 as my top favourite and #'s 61 and 65 are in pretty close running for my second favourite. If I had to choose a least favourite it would be #62 but only because I don't think it works as well with my skin colour as some of the others do. #'s 63 and 64 are both gorgeous but like I mentioned in my original review for #64, the two are a little too similar.
Something I didn't mention in my original reviews is that a common misconception with these polishes is that top coat dulls the holographic effect - it doesn't. When you first apply the top coat, it dulls the effect completely but as soon as it starts to dry, the holo effect returns. So don't skip top coat when you're wearing these because your mani definitely won't last as long.
One other thing I should mention is that these are VERY easy to remove. They basically come off with one swipe of remover!
Overall, I'm very pleased with these holo polishes by Nfu-Oh and I would definitely recommend them.
Nfu-Oh polishes are sold by
this
online retailer and they will run you $12.50 US or $13.82 CAD. All 6 polishes from the Holographic Series as well as the Aqua Base are currently in stock but this probably won't last too long so stock up now if you've been wanting any of these.
I hope these reviews have been helpful for you guys and I hope the time I put into the wear tests was worth it!
Which Nfu-Oh Holo is your favourite? Will you be getting any while they're in stock?