Hey guys!
So after swatching, reviewing and comparing all four shades from the OPI Nice Stems Collection, I have some final words/recommendations.
This post will also serve as an easy access page where you can find links to all of the swatches, reviews and comparisons from this collection that I've done.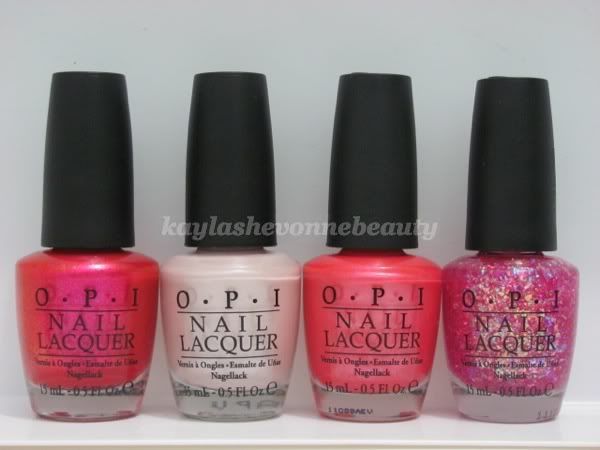 Review & Swatches - OPI Nice Stems Collection
Swatches - Layering with OPI I Lily Love You
Swatch Comparison - OPI Be a Dahlia Won't You?
Swatch Comparison - OPI Play the Peonies
Swatch Comparison - OPI Come to Poppy
Swatch Comparison - OPI I Lily Love You
Out of all 4 shades, I Lily Love You was the most unique and definitely the star of the collection for me, especially when it's layered over the other 4 shades from the collection.
I've been told that Sinful Colors Deep Red Ocean is pretty similar to I Lily Love You but I don't own that shade myself so I couldn't compare them. However, I trust
Rebecca's
word so I would suggest that if you have that shade by Sinful Colors, you can skip this one by OPI. If, on the other hand, you don't own Deep Red Ocean, I would say that I Lily Love You is the absolute must-have from this collection.
Rebecca didn't have a swatch of Deep Red Ocean but she did have a
bottle picture
so hopefully that will be helpful for some of you.
Play the Peonies and Come to Poppy both have a pearly shimmer throughout them that makes them really special in my collection and although I wouldn't say that they're total must-haves, I'm definitely happy to have them in my collection and I would recommend them if you're not on too tight of a polish budget.
The least unique was (surprisingly) Be a Dahlia Won't You but it's still a really gorgeous shade and I think I've come to like it better than its almost dupe - China Glaze 108 Degrees. However, if you already have 108 Degrees, it's not necessary to also get Be a Dahlia Won't You?.
Overall, I've really enjoyed this entire collection and for a girl who isn't the biggest fan of pink polish, OPI has really challenged that by putting out an all-pink collection that I really like. As I said in the original review post for this collection, I love 4 piece collections in general and I love seeing a layering polish amongst collections.
The OPI Nice Stems Collection Lacquers are available now at professional salons and spas for approximately $6-10, depending on where you live and where you find your polishes.
I hope this post as well as all of the others I've done for this collection will be helpful for you in your own decisions about this collection.